Silicone Travel Bottles – Safely Pack Your Toiletries for Any Trip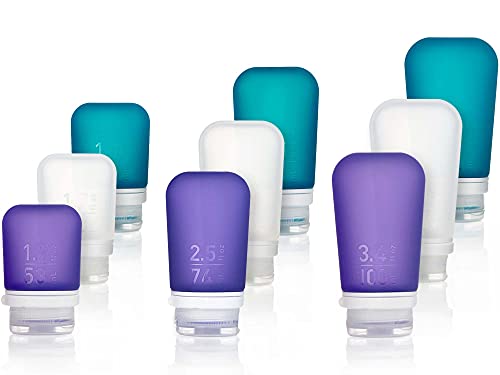 Well, that's a surprise I didn't want to open my bag to. My shampoo leaked all over everything during the trip. I should have just packed everything into my Gotoob silicone travel bottles and saved myself the headache.
Silicone travel bottles are a refillable, reusable way to transport liquids. They keep things sealed to prevent leakage during transport. Travel bottles are suitable for most types of travel, camping, and outdoor activities, and won't take up tons of space.
Enjoy leakproof, worry free travel when you pack Gotoob silicone travel bottles!
There's nothing I hate more than opening my toiletry bag to discover soap all over everything. Enter the Gotoob silicone travel bottles, which are designed to avoid just those headaches.
These innovative bottles are refillable and reusable, for all your travel needs. While we're featuring the large 3.7-ounce bottles here, they're also available in 2.5 ounce and 1.7-ounce containers if you'd like to mix and match. Each set comes with three bottles in total of your selected size.
How do you fill a silicone travel size container?
Here is how to fill your Gotoob silicone travel size container:
Screw off the cap
Pour the liquid into the travel bottle
Screw the cap back on, and you've got a leak proof seal.
The bottom of the bottle is flat, so it stays steady on the counter during the filling process
When it comes time to use the contents, a flip cap with a built-in valve makes for easy application. The Gotoob also has a unique flip-out ring for hanging the travel bottle in the shower, from a hook, or anywhere that's convenient.
How do you clean silicone travel bottles?
You can clean silicone travel bottles on the top shelf of your dishwasher. The cap should be removed for hand washing, but the bottle and collar are entirely dishwasher safe.
Make sure to dry the pieces completely before storage if you won't be using them for a while to prevent moisture build-up.
What do you put in silicone travel bottles?
Here are some of the most common items to put in silicone travel bottles:
Toothpaste
Mouthwash
Body wash
Shampoo
Conditioner
Sunscreen
Lotion
Hand Sanitizer (silicone safe only)
Any other creams or gels
Condiments
These bottles are TSA compliant and fit easily in diaper bags, backpacks, purses, or carry-ons. They're also great to pack along hiking, camping, fishing, or for a day at the beach since they don't take up much space.
Silicone travel bottles are made from food-safe silicone that's easy to squeeze and get the contents out, but tough to break. Whether you're packing mustard for the picnic or shampoo for your trip, it'll stay safely secured.
A small, textured strip on the collar allows you to label the content with a fine permanent marker, if desired. I change the contents for every trip, so I personally don't use this option, but it's there if you need it!
What should you not put in silicone travel bottles?
Here are the most common things to not put in a silicone travel bottle:
Salicylic acid (mostly found in acne treatments)
Hair serums and specialized treatments
Argan oil (or most shine-improving products)
Silicone-based lubricants
DEET-based insect sprays
Hydrogen Peroxide
Contact lens solution (or any other product that must remain sterile)
Bleach
Drain cleaner
Fire starter
Gasoline
Hydrochloric Acid
Anything else flammable, corrosive, or caustic
Most of these products contain chemicals which can react with the silicone and won't hold up. If you're unsure, put a small test amount in a tube overnight before traveling. If it leaks, alters the color or shape of the tube, evaporates, or dries up, then you should not use the travel bottle with that product.
Additional Notes
Available in purple/teal (pictured), red/orange, or blue/green color palettes
100% BPA-free, PC-free, and phthalate-free
While containers are leakproof, packing inside an additional Ziploc bag is always recommended just in case
Silicone is semi-transparent so you can see fill level in bottle
Pack along this travel surge protector to keep your electronics safe – even on a plane!

Philips Accessories Philips 2-Outlet Travel Surge Protector, 2 USB 1A/1C, 5V/3.4A, 300J, 1 Ft, Grey/White, SPP2111WA/37

Enjoy a crafted drink anytime with the carry on cocktail kit 

W&P 040232260490 Carry, Single, Moscow Mule

This hoodie pillow provides neck support and a sound and light barrier for sleeping on planes, trains, and cars

High Sierra HS1368 Hoodie Block Out Light Sleep Deeper on Flights & Road Trips 100% Pure Memory Foam Elevates Comfort Provides Exceptional Neck Support, Hooded Travel Pillow/Black

Record mementoes of all your adventures on a 50 states photo map 

USA Photo Map - 50 States Travel Map - 24 x 36 in - Unframed - Made from Flexible Plastic - Includes Photo Maker