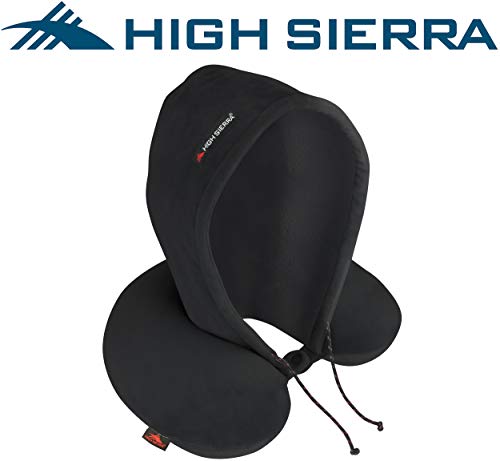 I don't know how yinz manage to sleep in the car. I always want to on these long trips, but the sun is shining in my face. Then I end up with my neck tilted at a funny angle and that's uncomfortable. I just can't win! You think I should try out this hoodie travel pillow? Will that be better for my neck?
Travel pillows are portable u-shaped pillows that fit around your neck. They can be inflatable or made of memory foam or other pillow type materials. This pillow sits around your neck and prevents your neck from falling to the side. This allows the user to sleep in a sitting position, the most common applications being during car or plane travel. Travel pillows help ensure you get more restful sleep and wake with less joint pain or discomfort.
This hoodie travel pillow helps you sleep anytime, anywhere!
High Sierra's hoodie travel pillow is designed to help you get better rest, wherever you roam. Made of a soft but supportive memory foam, this pillow will support your head and neck from falling over. It's ideal for anywhere you might be traveling for extended periods and could benefit from sleeping. Travel pillows are most commonly preferred during air travel or on long car rides.
A built-in hoodie is what sets this travel pillow apart from the other generic ones available. This hood is made from a soft light-blocking fabric. It helps to keep the sun out, allowing you to fall asleep and stay asleep easier. An additional bonus is that the hood can help to dampen noise as well. So, if your seatmate on the plane isn't being too quiet, it can help to give you a haven for rest. The hoodie also provides additional privacy for the wearer. Simply pull the hood down lower, and you not only shield yourself from the light, but you create a barrier from others too. Now your fellow passengers can't see if you sleep with your mouth open!
Another benefit of having a built-in hood is the ability to better regulate your temperature while sleeping. Anyone who has flown knows that the temperature of a plane can vary greatly. This hoodie pillow provides some amount of insulation for your ears, neck and head. Being more comfortable in your environment promotes longer, more restful sleep. Don't worry, even if you like to be very warm and sweat a little, this travel pillow has a washable cover. So, you can keep your hoodie pillow fresh and clean after a long trip!
A travel pillow makes a great gift too. Any friend, family member, or coworker who travels a lot will appreciate the comfort of a travel pillow. It makes a great gift for Mother's Day, Father's Day, Christmas, or even a White Elephant. Give the gift of great sleep on the go!
Additional Notes
Featured in black, but also available in a light gray with blue lining
Measures 12 x 4 x 12 inches and weighs 13.6 ounces
Best seller in Travel Pillows on Amazon with an impressive 4.5-star rating!
This product is latex free
Play music or white noise to help you relax with this Bluetooth sleep mask!

Sleep Headphones Bluetooth Eye Mask, Joseche Wireless Bluetooth 5.0 Headphones Music Travel Sleeping Headphones Handsfree Sleeping Mask with Built-in Speakers Microphone Washable (Black)

The Ostrich pillow certainly looks unique as you create a cozy cove to nap inside!

OSTRICH PILLOW ORIGINAL Travel Pillow for Airplane Flying - Travel Accessories for Head Support, Power Nap on Flight and Desk - Sleepy Blue

A nap pod chair is the perfect sleep tool at home or work to help boost productivity!

The Productivity Boosting Nap Pod

This is the pod that helps boost productivity by providing a rejuvenation space for taking 20-minute naps.