Smeg Coffee Grinder – Coffee Lovers Retro 50s Style Appliance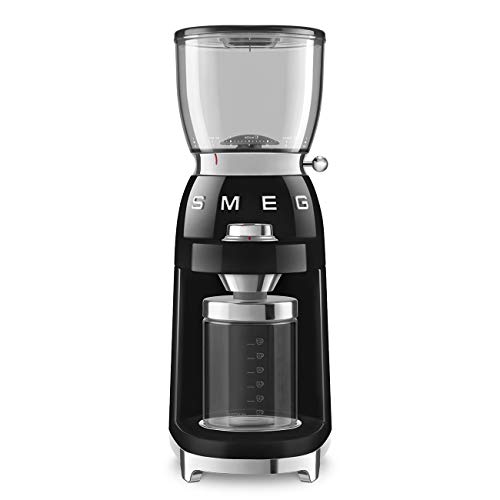 There's nothing like coffee made from freshly ground beans. My local coffee shop grinds them right in front of me. You can really taste the difference in freshness! I wanted to replicate that at home, so I got a retro 50's style Smeg coffee grinder. Now I can grind any coffee beans I want, to any coarseness.
The Smeg coffee grinder is a high quality coffee bean grinder, designed to be used in conjunction with a coffee machine. Simply pour in your coffee or espresso beans, and set it to the desired coarseness. Then, grind them with the push of a button. You'll have freshly ground coffee ready to brew.
Enjoy fresh coffee every day with the help of the retro 50's style Smeg coffee grinder!
The retro 50's style Smeg coffee grinder is an electric countertop coffee grinding machine. It's so easy to use you'll have no problem adding it to your morning routine. Add your favorite whole coffee or espresso beans to the Tritan hopper up top. It can hold 350g (12 ounces) of coffee beans in the hopper at a time.
Next, adjust to your desired coarseness setting. There are options for fine, medium, and coarse grinds, and 6 different settings for American or French press styles. Start it up and the stainless steel conical burr grinder will go to work. Burr grinders are the preferred option for grinding coffee, as they produce the most even grounds. They're a big step up from blade coffee grinders, which chop unevenly and result in bad coffee brewing.
Your ground coffee will be dispensed into a Tritan container at the base of the machine. This removable container has markings for easy coffee making measurements, between 2 and 12 cups. The hopper can hold 130g (or about 4.5 ounces) of ground coffee at a time.
Whether you have a French press, espresso machine, pour over coffee maker, or the standard drip type, you'll love having a coffee grinder. Wake up to freshly ground coffee or espresso beans each day, for a fresh and delicious drink to start your morning. With the Smeg coffee grinder, you'll have a stylish retro helper to bring that café fresh taste into your very own kitchen!
Additional Notes
Measures 8 x 11 x 18 inches and weighs about 10 pounds
3 ft power cord is 220-240 V, 50-60 Hz – USA compatible as well
150 W power draw during use
Anti-slip base and anti-static system for safety
Includes cleaning brush
Pictured in black, but also available in red or cream/pastel blue options
Impressive 4.8 star rating – reviews agree this grinder is worth it!
Why wait until Happy Hour when you can begin your day with these whole wine coffee beans!

Wine Barrel Aged Whole Coffee Bean Box Set, Sample Gift Set - Chardonnay, Pinot Noir, Cabernet Sauvignon Barrel Aged Coffee, 3x 4oz Bags Box Set 12oz Total Whole Bean

Fantasy fans will enjoy sipping on some Geek Grind Goblin Coffee!

Geek Grind Pathfinder Goblin Gulp Roast Whole Bean Coffee - 12oz Bag

When you need a caffeine fix on the go, take your Nanopresso with you!

Wacaco Nanopresso Portable Espresso Maker, Upgrade Version of Minipresso, 18 Bar Pressure Hand Coffee Maker, Travel Gadgets, Manually Operated, Compatible with Ground Coffee, Perfect for Camping

If it's already a hot day, then enjoy a drink made from the Asobu cold brew portable coffee maker

Asobu Coldbrew Portable Cold Brew Coffee Maker With a Vacuum Insulated 34oz Stainless Steel 18/8 Carafe Bpa Free (Silver)