Levoit Air Purifier True H13 HEPA Filter plus Night Light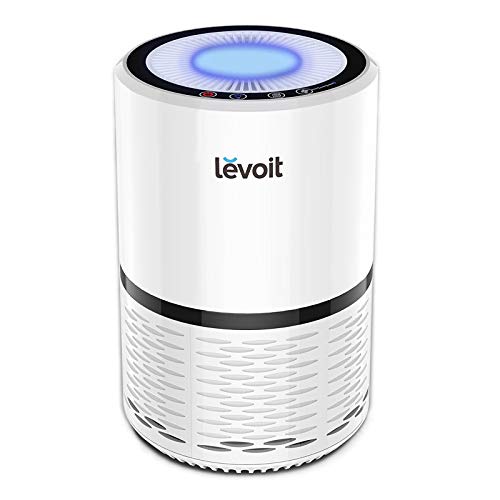 Did yinz take your allergy medication today? Roofus definitely qualifies as man's best friend, but his shedding and dander plays a number on my allergies. Couple that with seasonal changes in the Spring or Fall, and it's a real family nightmare of sniffles and congestion. I'm excited to try out our new Levoit Air Purifier and see if this True H13 HEPA filter helps alleviate all the sneezing!
Many electric air purifiers utilize UVC light to purify the air by killing airborne allergens as they pass through the unit. This emits a small amount of ozone when in use. The Levoit air purifiers feature physical filters instead of electronic filtration. This makes Levoit purifiers safer and generally more cost effective units.
Purify your home air allergens from pets, smoke, dust, mold, and pollen with the Levoit Air Purifier True H13 HEPA filter!
It seems like almost everyone suffers from some sort of airborne allergy. As the seasons change, getting through a day without a box of tissues can be a dicey proposition. Spring brings us the start of warm weather and blossoming flowers, but that's when the sneezing and sniffling starts. Shots and allergy medication helps many, but why not turn your home into an allergen safe space with a Levoit Air Purifier?
The Levoit H13 HEPA filter air purifier may be the answer to your indoor allergy issue. This air purifier includes a unique 3-stage filtration system. It consists of the pre-filter, true HEPA filter, and a high-efficiency activated carbon filter. A True HEPA filter is medical grade and must pass a standard of removing 99.97% of particles 0.3 microns in diameter. Anything less, and the filter cannot be considered HEPA quality.
The portable Levoit air purifier is small enough to transport to different rooms. With three variable fan speeds and noise levels ranging between 25 – 46 db, this makes it quiet enough for your bedroom at night. This combines with the night light feature that has two different brightness settings. Thanks to the compact size and soothing nighttime features, you can easily move your air purifier into your bedroom for a restful and allergy-free night of sleep.
Additional Notes
Rated 4.7 stars with well over 35,000 ratings!
Product Dimensions: 8.5 x 8.5 x 14.5 inches
Item Weight: 6.6 pounds
Maintain optimum performance by using only Levoit replacement filters
Levoit recommends replacing the physical filter every 6-8 months
Includes User Manual and Quick Start Guide
Always allow 15 inches of clearance around the purifier
For small spaces, try out the pureAir air purification system!

GreenTech Environmental pureAir 50 - Small Space Plug-in Air Purifier & Air Cleaner

The Dyson Hot and Cool HP02 will not only purify the air but also features a heater!

Dyson Pure Hot + Cool, HP02 - HEPA Air Purifier, Space Heater & Fan, WiFi-Enabled, For Large Rooms, Automatically Removes Allergens, Pollutants, Dust, Mold, VOCs, Blue

Plus the mini USB Autowit Fresh 2 into your car and enjoy a humidifier and purifier combo!

GENHIGH Autowit Fresh 2 Car Humidifier/Purifier in Silver

autowit Fresh 2 Car Air Humidifier Purifier with High-Efficiency Composite Filter Portable Air Freshener Purifier and Ultrasonic Humidifier About this item 【3-Stage Air Filtration】 Composited Nano Silver, HEPA Fold Filter and Activated Carbon Filter, it effectively removes PM2.5, pollen, smoke,...

If you don't need a humidifier in your vehicle, then plug in this car air purifier to eliminate allergens and odors!

Car Air Purifier 3in1 Premium Stainless Steel Air Filter Ionizer w/Dual USB Quick Charge 3.0 USB-Eliminate Allergens Odor Smell, Smoke, Pets, Pollen Mold Bacteria w/Anti-Microbial Deodorizer