Dyson Hot and Cool HP02 Purifier, Heater, Fan Combo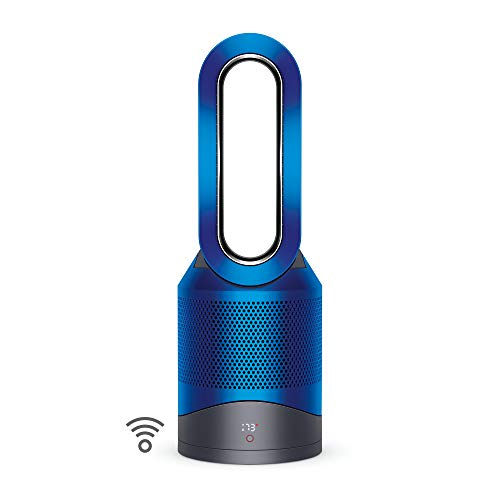 Sneezing and coughing is all too common in our household from Spring through Fall. We never have enough allergy medicine on hand. The Dyson Hot and Cool HP02 machine does it all! Combining an air purifier, heater, and fan in one means this device is going to be sitting in my home year-round. We even have WiFi on the unit to go with our refrigerator!
The Dyson Hot and Cool works to purify 99.97% of all airborne allergens and pollutants from the air. Combining this feature with the ability to heat or cool a room up to 290 square feet is impressive for a machine of this size. Controlling your Hot and Cool via an app, using it with Siri, or linking your existing Alexa system also provides additional value to the customer. Other purifiers may come at a cheaper cost, but Dyson provides a trusted brand with a product that will clean your air and help make an area of your home feel more comfortable.
Purify the air in your home with the Dyson Hot and Cool HP02
The Dyson Hot and Cool HP02 air purifier operates as a space heater and air cooler for year-round use. The HEPA (high efficiency particulate air) HP02 filter has a range of 180 degrees. This sealed HEPA filter actually captures 99.97% of allergens as small as 0.3 microns. This makes it useful in purifying the air for allergies, pet dander, dust, pollen, and mold. The Hot and Cool unit also functions as a heater and fan depending on your needs. When using the fan, your Dyson HP02 disperses filtered air into a designated area. There's also a backward air flow that still purifies the air without cooling or heating. The purified air projects throughout the room at a rate of 77 gallons/sec of airflow, and make sure you purchase a device large enough for the room you wish to purify, heat, or cool.
The Dyson Hot and Cool comes with a remote and is also WiFi enabled. The remote controls the air purifier allowing you to adjust from a selection of 10 fan speeds, temperature control, the oscillation rate, set a sleep timer, or place on night mode. The downloadable Dyson Link app also controls your unit with the same features as the remote from your smartphone. Through this app, you see real time reports and create schedules.
The air purifier is Alexa and Siri enabled which allows you to use voice commands to turn the unit on and off, place in auto mode, or request updates on air quality. The auto mode feature automatically monitors the air quality and initiates purification until it improves. Jet Focus Control concentrates air flow to a specified area for long range personal heating. The nighttime mode uses quiet settings and dims the display to a comfortable night's sleep.
Please note Dyson makes top-performing air purifiers to fit individual needs. Each has its own price point and features. Select the one that works best for you and meets your personal preference.
Additional Notes
Lightweight and small enough to place on the floor, table, or countertop
Product Dimensions: 8.7 x 6 x 24.88 inches
Item Weight: 8.62 pounds
Compatible with Amazon Alexa
Awarded QuietMark certification for noise reduction among purifiers