Microwave Popcorn Popper | Collapsible Silicone Bowl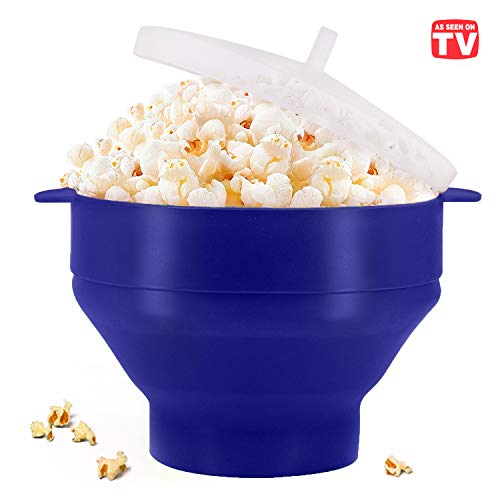 How come every time we go to the movies, you kids need to buy a $20 bag of popcorn? When we watch something on Netflix though, you don't even make a peep about it. Tonight we're using our new microwave popcorn popper, and yinz are in for a real treat. These silicone popcorn poppers are a convenient and healthy investment.
Using a silicone microwave popcorn popper provides a healthy way to snack. With these silicone popcorn poppers, you control the ingredients used. Measure around 1/4 to 1/3 cup of unpopped popcorn kernels and pour them into the silicone bowl. Add a teaspoon of butter or oil depending on your personal taste. Microwave for 2-3 minutes to enjoy homemade healthy popcorn.
Your microwave popcorn popper provides a healthy way to snack
When you need a snack, your silicone microwave popcorn popper provides a fast and healthy alternative. Within two minutes, a perfectly popped batch of popcorn is ready for snacking. Expand the popper, place 1/3 cup of unpopped kernels in the bottom, and gently place the lid on top. In roughly two minutes, you'll be snacking on piping hot popcorn.
The silicone popcorn popper is BPA free and collapses inward. When open the overall size (including handles) is 5.7″ x 9.4″. The collapsed size is 9.4″ x 2.4″.  The silicone popcorn popper is dishwasher safe and may be used in the microwave, conventional oven, and even the freezer. It can withstand temperatures from -40 to 446 degrees F. It is a great space saver and readily available for your next case of the munchies!
Flavoring your popcorn is up to your own personal tastes. The beauty of popcorn is the snack provides a blank canvas for flavors. While not mentioning oil or butter, you can add these items to taste while popping. You're free to purchase your favorite popcorn kernels and may find that some pop bigger or better than others. Also, adding various popcorn flavorings turns your typical buttered popcorn into a surprisingly new delight.
This microwave popcorn popper makes a fantastic addition to your home or a great gift for a friend. The manufacturer is so confident that this is the best popper you will ever use, they offer a risk free purchase. Within 30 days, if you aren't 100% satisfied you will receive your money back.
Additional Notes
Special bowl shape designed to spread heat evenly.
Available in blue, black, red, or green.
Replacement lids are available separately.
Amazon's top choice for those searching for "microwave air popcorn".
Do not cook popcorn longer than recommended.
Be careful of steam when removing the lid.
#5 best seller in Popcorn Poppers on Amazon with an impressive 4.8-star rating!