Drink Holder Stakes | Best Beverage Holders for Cans & Bottles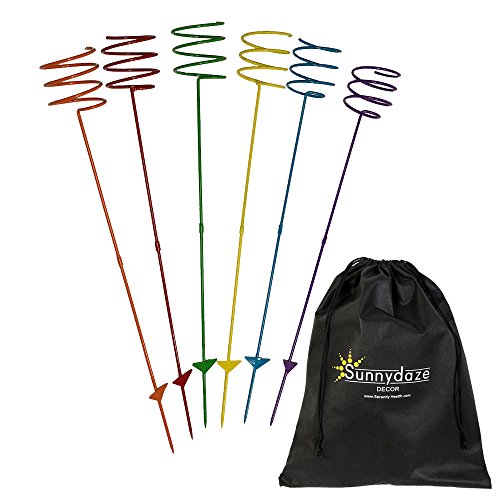 Don't yinz love spending a relaxing day at the beach? The only thing I dislike is that I keep getting sand in my beer! I wish there were some way I could keep that from happening. You think I should order us some outdoor drink holder stakes? Wait, what's a drink holder stake?
Drink holder stakes are made to hold your drinks when you are outdoors. They are typically made of powder coated metal to withstand outdoor weather and feature some sort of holder on top made to accommodate a drink. Different sizes are offered that can fit cans, bottles, and even full-size wine bottles. The base is a typical stake style with either multiple prongs or a v-shaped point to keep the stake securely in the ground. Drink stakes can be used on a variety of soft surfaces, including grass, dirt, sand, or gravel.
These outdoor drink holder stakes give a whole new meaning to 'hold my beer'!
Sunnydaze Decor brings us these great outdoor drink holder stakes. Made of a durable welded steel and finished with a powder coating to resist the elements, these stakes will last for years to come. Drink holder stakes are perfect for backyard barbecues, so your guests have a place to set their beverages. You can also easily pack them along for picnics, tailgating, camping, outdoor concerts, or a day at the beach!
This set of 6 drink holder stakes are 32" in overall height, with a triangular steel foot press to easily push into the ground. The actual beverage holder is 4" tall and 3.5" in diameter, so they should accommodate most standard cans and bottles. The beverage holder also has a flat bottom plate to keep your drinks from tipping and spilling. Each stake is a different color – yellow, red, blue and green. This allows you and your guests to distinguish which drink is theirs, much like a wine glass charm.
These drink stakes are great for yourself or to give as a gift! They make the ideal bonfire accessory. They're great for family and friend get togethers. Hold your drinks easily while you're playing cornhole, croquet, or other backyard games this summer!
Additional Notes
Keep your drink on your belt with this leather beer holster!
These beverage stakes are perfect if you plan on playing some glow in the dark Bocce ball!
Amazon's top choice for those searching for an 'yard cup holder stakes'
#88 best seller in Decorative Garden Stakes with a 4.7-star rating!
5.8 pounds total weight, and tops disassemble for easier transport
Complete your backyard with a wooden grill gazebo and shelter!
Alternatively, when it's time to cook and eat, you might enjoy a 3-in-1 backyard hibachi grill!
When indoors, keep your drinks safe and avoid messy spills thanks to the ultimate octopus no spill TableCoaster