Turkey Hat Novelty Hat | Roasted Turkey Thanksgiving Gag Gift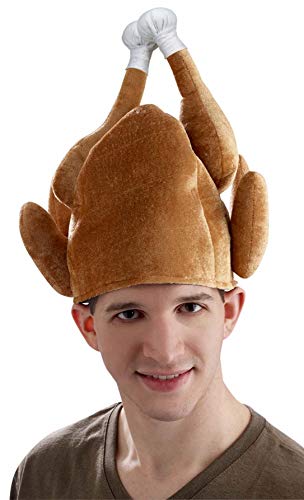 Something sure smells good around here.  Wait, why are yinz wearing the turkey on your head?  Oh, that's just your turkey hat? This roasted turkey hat is sure to bring smiles and laughter to your Thanksgiving festivities!
If a bird in hand is worth two in the bush, how much is a turkey hat worth?
Make this adorable turkey hat the talk of your next holiday celebration!  Whether you want to wear it to the family Thanksgiving party to be the life of the room, wear it at the office for a last minute Halloween costume or just to get into the Thanksgiving spirit, give it as a hilarious gag gift, use it as an alternative to a magician's hat for your next magic show, or make it a part of a group costume (looking at you family bowling team) then look no further than this hat!
This fun turkey hat is made of a durable polyester and stuffed with fabric to ensure that all your little turkey appendages stand at attention!  The perfect shade of roasted brown color, it sports both wings and drumsticks for that perfect roasted turkey look. Guests at your Thanksgiving (or Christmas if you cook a turkey there too) celebration won't be able to resist talking about the fancy turkey on your head! Turkeys everywhere will be jealous of your stylish look (wait, can turkeys even get jealous? We'll go with yes on this one).
Are you on cooking or cleanup duty? This hat will bring cheer to even the hardest holiday roles.  If all else fails, you can always use it to play a game of 'duck, duck….turkey?' while you're waiting for the real turkey to finish cooking!
Additional Notes
One size fits most ages 14+
Weighs in at only 2.88 ounces – comfortable for all day wear
Amazon's top choice for turkey hat!