Thanksgiving Hats – 3 Pack Turkey Hats | Funny Gag Gift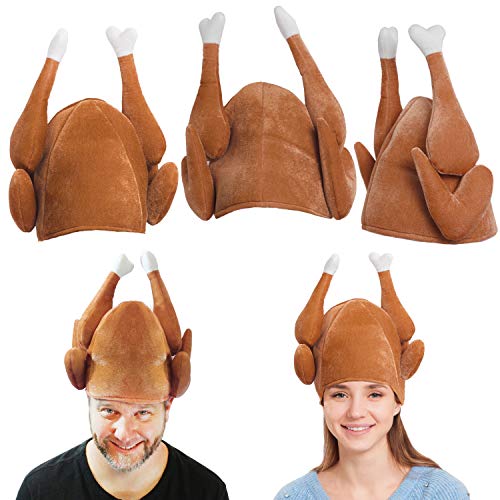 Do you have a family that likes to laugh and have a good time? Do yinz all get together to celebrate Thanksgiving? Then these Thanksgiving hats might be just what you need for your next get together!  Imagine the look on Aunt Mildred's face when you answer the door wearing one of these great hats – sure to add laughter and cheer to your next family gathering!
Thanksgiving hats ensure you gobble 'til you wobble!
These adorable Thanksgiving hats feature a roasted turkey plush, complete with plump legs, wings and drumsticks, all for wear as a comical hat! They're made from a soft and durable polyester with foam padding and a breathable lining so you can remain comfortable all day (well, as comfortable as one can be with a turkey shoved on your head)! Sold in a package of 3, it's easy to outfit your entire flock from the chicks to the hens and the toms !
These Thanksgiving hats have so many great and creative uses as well!  Wear them at home for your Thanksgiving (or even Christmas) celebrations to add some laughter and cheer!  Going out for Thanksgiving? Wear these hats to put smiles on the faces of those around you, while also making it easier to locate members of your family in a crowd! Or if you're a runner, maybe you're participating in a local Turkey Trot this year?  This would make a great addition to your outfit and is sure to bring joy!  Also just great as a costume accessory, or even as a Thanksgiving home decoration – that marble bust of your great great great grandfather Francis can join in on the celebration too!
Additional Notes
One size fits most – intended for adults and kids alike
Weighs in at only 0.18 pounds – comfortable for all day wear!
Hand Wash only