Countertop Towel Warmer – A Space Saving Luxury Device!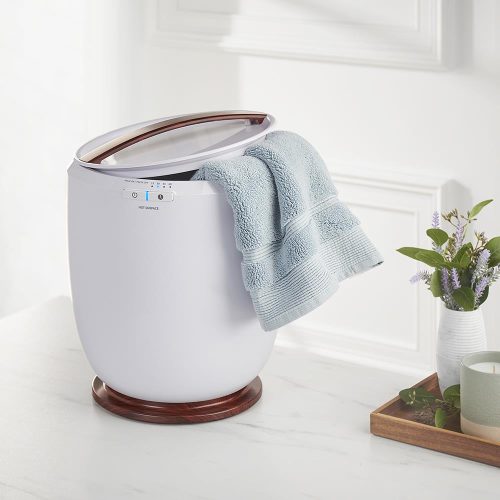 I've always wanted to have warm, cozy towels like they do in the spa. I just don't have room for one of those big warming units in my apartment. I'm so glad I found the countertop towel warmer because it fits perfectly. Heated towels, here I come!
This countertop towel warmer is a mini, portable version of the standard size units. It's functional for a variety of different spaces, and equally easy to take on the go. Put this towel warmer directly on your countertop where you'd like warm towels, most often in a bathroom.
No space is no problem when you have a countertop towel warmer!
Now I don't have to lug around a full size unit, thanks to my countertop towel warmer. This handy device heats your towels to a warm and cozy temperature, all from your counter!
Towel warmers work to make your towels nice and heated on chilly days, just like the dryer. Since it's placed on the counter, you won't have to journey all the way to the laundry room to get it. That's especially comfortable after stepping out of a bath or shower!
Choose from 4 different settings to control the length of the warm: 15, 30, 45, or 60 minutes. Based on the size of the towel and the warmness level preferred, you can adjust to your desired sweet spot.
Despite its compact size, this countertop towel warmer actually holds an entire 40" x 70" bath sheet! Alternatively, two regular sized bath towels fit in nicely. One for my hair and one for my body – I like it.
Towel warmers are great for other items besides towels, too. Warm robes, clothing, or blankets anytime you're missing that heated comfort feeling. I like to put my socks in there while I'm getting ready. Hello, cozy feet!
Automatic shut off prevents overheating on the unit, so don't fear if you often forget to turn off appliances. Sorry oven, I didn't mean that personally.
If you do want to put your towel warmer away, it has a handy cord keeper to wrap things up nice and compact. Stuff it on a shelf in the closet, and voila – easy cleanup!
Additional Notes
AC power cord included (US plug)
White with woodgrain trim
Measures 15 1/4″ L x 11″ W x 8 3/4″ D and weighs about 7.5 pounds empty
This is an electrical appliance and caution should be used, particularly around water and children
Prefer a full-size unit? Check out this well-rated Zadro bucket towel warmer
 Do towel warmers really work? Learn more about adding this luxurious appliance to your home
Looking for more great ways to give your spa a home upgrade? Need to know "What is an aromatherapy shower"? Check out our guide to see if you'd enjoy one in your home!
Relax in your portable personal home infrared sauna for that in-spa feel
Perhaps you'd enjoy a steam shower? Learn everything you need to know about a steam shower at home
If that interests you, then check out this steam shower enclosure, and begin remodeling your own luxury spa bathroom!
Add a hot tub to your home for the ultimate in relaxation. Our 7 best inflatable hot tub choices will help you find the right one for your home. Plus, you'll have a warm towel waiting when you get out!