Indoor Putting Green with Ball Return – Perfect Putt Practice!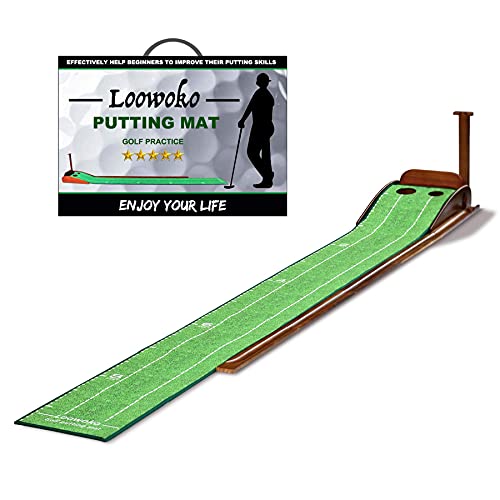 Ted may have won our annual golf tournament this year, but I'm not one to let things go. I got myself a secret weapon you see. My indoor putting green with ball return is how I'm going to practice over the winter for next season. He'll never see me coming!
An indoor putting green does help anyone who is looking to practice their putting skills. Since it works indoors at home, you can use it during the off season, on rainy days, or even when you just can't make it out. Consistent practice leads to better skills, so keep yourself sharp all year long.
You'll be putting like a pro in no time thanks to an indoor putting green with ball return!
This indoor putting green with ball return is the perfect practice tool for at home use. It's designed to practice your putt when you're not out on a real course, so you can perfect your shot.
Smooth, simulation turf makes up the green, for a more realistic putting experience. A non-slip backer keeps it from shifting on your floor, so you can always make great shots.
Practice from as far away as 9 feet and as close as you like to the hole. There are markers along the way to help you keep track. The end of the green slopes upwards as well, so you'll have to swing perfectly to sink your shot.
Two holes at the top are 2.5 and 3.5 inches in diameter.  A standard golf course hole is 4.25" in diameter, so practicing on a smaller scale is actually harder. If you can master these shots, making the shot during regulation play will feel even easier!
Once you sink your ball, it will move into the built-in return system. The ball rolls all the way back to the bottom of the green, so you can pick it up and try your next shot. I love not having to walk back and forth every time.
While this indoor golf green is designed for in-home use, there's no reason you can't move it outside on a nice day as well. It's perfect for the patio or lawn – just bring it inside before it rains!
A built-in club holder at the top of the green is the ideal place to rest your putter when not in use. That way, it's always ready for your next practice session!
Additional Notes
Suitable for both left and right-handed golfers
Club and practice foam balls not included
Measures 122" L x 11.8" W x 19.7" H (including club rest)
May be folded up for storage or transport
Top 10 best seller in golf putting mats on Amazon!
Rated 4.7 stars with nearly 700 reviews – golfer approved!
Makes a great Christmas gift, birthday gift, or Father's Day gift!
Need to practice your chipping as well? Try out this golf ball return net to work on those skills too!
Work on improving your golf swing too, with the help of Salted smart insoles. They use pressure sensing technology to improve your game!
Show that water hazard who's the boss when you practice with a floating golf green
When you're ready to hit the course, pack along this Swiss Army golf tool. It fixes divots, has a ball marker, and is super handy!
Most important, you'll want to bring the 6ixPack golf cooler bag to keep all your drinks cold out on the course. Hydration is important, you know!