6ixPack Golf Cooler Bag – Keep Beer Cold in a Golf Bag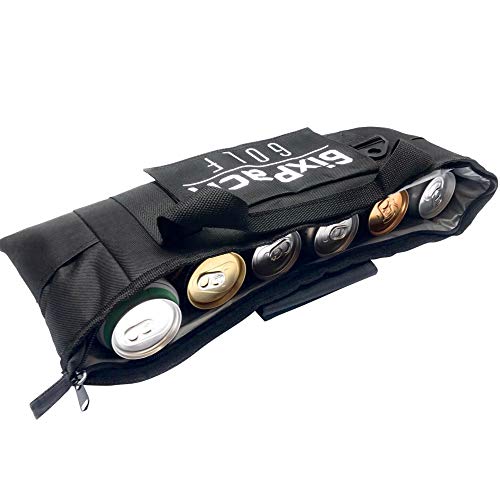 You guys ready to hit the green today? No, I'm not bringing a fanny pack along, don't be silly. This is my 6ixPack golf cooler bag. It has six beers inside that we can enjoy while we're out on the course. Look, it even fits inside my golf bag! You guys are always asking how to keep beer cold in a golf bag.
To keep beer cold while golfing, the best solution is a soft cooler bag. This insulated pouch will keep beer cans cold for hours. A golf beer cooler fits inside one of the long side pouches on a standard golf bag, making it easy to carry and conceal if needed.
The 6ixPack golf cooler bag is effective at keeping your drinks cold for hours!
This 6ixPack golf cooler can keep beverages chilled for 2-4 hours on average. This can vary depending on the ambient temperature and how fast it will melt the cooler packs. You should easily be able to get through 9 holes of golf while your cooler effectively chills your drinks.
A golf cooler is perfect for ensuring you always have your favorite cold beer on hand. Instead of hunting down the refreshment cart, you can be perfecting your swing. Plus, no one is going to complain about avoiding those marked up prices!
What can I pack in a golf cooler bag?
You can pack six 12oz cans or one 750mL bottle of wine in a golf cooler bag. The pack also has a small zippered pocket on the front for storage of accessories, like a bottle opener or corkscrew. It's also a great place to store caps or corks, so you don't litter on the green.
Since this golf cooler also comes with an optional shoulder strap, you can use it away from the course as well. Pack cold snacks, lunch, or other drinks in it for a picnic or a beach trip.
Can you put ice in a golf cooler bag?
You should not put ice in a golf cooler bag. It is not designed to absorb the moisture from melting ice, so your equipment may get wet. Instead, reusable ice packs are provided. They freeze in your home freezer and are self-contained as they melt.
The cooler bag has 5mm thick insulated foam to help keep your drinks cold for even longer. The exterior is made from a durable 300x600D polyester so it's sure to be strong for years to come!
Additional Notes
Practice your chipping at home on land or water with this floating golf green!
Only available in black
Makes a perfect gift for the golfer in your life
Fits in most standard golf bags, dimensions are approximately 18.5" L x 8" H
Does not fit slim cans (sorry White Claw lovers)
Best seller in Golf Club Bag Accessories with a 4.7 star rating!
Before hitting the course, use this golf ball return net to practice and perfect your lob and chip shots at home!
Now that you have a soft cooler bag for your drinks also bring along a Swiss Army golf tool for all your golfing needs and emergencies!
Find the perfect distance to the pin with a PeakPulse Rangefinder!
Or let your Golf Buddy Voice 2 guide you on the course with its custom GPS features
Open any beer bottle in a snap with this Thanos Infinity Gauntlet bottle opener!