Floating Golf Green – Best Backyard Pool Game for Golfers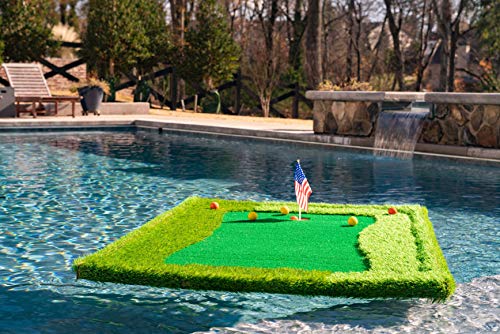 Hey Tim, I think some grass clippings must have gotten in your pool. Here, let me fish that out for you. It's not refuse grass, it's actually your floating golf green that you've been practicing chipping on? Who knew you could combine your love of pools and golf into one activity!
A floating golf green is made with a foam core, which provides buoyancy. It is then wrapped in artificial turf and raised at the edges to prevent becoming waterlogged. It's finished with the addition of a waterproof hole. Some options tether or anchor the green, while others free float.
Golf lovers won't fret about losing their balls in the water hazard while chipping with this floating golf green!
The Low Country Pastimes floating golf green is perfect for practicing your golfing techniques. It comes with 24 foam golf practice balls which float. Not only that, but they're safe if you hit a window or door. This makes them ideal for any age and skill level of golfer.
At 45" x 65", this floating green is ideal for chipping practice. While the novelty is that it can be used in the pool, it's also perfectly safe for use on dry land as well. If you are using the floating capability, an included 12' tether and carabiner help to secure the floating green. In fact, this golf kit comes with everything you need to play, except the wedge.
Wherever you lay the green, simply set up the included tee mat about 7-10 steps away, and you're ready to swing! This golf green is fun for head-to-head competition as you practice your short game. Up to 3 players take alternating turns chipping the ball. Award one point for the rough, 3 for the green, and 5 if you get a hole in one.  The highest score wins (unlike regular golf scoring, I know). It's fun for the whole family – even the kids will get in on the action!
Additional Notes
Check out our full guide on above ground pool costs featuring initial purchase options, installation, and other expected expenses!
Rolls up and stores in a mesh bag for easy transport
Entire set weighs just under 20 pounds
You will receive 12 orange and 12 yellow foam balls
Perfect for the backyard, tailgate, the park or the beach!
Safe for use in both fresh and saltwater pools
Hole sits in a fixed location and is not adjustable
Impressive 4.6 star rating – summer fun approved!
Practice your lob and chip shots on dry land with this golf ball return net. Practice 4 different types of shots before hitting the golf course!
Looking for more great ways to improve your golf game? Check out these smart insoles which help to perfect your swing. How about this portable GPS rangefinder to master the course?
You may not need a cooler while playing golf at home, but this 6ixPack golf cooler bag will keep your drinks close at hand and also works great when you head out on the greens!