How to Gift Wrap an Umbrella (Simple Guide)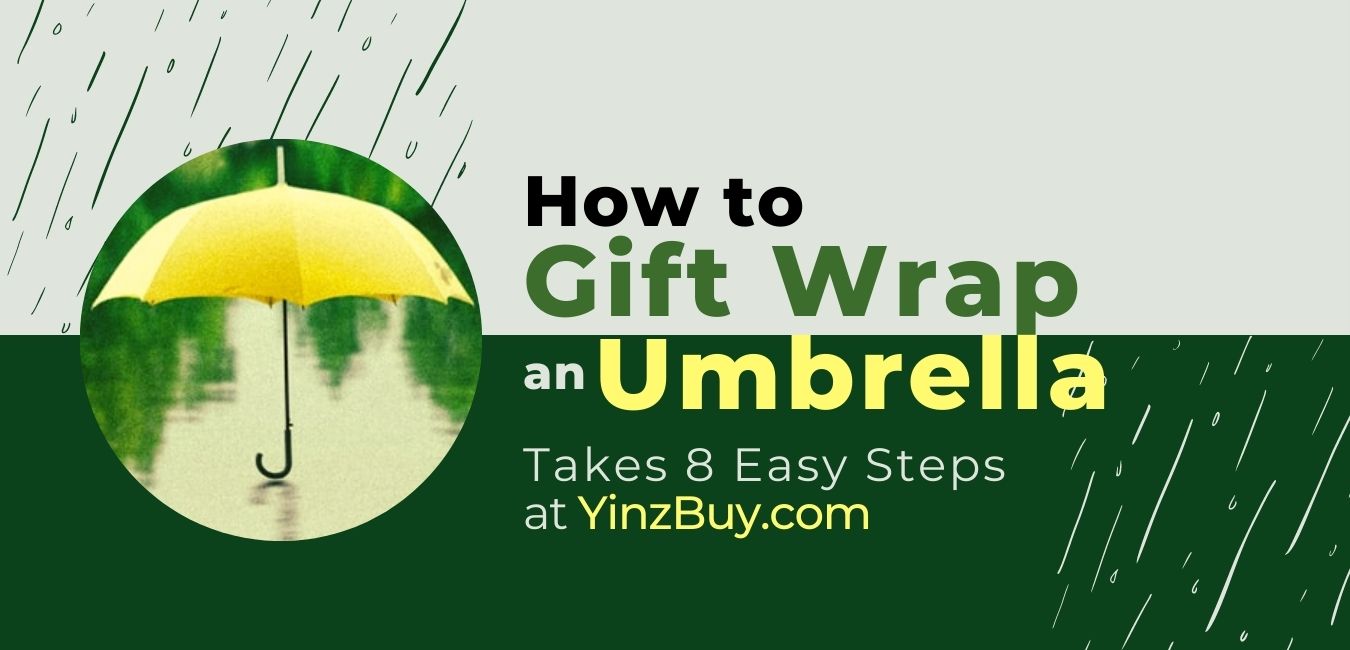 I am obsessed with inverted umbrellas. They have literally changed the way I'm able to get in and out of a car while it's raining. So, naturally, I plan to gift them to everyone I know now, because they are awesome. This then raised the question of how to gift wrap an umbrella.
Didn't think about that, did you? I didn't either. However, thanks to my conundrum, I'm pleased to tell you I've got some helpful solutions to solve this wrapping dilemma.
This is, of course, assuming your umbrella doesn't arrive in a box already. I'm pretty sure even I could handle wrapping it in a nice, neat box. We're aiming to tackle the unruly shape of a (gasp) naked umbrella!
Without further ado, here's our simple guide on how to gift wrap an umbrella as a present:
1. Gather Your Supplies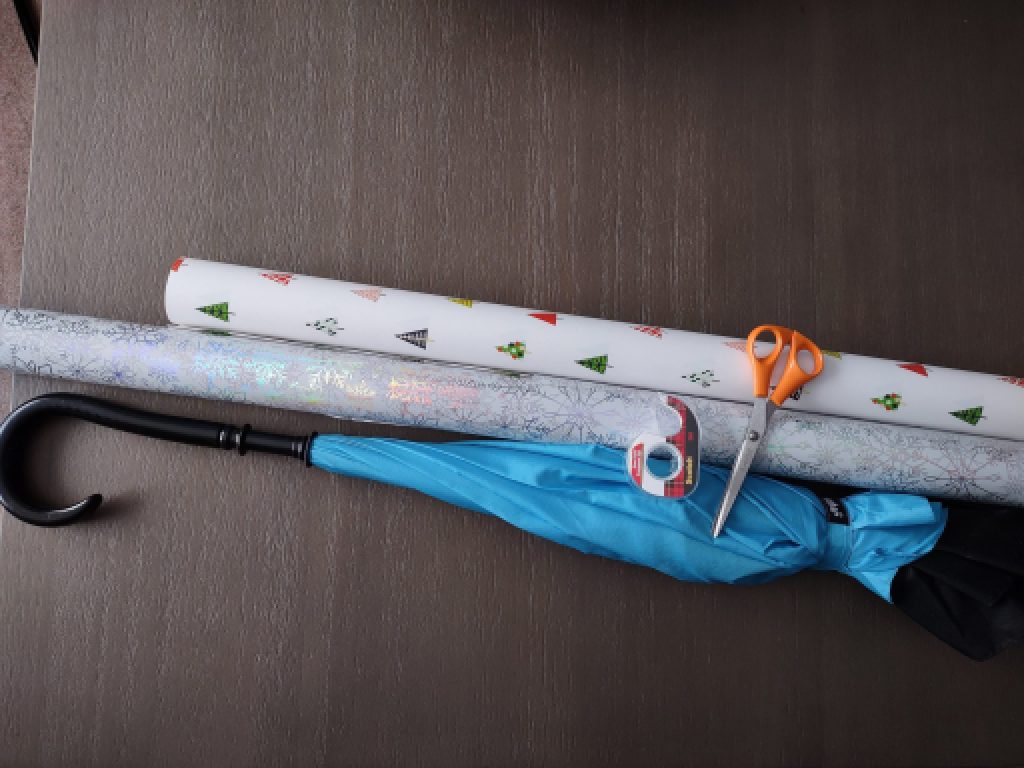 You will need:
An umbrella, obviously
Wrapping paper (heavy duty is best) or decorative fabric
Scissors
Gift tape or double-sided tape
Ribbon and/or bow (optional)
2. Roll Out Wrapping Paper or Fabric on a Large, Flat Surface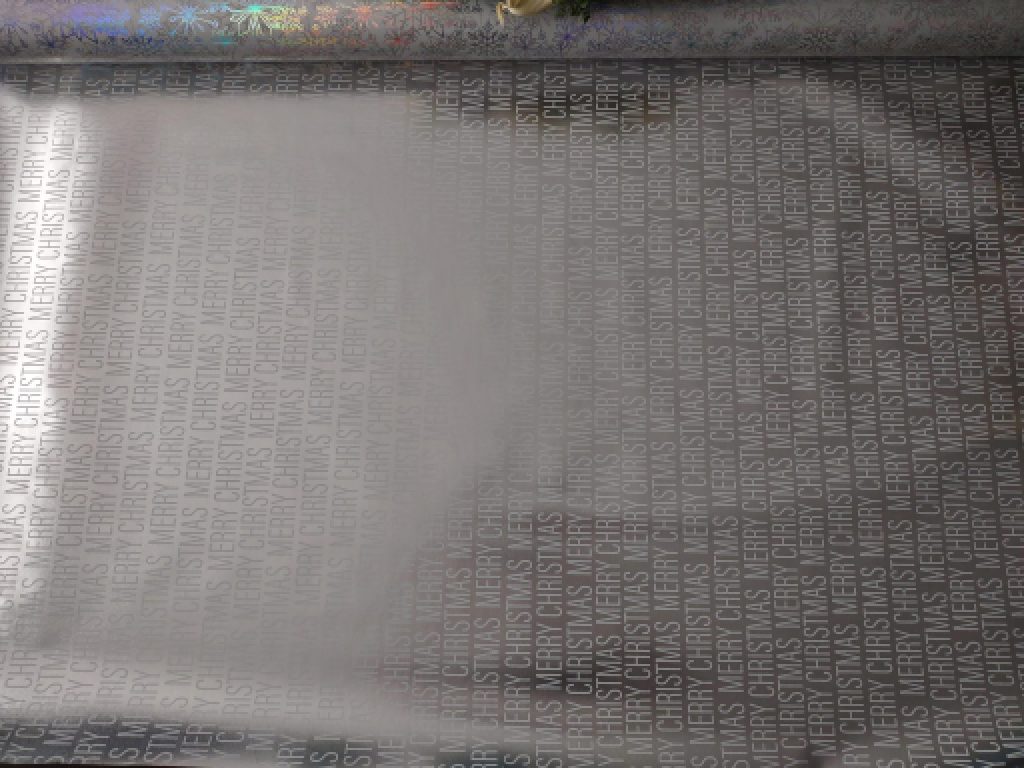 You'll want some room to maneuver. I recommend using either the:
Floor
Dining Room Table
Countertop
Craft Table
Other Open Workspace
3. Place the Umbrella in the Center of Your Paper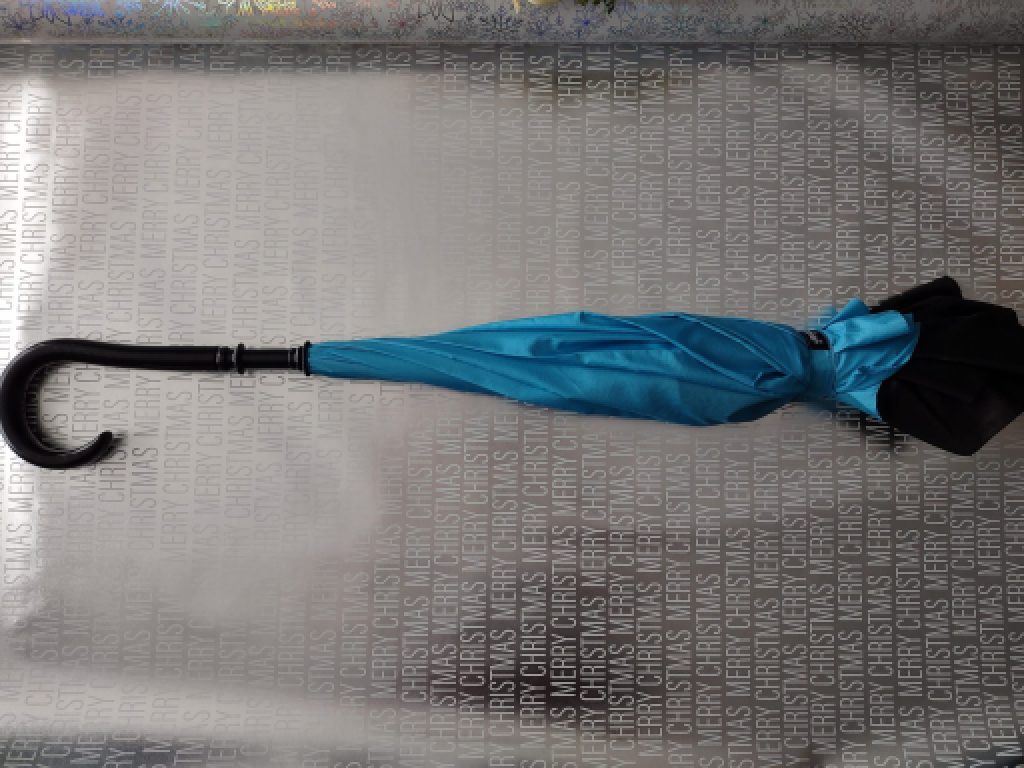 4. Cut the Paper or Fabric to Size, if Needed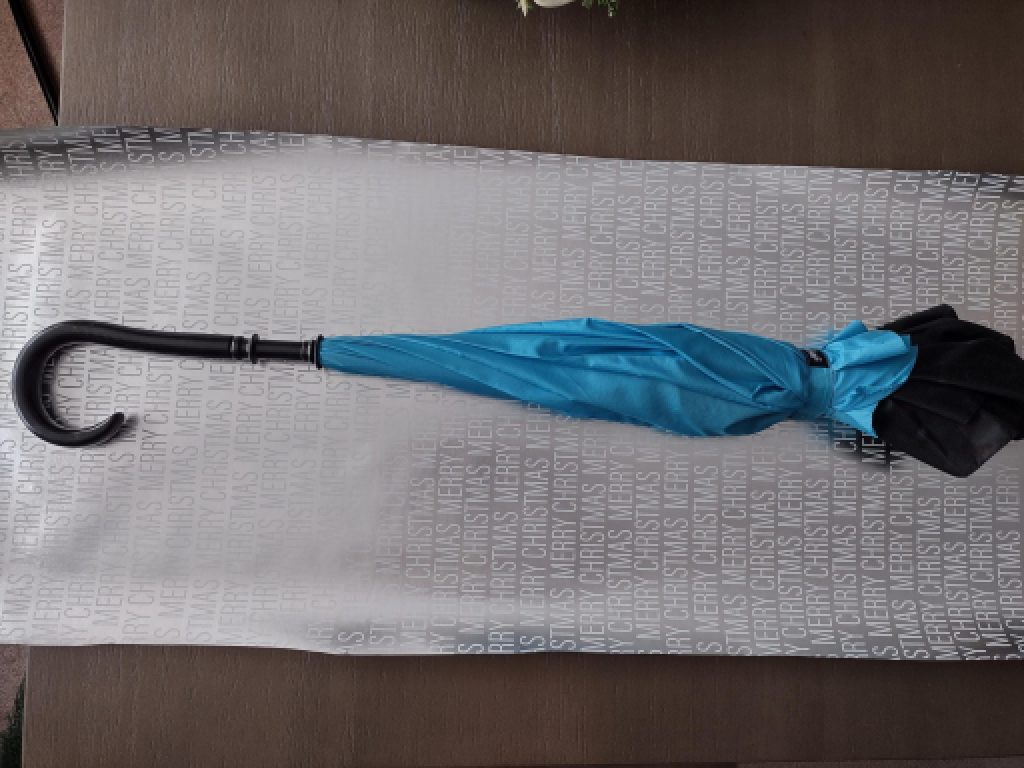 You'll want about 4" of overhang on the top and bottom, and at least 2" of overlap when the paper is folded over the umbrella lengthwise. 
Depending on the size of your umbrella, you'll likely need around 4 feet of wrapping paper to accomplish this.
 If you can find a large width wrapping paper (40" or more) then you may be able to fit the umbrella across instead of lengthwise. However, since standard size gift paper is 18-36" on average (Source) this may be difficult.
5. Fold the Top and Bottom Edges of the Paper Over the Umbrella Ends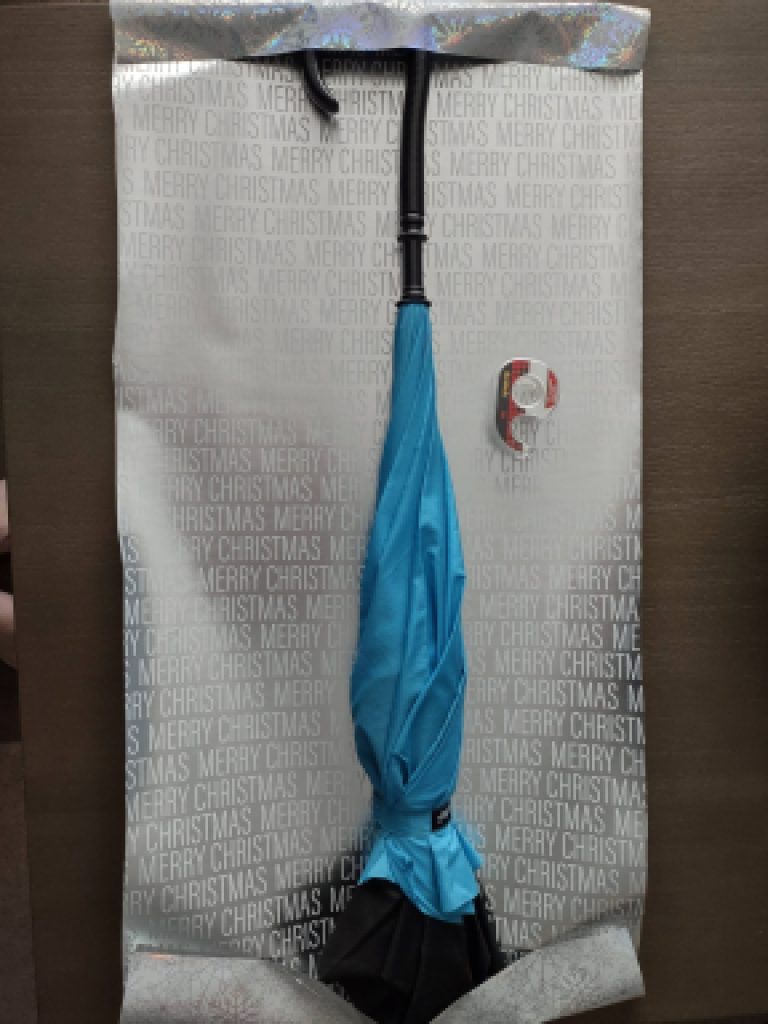 Secure with gift tape
6. Now, Fold One Side Lengthwise Across the Umbrella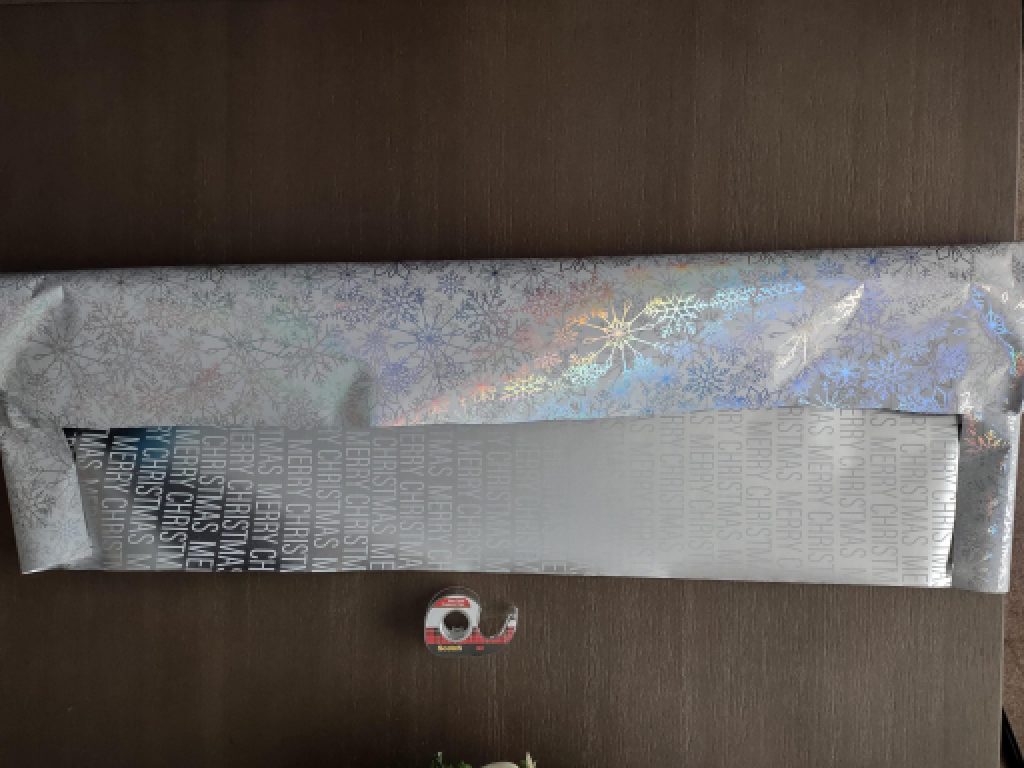 Use tape to secure the top, middle, and bottom edges
7. Repeat With the Opposite Side, Folding Lengthwise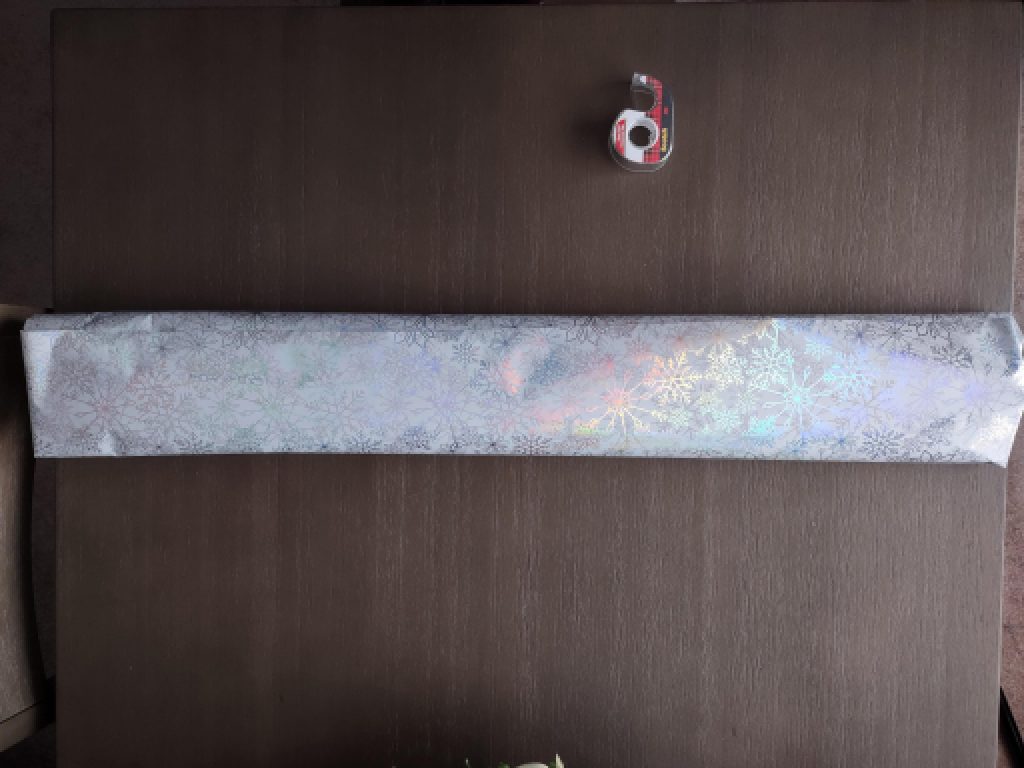 If you don't want visible tape marks, use double-sided tape for this part of the process instead of regular gift tape
8. Add Finishing Touches if Desired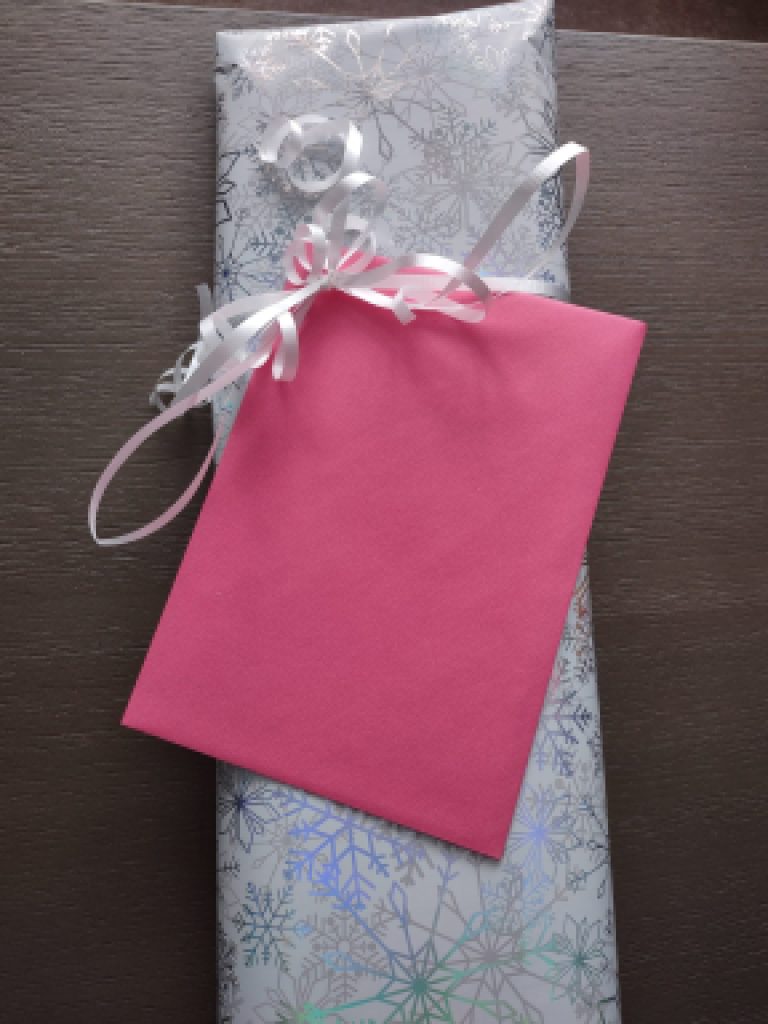 Here is where you may feel free to add a bow, ribbon, or attach a nice card to your perfect gift wrapped umbrella!
Alternate Bottom Wrapping Method
If you want to get a little fancier than the straight forward method above when you gift wrap your umbrella, this one's for you. You're going to follow basically the same overall process as above, except we're going to make a multi-fold bottom that will make a little tube for your umbrella.
Follow steps 1-3 the same. When you reach step 4, instead of 4" of paper overhang, up it to 6" for the handle side of the umbrella. Here is how you'll replace steps 5-7 to do this more complex wrapping method:
1. Remove the umbrella from your cut-to-size paper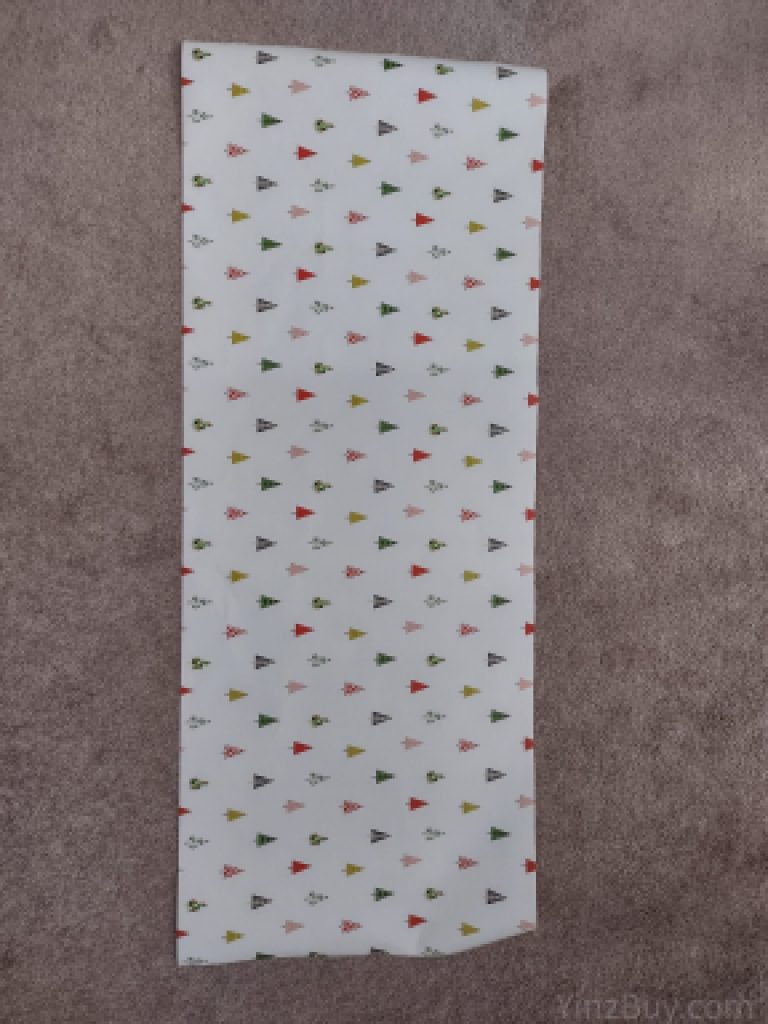 2. Fold equal portions from each side lengthwise, leaving the seam facing up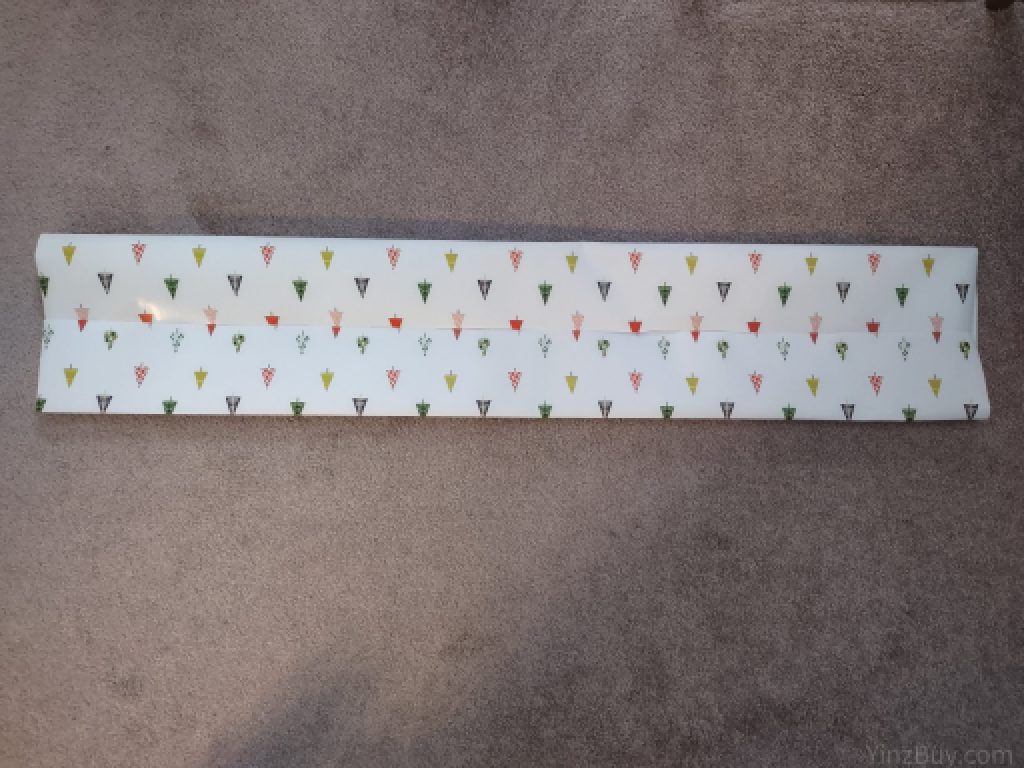 3. Estimate about 3-4" from the bottom, and create a fold widthwise across the paper there. You want it to make as close to a true square as you can, based on the width of your paper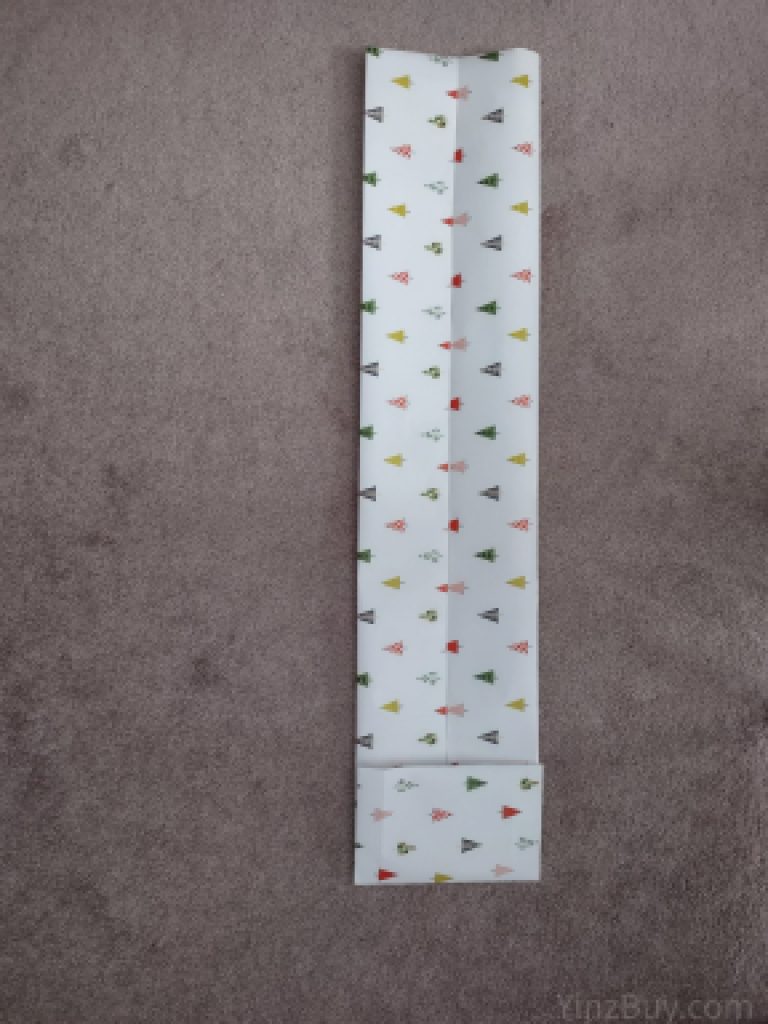 4. Open the folded section out, then push the left and right edges towards the center to create a diamond shape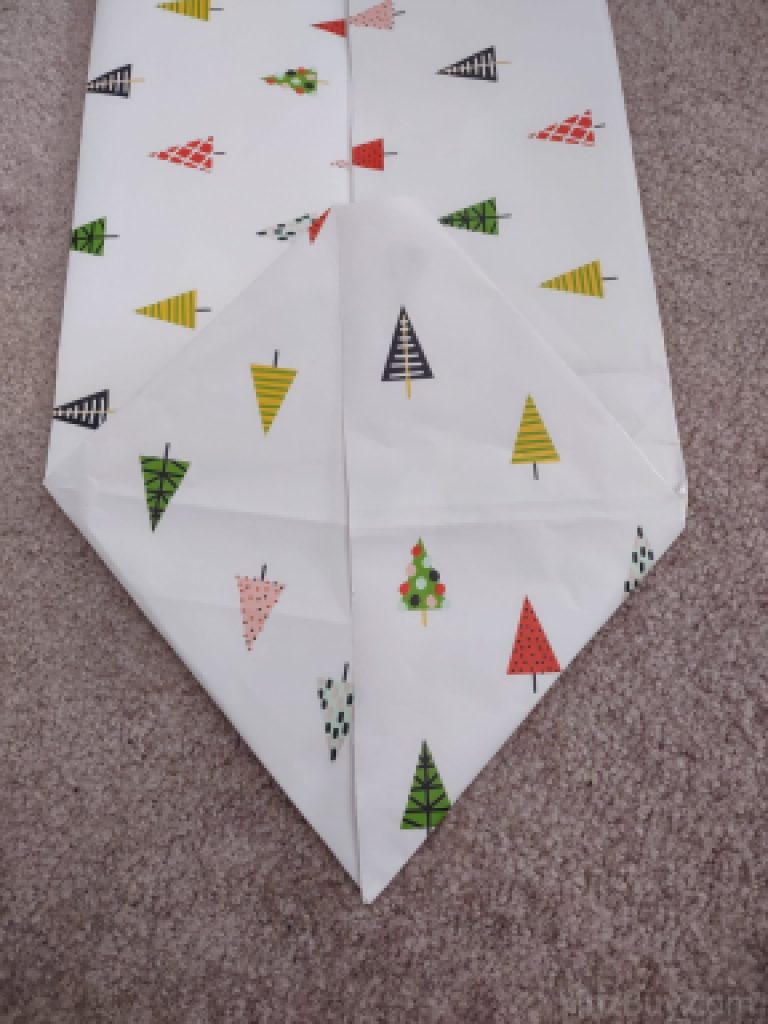 5. Fold the top and the bottom of the diamond to make an hourglass shape in the middle. Secure with a piece of tape (or double sided tape)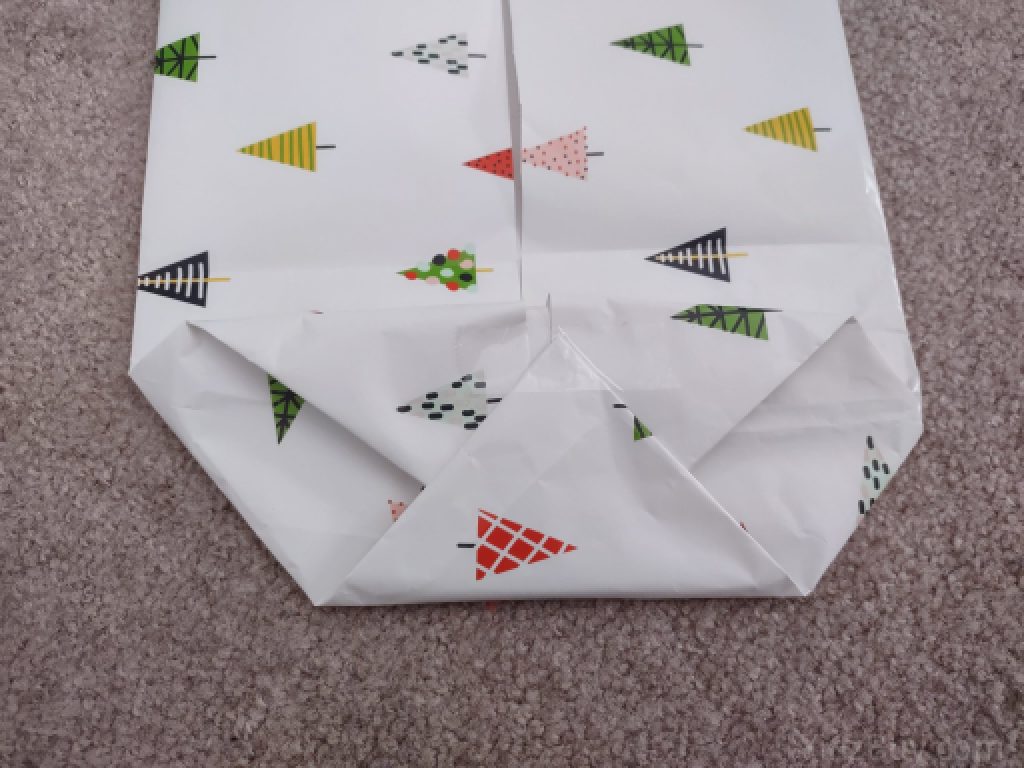 6. Place the umbrella in the paper, expanding the bottom pocket out to form a flat base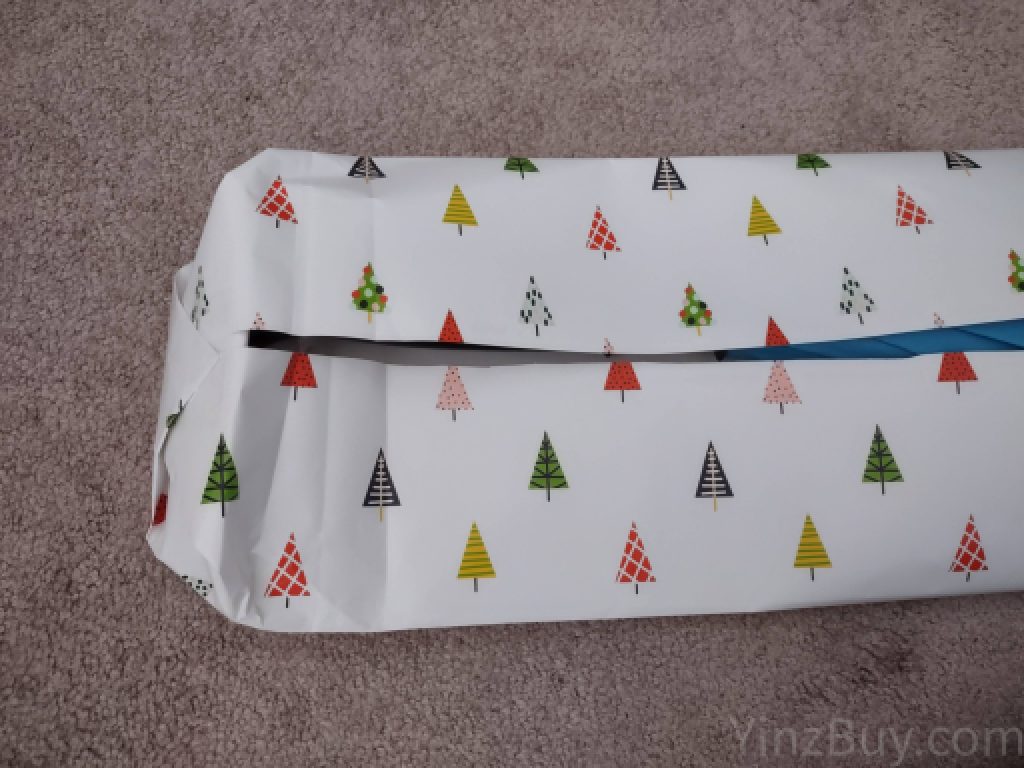 7. Tape the long side of the paper to secure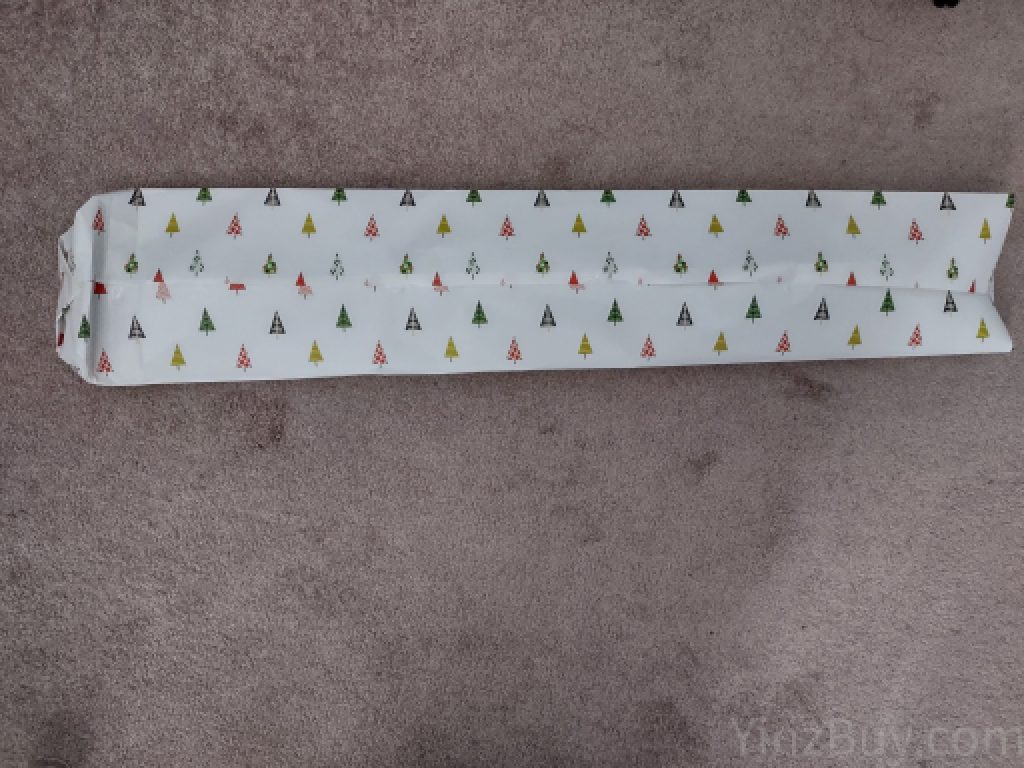 8. At the top of the paper, fold a triangular shaped portion on each side in, creating an upward point
9. Fold the point down, then secure with tape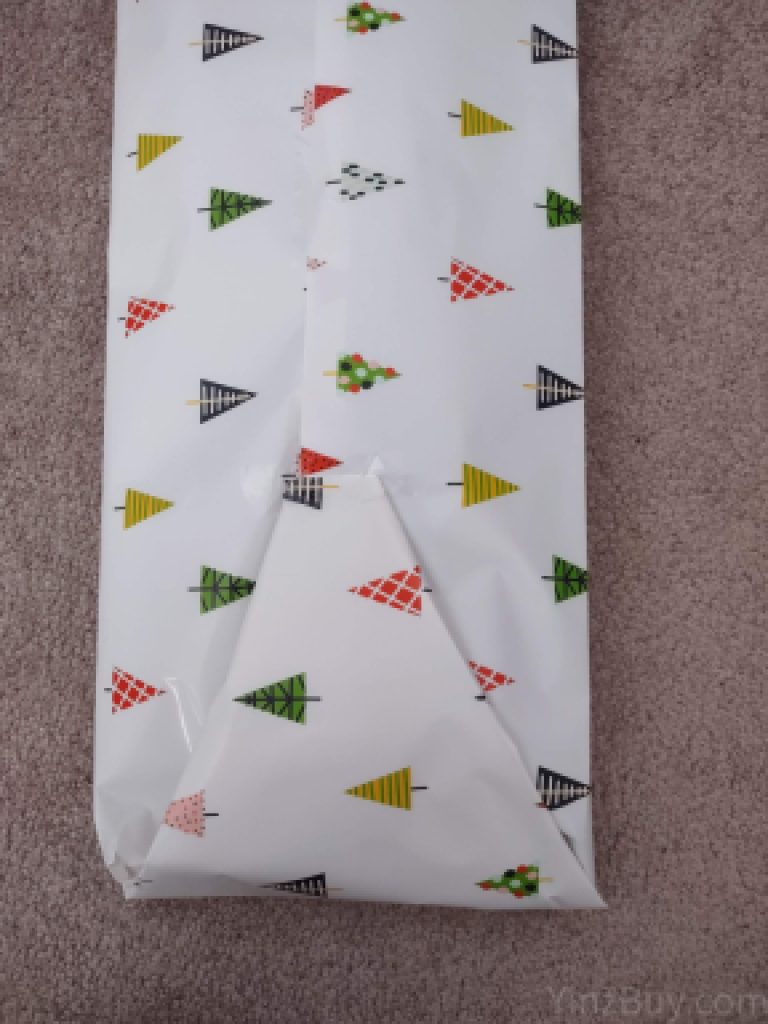 Feel free to add any extra decorations you desire, as with the previous step. Note that this method does not work well for fabric. You'll need the stiffness from a thick wrapping paper or craft paper to execute successfully.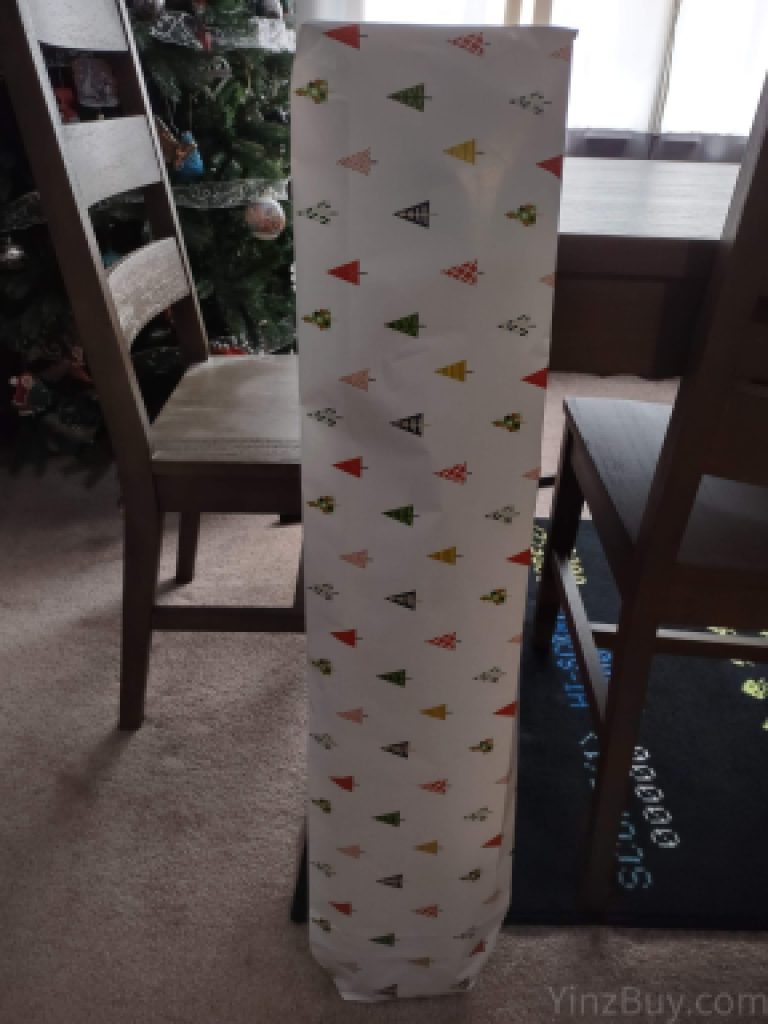 That's a Wrap on Our Simple Guide of How to Gift Wrap an Umbrella
Hopefully you've come away with ample knowledge so you too can gift wrap an umbrella as a present. You and your recipients will all be singing in the rain before you know it!
They're such a functional present as well, which is one of the things I love most about them. Unless I'm at a water park, I don't want to be wet. So, why not give the gift that everyone can use?
Related Items
If you're inspired to gift some umbrellas now, here are some of our favorites to check out:
My favorite reverse umbrella works to keep water off you like a traditional version. However, it folds in on itself, keeping all that water from pooling on your floor!

Sharpty Inverted Umbrella, Umbrella Windproof, Reverse Umbrella, Umbrellas for Women with UV Protection, Upside Down Umbrella with C-Shaped Handle (Burgundy Polkadots)
You could use the Force to keep the rain away by wielding this lightsaber umbrella

Lightsaber Umbrella - LED Laser Sword Light up Golf Umbrellas with 7 Color Changing On the Shaft/Built in Torch at Bottom (Gray)
We love this color changing umbrella, which reveals fun, bright colors when it comes into contact with water!

Color Changing Umbrella
Oh, the weather outside might be frightful, but these Color Changing Umbrellas are so delightful! Showcasing a white raindrop border design, each panel changes into a different color when it rains. They come in black for adults and red for kids. A great gift! Color changing raindrop umbrellaMade...
Do you often accidentally leave your umbrella places? The Kisha smart umbrella features a location tracker so you can find it! It even provides you weather alerts so you know when to bring it. How cool is that?

Kisha Smart Umbrella Classic in Black
*Product Ships from International Source. May be delays in Shipping. Kisha is the world's smartest umbrella that you will never lose! Kisha is armed with Bluetooth and a companion app that lets you know when to bring your Kisha with you. Kisha makes sure you get the info on chance of...
Going for a walk, and don't want to put a raincoat on your pup? The dog umbrella is designed to keep man's best friend just as dry as you!

Pet Life Pour-Protection Umbrella w/ Reflective Lining And Leash Holder in Pink/White Handle
The Pet Life Pour-Protection Performance Pet Umbrella Features a Leash or Harness Connector Chain Piece at the bottom of the Umbrella. This Umbrella also Features Reflective Lining all across the border edges an essential safety component while dog walking during those dark rainy nights....
Even your vehicle might enjoy an umbrella! The car umbrella is designed to keep sun, rain, and debris off your car

Semi-Automatic Car Umbrella,Car Tent Sun Shade Canopy Folded Portable Car Umbrella With Remote Control 4.1X2.25 M
When wrapping, considered seeded paper which can be planted to grow after!

Gift Wrap That Grows and Blooms Colorful Wild Flowers - Seeded to create Colorful Garden
Gift the gift of comfort and learn how to gift wrap a weighted blanket!
Learn 11 simple yet unique ways to wrap tickets as a gift and make your present really stand out and be memorable!