How to Put Tissue Paper in a Wine Gift Bag in 7 Easy Steps!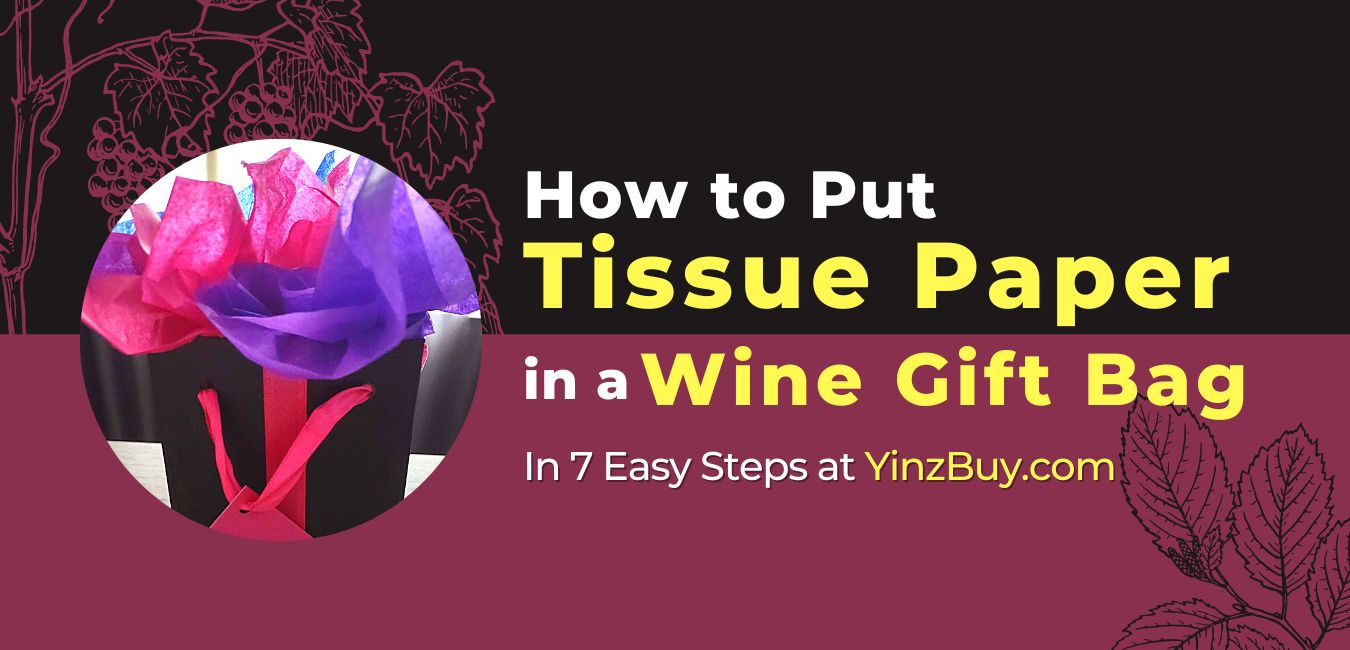 Everyone's favorite hostess gift has to be a bottle of wine. I mean, it's great for all sorts of occasions. That, of course, leads to the dilemma of wrapping it. If you've picked up one of these cute bags at the store, that's one problem solved. But how to put tissue paper in a wine gift bag is a whole additional issue.
Thankfully for you, I've shredded, cursed, and trialed my way into success. I'm going to teach you how to add tissue paper to your wine gift bag in this step by step guide. You'll be a savvy vino gifter in no time!
1. Gather Your Supplies
The first step of how to put tissue paper in a wine gift bag is to gather your supplies.
You will need:
A bottle of wine
Wine bottle-sized gift bag
Tissue paper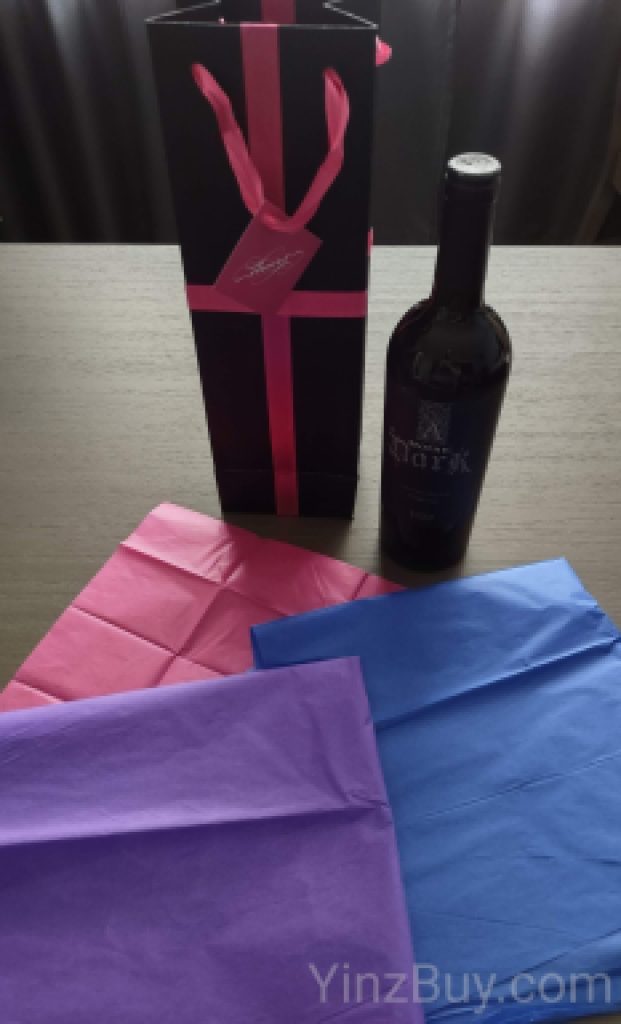 Optional items are:
Gift tag (especially useful if you're gifting to multiple people)
Bow or ribbon
Any color of  wine gift bag or tissue paper is fine. Here, I'm using a Cakewalk wine gift bag and paper from an assorted package of American Greetings tissue paper. The bright colors really bring the wow factor!
I also like to get a couple different colors and alternate for the look. It's a great way to add a seasonal touch or to coordinate with the event or holiday. Here are some of my favorite tissue paper color choices and the associated occasion:
Tissue Paper Color Recommendations Based on Occasion
| | |
| --- | --- |
| Occasion | Tissue Paper Colors |
| Easter | Pastels (blue, green, pink, yellow) |
| Halloween | Black and Orange |
| Christmas | Red, Green, Gold |
| Hanukkah | Blue, White, Silver |
| Wedding | White, Silver |
| Autumn | Maroon, Brown, Tan |
| Spring | Green, Light Blue, Pink |
| Winter | Dark Blue, Light Blue, White |
| Summer | Orange, Yellow, Red |
Tissue paper color recommendations based on occasion
How Much Tissue Paper Do I Need for a Wine Gift Bag?
For a standard sized wine gift bag, you need 3-6 sheets of tissue paper. This is dependent on how full you would like the bag to appear.
Especially if you're using multiple colors, you'll want to make sure to put enough tissue paper into your wine gift bag to create a "full" look and have an equal balance of your color palette.
2. Unfold Your Tissue Paper
For the second step in putting tissue paper in a wine gift bag, you'll want to unfold the sheets you plan to use. Gently and slowly open your tissue, and lay it out to help prevent tearing, as it's fairly delicate.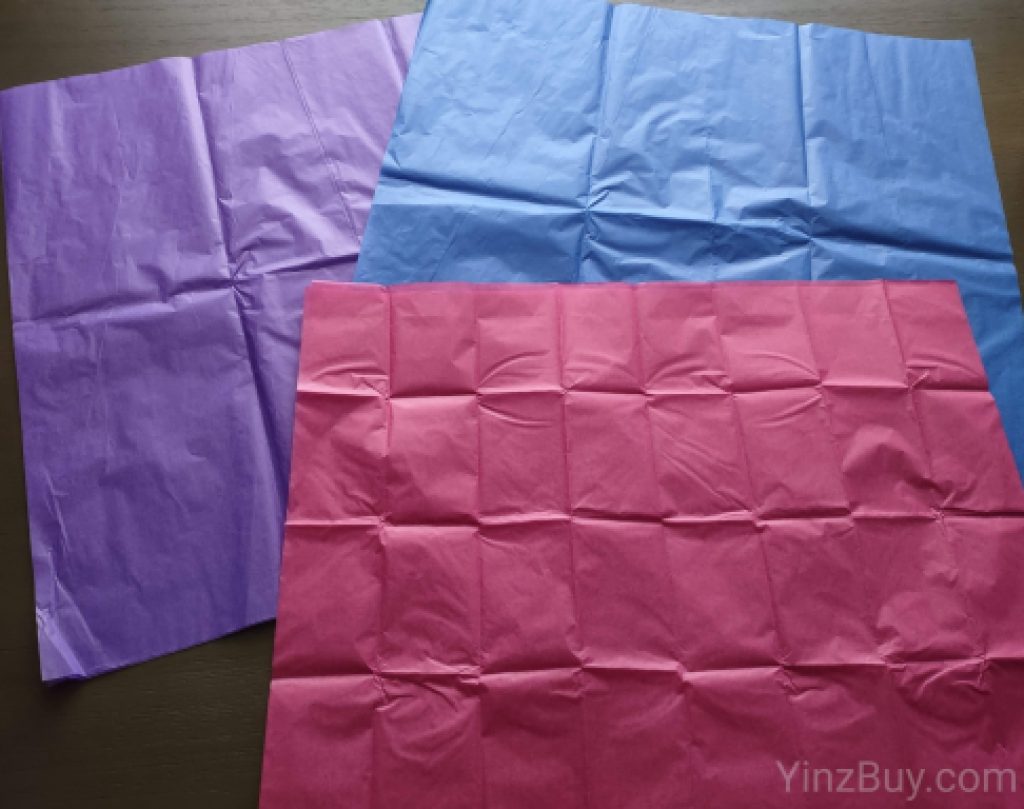 I recommend using a large, flat surface, such as a:
This will make it less likely that you'll accidentally rip the paper along the way. I also try to gently smooth out the larger folds. You won't see them when we pack everything in the bag, but I find it makes the paper easier to work with.
3. Place Your Wine Bottle in the Tissue Paper
Next, you'll be placing your wine bottle in the center of the tissue paper:
Lay two sheets of tissue paper down on a flat surface
Rotate one piece 45 degrees on top of the other so the corners are offset
Place the wine bottle in the very center of the combined paper layers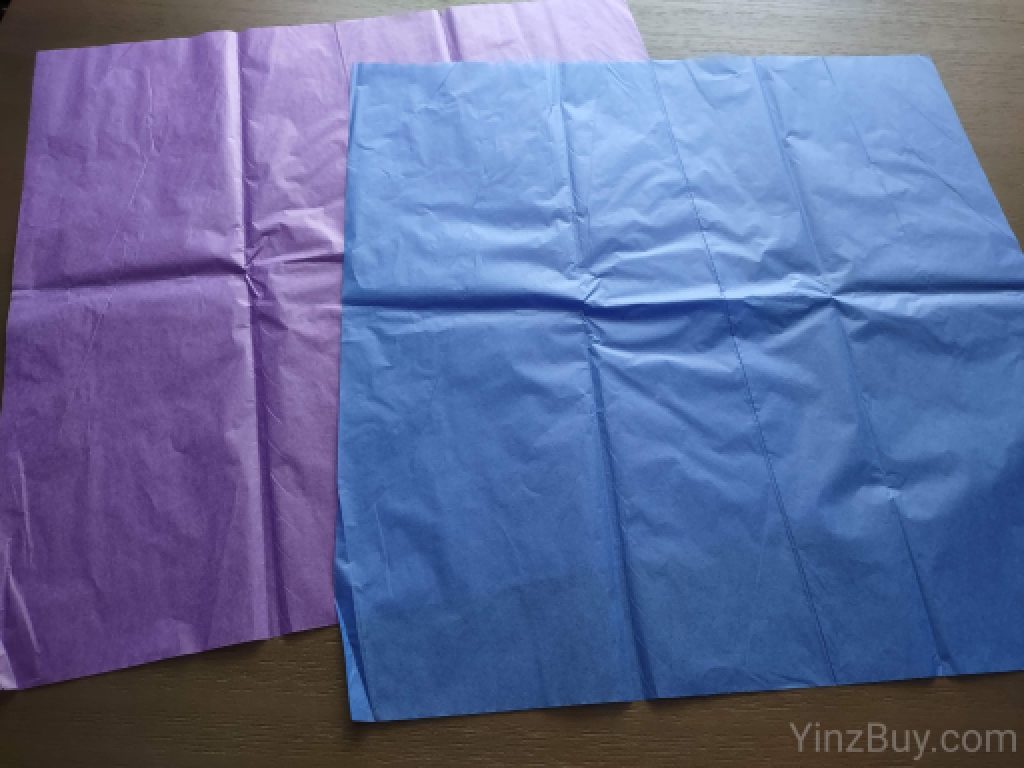 If you're using just one color of tissue paper, use two sheets of the same. For a wine gift bag where you plan to use multiple colors of tissue paper, choose two different colors for this task. This will help create layers of color in your finished gift.
4. Fold the Tissue Paper Up Around the Wine Bottle
With the bottle in the center of the tissue paper, you'll now begin to bring the sides up around the bottle:
Work around the bottle one side at a time
Grab the corners of the tissue paper and bring them to the neck of the bottle
Hold in place, while using your other hand to smooth the paper
Repeat until the paper is completely folded up around the bottle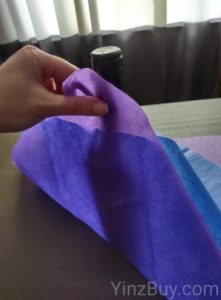 At this point, if you'd like to secure it with a nice ribbon or bow around the top of the bottle, feel free. Alternatively, add a gift tag with twine, string, or ribbon to better differentiate for recipients. Otherwise, you can leave it as is during the next step.
If you'll need to step away, I recommend giving the tissue paper a gentle twist (without ripping the paper) to help secure it around the bottle. Otherwise, just proceed to the next step.
5. Place the Wine Bottle in the Gift Bag
Take your tissue paper wrapped wine bottle, and gently slide it into the wine gift bag. Hold the top of the bag open with your free hand, hold the bottle and paper by the neck with your other hand, and insert the bottle into the bag bottom first.
Ensure that the paper near the top of the bottle doesn't get caught on the corners of the bag as you're placing it in. If it snags, just free it gently with your free hand.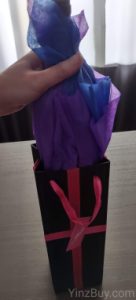 6. Add More Tissue Paper 
Now that our paper-wrapped wine bottle is in the bag, the next step is to add more tissue paper to the wine gift bag.
Just as in step 2, you'll want to unfold the sheets you plan to use for this step in advance. I'm using 4 total additional sheets in two colors for a nice, filled look. However, feel free to adjust up or down based on your personal preferences.
Here is how to add your additional tissue paper in a wine gift bag:
Grab the flat sheet as near to center as you can
Lift it up, letting the rest of the sheet drape like a handkerchief
Using your free hand, smooth the paper from top to bottom. Use enough pressure to condense the paper but not enough to tear it
Now, invert your cone-shaped piece of tissue paper and stick it pointy-end first into the bag, next to the wine bottle
Repeat with the remaining sheets of tissue paper, altering placement in the bag to different sides of the bottle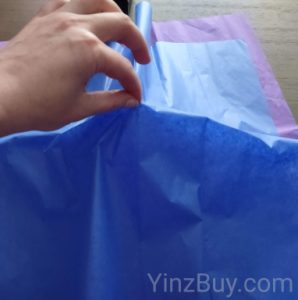 Once you've added your paper in, give all the corners sticking out of the bag a nice "fluffing" and gentle rearranging with your hands. This will eliminate air gaps and create a full, beautiful look.
7. Add Finishing Touches
That's it – you've successfully put tissue paper in a wine gift bag. The last step is just to add finishing touches before handing it over.
Sometimes I add a coordinating bow, or I'll stick a greeting card in the top of the bag for special occasions and holidays. I recommend this super unique 3D wine greeting card. Not only does it coordinate, but it's great for nearly any occasion!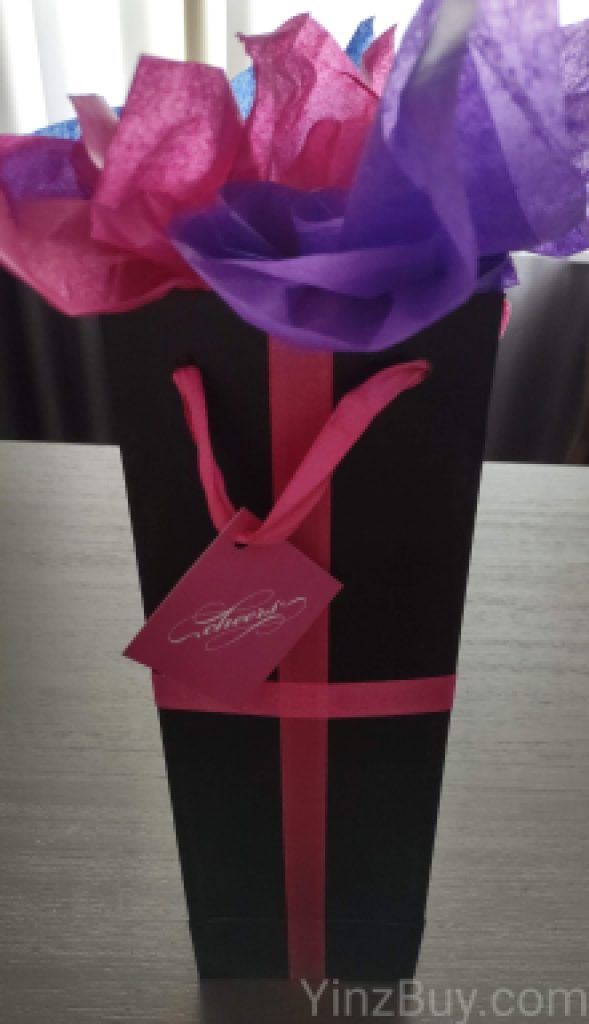 That's a Wrap!
I hope I've provided you with a useful guide on how to put tissue paper in a wine gift bag.  While it takes a few minutes and a little effort, you're rewarded with a stunning gift that anyone would be grateful to receive.
For real, don't just plunk a wine bottle in a bag and call it a day. I taught you better than that.
If you're running out of wrapping materials, then check out our guide on how to fill a gift bag without tissue paper! We give you 11 different filler options!
Related Items
Here are some other wine and gift related things that might interest you:
If you love wine and coffee, don't settle! Get the best of both worlds with wine coffee beans!

Wine Barrel Aged Whole Coffee Bean Box Set, Sample Gift Set - Chardonnay, Pinot Noir, Cabernet Sauvignon Barrel Aged Coffee, 3x 4oz Bags Box Set 12oz Total Whole Bean
Take those empty wine bottles and upcycle them with cork wine bottle lights for a beautiful look!

NeoJoy Rechargeable Wine Bottle Lights, LED Cork Lights USB Fairy String Lights Parties Decoration, Warm White
Use the corks to fill up this unique wine barrel cork catcher side table

Wine Enthusiast Barrel Cork Catcher Side Table – Holds 2,000 Corks
Bringing some wine home from your travels abroad to gift? Pack it in the VinGardeValise wine suitcase to keep it safe

FlyWithWine VinGardeValise Grande in Black
Travel in confidence with the VinGardeValise® Grande 05, a must-have wine travel accessory that guarantees a safe journey for your favorite wine, beer & spirits. • Removable foam inserts are designed to hold a combination of 750ml bottles of almost any shape. The ability to fly with a combination...
Speaking of traveling, if you're sending your gifts abroad this year, learn if customs will unwrap presents so you can better prepare!
Know what goes great with a glass of wine? Candles! Check out if expensive candles are worth buying to see what might go best with your gift
As noted on our Affiliate Disclaimer page, links to products inside this blog could lead to sales commissions (at no additional cost to you) which allow this site to continue operations.