Portable Folding Charcoal Grill for a BBQ on the Go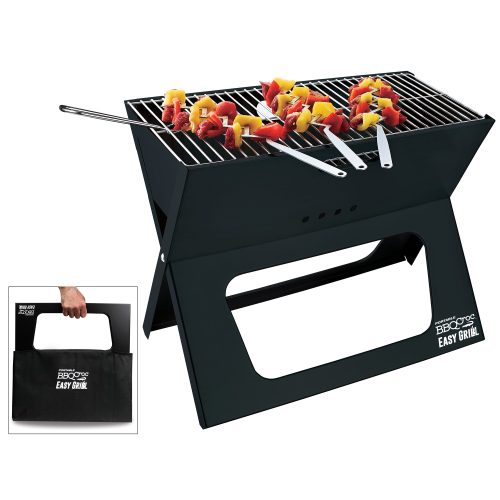 I don't know where you plan to fit the grill in the car; it's packed to the brim! You're bringing the portable folding charcoal grill this time? Well, I think we can squeeze it right into that small space up top!
This portable folding charcoal grill collapses down to just 1.25" thick. A carry handle allows it to be carried like a bag and easily positioned into small spaces. You'll still need wood or charcoal to fuel it, though, so you'll either need to pack that separately or obtain it at your destination.
Never leave the grill behind again thanks to the portable folding charcoal grill!
Every time I went camping as a kid, it always felt like the bulky charcoal grill was the first thing cut when there wasn't room. Thanks to this handy portable folding charcoal grill, that's now a thing of the past. It'll take up less space than your sleeping bag!
This compact grill uses a metal rivet to hold the two sides of the grill together. Swivel between completely flat or expand it out to form an 'X' shape. Once opened, the grill grate may be placed on top, providing you a place to cook your food!
Just place your charcoal briquettes in the base, and fire it up. The durable carbon steel is safe to over 1,000 degrees F, so there's no worries when you want to crank up the heat. An 18.75 x 11.5-inch cooking surface provides space for up to 12 burgers (or even more hot dogs) to feed a crowd!
Once you're done eating, dump the charcoal and add some wood. The portable grill converts into a fireplace for a small campfire to finish off the night with some s'mores! Ventilation slats in the sides allow for great airflow, helping to produce even heat from all fuel sources!
Since it's so easily transported, this portable folding charcoal grill is great for:
Camping
Tailgates
Fishing trips
Canoe or kayak outings
Picnics
Hiking
RVing
Anywhere without ready access to another cooking surface
It does weigh around 13 pounds due to its heavy duty construction, but is still far lighter than a standard camping grill!
How do you clean a portable charcoal grill?
Dispose of cooled ashes from fuel source
Wipe base with a wet cloth or spray with hose
Dry with soft towel
Remove large debris from grate with grill scraper
Wash grills in warm, soapy water if needed
Dry completely
For really tough residue, grab some grill grate cleaner to help get things moving!
Additional Notes
You can also find the folding charcoal grill on Amazon if you're comparing prices
Includes a Velcro carrying case for clean transport
Rated 4.1 stars on Amazon – summer fun approved!
These BBQ grill lights ensure you can grill well into the night!

IMAGE Grill Lights Magnetic BBQ Grill Light with Ultra-Bright LED Lights and 3W Side Light, 360 Degrees Flexible Gooseneck Adjustable BBQ Grill Lights for Any Gas Charcoal Electric Grill 2 Packs

Make some delicious burgers for the grill with the help of a stuffed burger press 

Grillaholics Stuffed Burger Press and Recipe eBook - Extended Warranty - Hamburger Patty Maker for Grilling - BBQ Grill Accessories

The grill wok keeps your loose veggies from falling into the flames!

Cuisinart CNW-328 11-Inch, Non-Stick Grill Wok, 11 x 11

A grill stone is an easy way to clean your grates without worrying about those metal strands getting in your food

Barbi-Q Grill Cleaning Bricks - Grill Stone | Griddle Cleaner Block - Pumice Stone Brick Cleaner for BBQ | Grills | Racks | Flat Top Grill | Pool | Toilet Cleaner - (Pack of 3)

Looking for a smaller option? Check out the Hero grill, which has about half the cooking area in a similarly portable format

HERO Grill Portable Lightweight Charcoal Grilling System