Magnetic BBQ Grill Lights – Perfect for All Day Backyard Grilling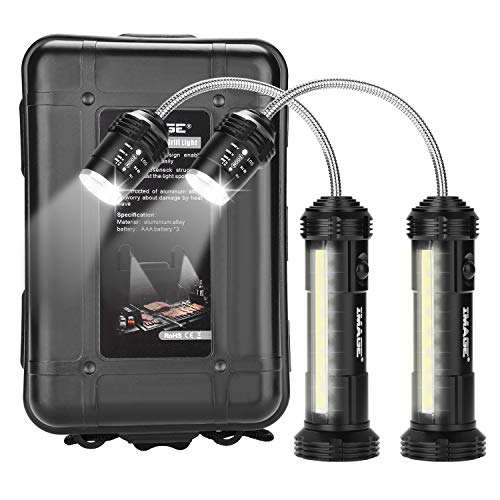 No, Timmy cannot come outside to hold a flashlight for you while you grill. It's not his fault you forgot to change the floodlights out there. You could have set up those magnetic BBQ grill lights you got for your birthday too. That would have ensured you had plenty of light!
Magnetic grill lights are a portable, flexible light that sticks to any magnetized metal surface. Simply set them in the desired location, then bend the light to shine where you need it. They help with low light or nighttime activities, such as grilling or car maintenance.
Become the ultimate pitmaster even in the wee hours of the morning with help from your magnetic BBQ grill lights!
No longer will you need to wait for the sun to rise when you have magnetic BBQ grill lights. These handy lamps will light the way for you to get that before-dawn start on that all day smoked brisket. Perhaps you're cooking dinner after a late night at the office, and the sun has already set. Then, this weekend, you'll need to shine some light under the hood of your car. Magnetic grill lights can assist with all those tasks and more.
This set of two lights has a strong magnet in the base that will attach to any magnetic surface. It doesn't matter whether your grill or smoker is gas, charcoal, or electric – it's probably made of metal. Just pop the lights on, and then use the 5" neck to direct the light exactly where you need it. Don't worry, the aluminum alloy material is both heat and weather resistant. The rain and the heat from your grill won't bother it at all!
Each lamp neck has 360 degrees of rotation, allowing you to get it just right. In addition to the targeted, bendable light, each unit also has a fixed placement side light. This bright light is built into the non-flexible portion of the lamp. Position it to provide great overall lighting, then use the smaller zoomable light to hone in on specific areas. The stationary light can be operated at 50% or 100% brightness, and the adjustable has 4 different zoom settings. Adapt easily to both low and no-lighting situations!
The LED lights deliver bright lights, while offering flexibility when it comes to power. These magnetic grill lights operate with your choice of standard AAA batteries or 18650 batteries, which are often used in flashlights.
Additional Notes
Batteries not included – 3 AAA or one 18650 battery required
Base portion is 3.9" tall
Operation switch has a waterproof casing
Lights are "bright" white color
Weighs about 12 ounces
Comes with a hard shell case for storage or transport
Top 20 best seller in Grill Lighting on Amazon
Perfect gift for Father's Day!
4.5 star rating with over 350 reviews – grill master approved!
Learn more about top smoker choices and meat decisions to add to your backyard grilling experience
A home Pitmaster will absolutely love this Masterbuilt digital electric smoker for their grilling needs!

Masterbuilt MB20074719 Bluetooth Digital Electric Smoker, 40 inch, Stainless Steel

Keep all your BBQ accessories at hand with a handy rolling grill cart 

Keter Unity Portable Outdoor Table and Storage Cabinet with Hooks for Grill Accessories-Stainless Steel Top for Patio Kitchen Island or Bar Cart, Espresso Brown

Use a chicken wing rack to hold your drumsticks and wings when grilling

G.a HOMEFAVOR Chicken Leg Wing Rack 14 Slots Stainless Steel Metal Roaster Stand with Drip Tray for Smoker Grill or Oven, Dishwasher Safe, Non-Stick, Great for BBQ, Picnic

If you're planning some tasty vegetables, then add them to this Cuisinart grill wok 

Cuisinart CNW-328 11-Inch, Non-Stick Grill Wok, 11 x 11

Don't use a dangerous wire brush for cleaning when you can instead use a Barbi-Q grill stone 

Barbi-Q Grill Cleaning Bricks - Grill Stone | Griddle Cleaner Block - Pumice Stone Brick Cleaner for BBQ | Grills | Racks | Flat Top Grill | Pool | Toilet Cleaner - (Pack of 3)

When you need to cook anywhere, take this portable folding charcoal grill with you!

CROC TOOLS inc. BBQ Croc Portable Easy Grill in Black

THE NEXT GENERATION OF X-GRILLS! This portable charcoal barbecue brings the X-grill style to the next level and is by far the highest quality foldable grill of its category. It folds to only 1 ¼ inch thick and carries like a briefcase! Built with a STURDY & THICK premium carbon steel body and...