Inflatable Air Hockey Table – Float and Play in Your Pool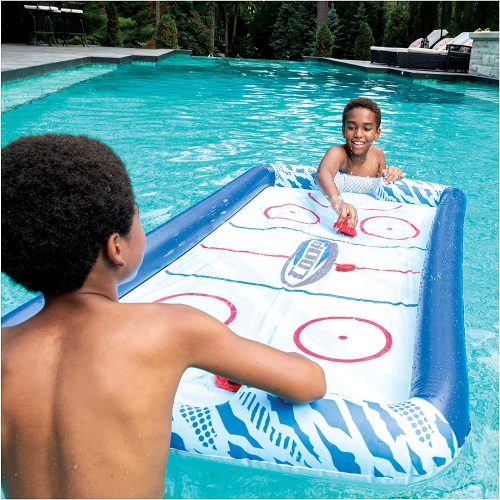 Kids, where are you headed with the air hockey table? You're going to put it in the pool? I don't think that's a great idea. After all, water and electricity never mix. Look, if you want to do that, just play on an inflatable air hockey table instead. I swear you're taking years off my life with your schemes.
An inflatable air hockey table is a floating pool toy designed to bring the classic table game to your pool. Since there is no electricity involved for safety, pucks instead are shot over a slip 'n slide style surface. The concept of the game is the same, though, except you can play in the water.
Bring your game room outside for summer fun with an inflatable air hockey table!
If you've ever wanted to bring the table games outside to enjoy the summer sun, then an inflatable air hockey table is right up your alley. This floating table is perfect for your pool, pond, or other relatively still body of water.
Just add air, and the tube around the rectangular game board inflates. In a few minutes, you'll have a floating air hockey board. Unlike traditional air hockey tables, though, this one requires no electricity and doesn't use air to power the pucks.
Instead, the included puck is shot back and forth over a slippery plastic surface. Much like you'd skid on a slip n' slide, it'll have no issue zinging back and forth as you whack it with the paddles.
The floating board is waterproof, but you'll want a little water on the board to "grease things up" for the puck. However, don't dump a ton of water into the board or your puck will find its way to the bottom of the pool.
Go head-to-head with your friends and family this summer, enjoying a game of pool air hockey. While it's recommended for ages 5+, as an adult I still have tons of fun with it!
How do you play inflatable air hockey?
You play inflatable air hockey much like normal table-based air hockey:
Wet the board slightly (just enough to help the puck slide)
Each player grabs a paddle
Hit the puck back and forth with the paddles, trying to land it in your opponent's goal
Earn one point for each goal
The first player to 7 points wins
Feel free to adjust the number of points required for longer or shorter games, if preferred. It's only a recommendation and not a hard and fast rule.
If you happen to launch the puck out of the game board that's a foul. I keep a rule that the person who knocked it out must retrieve it from the bottom of the pool. Then, it becomes the other player's puck to shoot!
Additional Notes
Fully inflated, board measures 68″ x 36″
Rated 4.5 stars – summer fun approved!
Comes with one patch in case of punctures
Adults can enjoy some pool games with this floating beer pong table!

GoPong Pool Lounge Floating Beer Pong Table Inflatable with Social Floating, White, 6'

Another great table game for outside play is the outdoor foosball table. It's perfect for the porch or patio!

Hall of Games Phoenix 56 Inch Outdoor Foosball Table, Black/Silver

You may also enjoy Lawn Launch, the roll and score style game for your lawn

The Jumbo Lawn Launch Game

This is the roll-and-score arcade game that provides hours of outdoor fun for children and adults. Modeled after the classic midway bowling game, players take turn rolling balls up the 7'-long ramp and into one of three scoring rings. The polyester ramp sets up easily with included stakes and...

Enjoy a pool volleyball basketball combo game for more head-to-head competition

Inflatable Pool Float Set Volleyball Net & Basketball Hoops; Balls Included for Kids and Adults Swimming Game Toy, Floating, Summer Floaties, Volleyball Court (105"x28"x35")|Basketball (27"x23"x27").

Set up floating cornhole and you'll be able to partake from the land or the water!

Coconut Float Island Toss Floating Cornhole Game Inflatable 9 Piece Outdoor Toy – Durable Long-Lasting Family Entertainment - 3 Foot – Perfect for Parties, Tropical Events – Ages 8+ Years