Wireless Dog Doorbell Button – New Potty Training Technology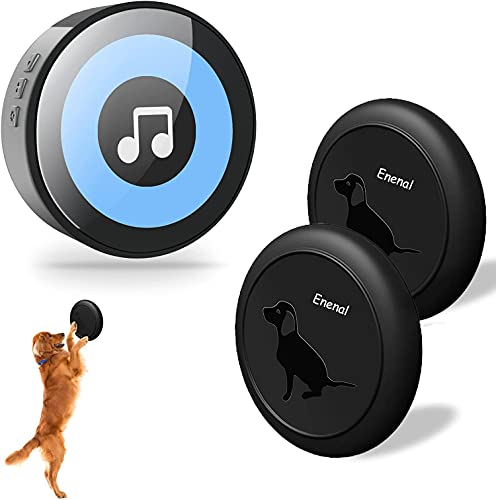 That's a unique sounding doorbell you have, Ted. It's actually a dog doorbell that you use to train your dog? I'm about to get one for our house, too!
A dog doorbell is a wireless device that can be used to train your dog to alert you when they need to go out. By pressing the button, it emits a sound to draw your attention. It serves a similar purpose to hanging bells, but is small, sleek, and unobtrusive.
Let your dog tell you they need to go out with the help of a dog doorbell!
Install a dog doorbell, and let your pup tell you when they need to go out. With a simple press on the button, the bell will alert you that your dog needs you.
It's simple to train your dog to use a dog doorbell. Simply guide their nose or paw to it when you're ready to go out. Once the button has been pressed, head outside as planned. Your dog will quickly learn to associate the push of the bell with the action of going out.
This set comes with two transmitters and one receiver. Place the transmitters where your dog can reach using the included double-sided sticky tape. Doors, floors, and windows are the most common locations.
Requiring only .2 pounds of pressure to engage, this doorbell is suitable for nearly any size dog. From a Chihuahua to a Husky, your pet can successfully use a dog doorbell.
The transmitters are dust and waterproof, so they may be used both indoors and out. It's been tested from -22 to 158 degrees Fahrenheit! Now your dog can tell you when they want to go out or when they want to come back in.
Choose between 4 modes that work best for your lifestyle. The receiver can either play one of 20 melodies, light up the LED lights, ring with flashing lights, or ring with solid lights. Choose what's most effective at getting your attention! It works up to 1,000 ft away from the transmitter for convenience and has 4 volume settings as well.
No Wi-Fi, no wires, and no complicated installation is required. The doorbell will be up and running in minutes, and has been stress tested up to 200,000 presses!
Additional Notes
Requires 12V 23A Alkaline battery (included)
Up to 3 years of use on one battery, depending on frequency pressed
Includes a screwdriver to access and change battery compartment
Memory function retains last settings if disconnected from power source
Each button is about 3" in diameter
Rated 4.3 stars – dog and human approved!
After going outside, keep muddy prints off the carpet with a dog paw cleaner cup!

Dexas MudBuster Portable Dog Paw Cleaner, Medium, Blue

When it's time to take your pets out in the winter, keep them warm with a heated dog vest!

The Pet's Heated Vest

Available only from Hammacher Schlemmer, this is the heated pet vest that provides up to two hours of heat on chilly fall and winter walks. With three heat settings from 95u00B0 F to 113u00B0 F, the carbon fiber elements quickly and evenly spread warmth across an animal's back at the touch of a...

Your pet may also enjoy this dog relaxation trainer, which helps with stress and anxiety

The Stressed Dog's Relaxation Trainer

This is the device that calms anxious dogs via ultrasonic sound frequencies that are inaudible to human ears. Ideal for pups that struggle with stress from fireworks, thunderstorms, or separation anxiety, it broadcasts six different frequencies that only pets can hear, keeping them calm in...

Let Fido out to relax on an outdoor chaise lounge dog bed. He can ring the bell when he's ready to come back in!

The Refined Canine Outdoor Dog Chaise Bed w/Shade Hood, Waterproof Poly Rattan Lounger with Washable Cushion, Espresso, Chaise-ES-AMZ

Or, maybe he'd prefer to play in the water with a step on sprinkler dog toy 

Dog Fountain Water Fountain Dog Sprinkler Step On Dog Sprinkler Toy for Big and Small Dogs For Drinking and Pets Playing And Happiness

He could even play fetch by himself with the iFetch automatic dog ball launcher 

iFetch Interactive Ball Launcher for Dogs – Launches Mini Tennis Balls, Small

Reward your goodest boy with some tasty dog macarons – the gourmet treat pups love!

Bonne et Filou Christmas Dog Treats Dog Macarons Luxury Handmade Dog Gifts Dog Birthday Healthy and Delicious Gourmet Dog Snack with All-Natural Ingredients (Strawberry/Mint/Lavender)

Heading out for a walk? Use a pocket leash to bring everything you need along easily

WAGNETIC Dog Leash with Built in Storage Pockets | Durable 4 ft Nylon Leash with Nickle Plated Snap Hook with 360-Degree Swivel |Loop Handle (RED/Black)

Don't forget a no pull dog harness to make your walk even more pleasant!

Dog Harness No Pull Reflective Adjustable Pet Vest with Handle for Outdoor Walking- No More Pulling, Tugging or Choking(Black,M)