Banshees Precision Throwing Cards – Ideal for Trick Throws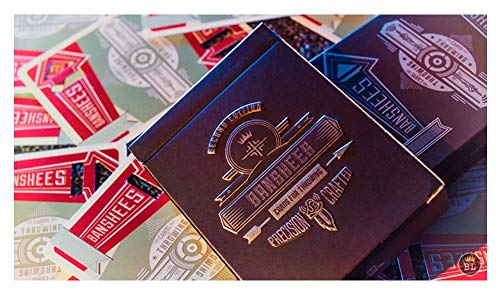 Hold on, were yinz playing 52 card pickup in the living room? No? Then why are there cards all over my floor? Oh, you were pretending to be Gambit. Here, toss some of these throwing cards instead and stop ruining all my good poker cards – I'm spending more money on cards than I'm winning! While you're at it, go outside too – the last thing I need is your mom to find out you put holes in her favorite painting of Franco Harris.
These Banshees throwing cards are the ultimate in trick cards!
The Banshee throwing cards are designed to be the ultimate trick throwing card, focused on precision, speed, impact and durability.  They're engineered with a high-grade plastic that maximizes cutting and penetration. They also boast extra durability so you aren't constantly buying new cards. These cards are designed exclusively for throwing (meaning, no card values are printed on them and they cannot be used like a regular playing deck) over and over. However, in lieu of card faces, they have die cut holes in them. The holes create an audible "cry" as they fly through the air. This gives them their signature Banshee name from the scream produced. They also have a special measuring system included on the faces so that you can track their progress into a target.
Banshee does note that while these throwing cards are about 5x more durable than a regular playing card, they aren't indestructible. They recommend hanging a sheet behind your target. This helps to absorb shock, as high impact can cause chips or cracks to occur.
So, if you want to scream like a Banshee and throw cards like Bullseye, this might be just the set for you, or as a gift to the person who keeps "borrowing" all your playing cards…
Additional Notes
Has 4.4 Stars on Amazon with over 100 ratings!
Amazon's top choice for a cardistry trainer
Also available in multiple deck quantities or advanced decks if you prefer
If you're looking to enjoy some simple Poker, then play a game with these spectacular Prism Night playing cards!

Premium Playing Cards, Deck of Cards, Cool Prism Gloss Ink, Best Poker Cards, Unique Bright Rainbow & Red Colors for Kids & Adults, Black Playing Cards Games, Standard Size (Night)

Now that you've perfected your skills challenge your friends to Throw Throw Burrito!

Throw Throw Burrito by Exploding Kittens - A Dodgeball Card Game - Family-Friendly Party Games - Card Games for Adults, Teens & Kids

Gamers will enjoy Minecraft Uno which now features Creepers!

If you're already familiar with Uno, then Dunzo the drinking Uno game will surely be up your alley!

DUNZO (BYOB Edition) - Party Version of Classic Card Game - Draw Two, Skip, Reverse, Get Loco - Fun Games for Family and Friends - Perfect for College Parties, Birthdays, Bachelorettes, or Any Event!