Prism Night Playing Cards | Premium Poker Cards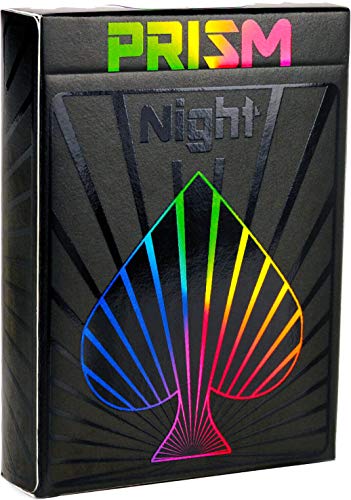 My fondest childhood memory is playing card games with my grandma. "Get the cards out" were the first words she uttered on a visit. The games evolved as I got older, however, playing card games was always centric to our time together. She would have absolutely loved the Prism Night deck of playing cards with their bright and colorful designs. I hope yinz are like me and have similar great memories. These unique shiny gloss playing cards take card games to a whole new dimension. Whether it's for a professional or family, compliments will fly when these cards are brought out.
Prism Night Playing Cards – Calling all Magicians, Poker Players, and Families
You don't need to be famous like the close-up Magician Shin Lim to enjoy the Prism Night deck of playing cards. He may have won America's Got Talent in 2018, but you can win over family and friends with these premium playing cards.
Prism Night playing cards are for professionals and amateurs alike. Poker players, magicians, kids, and card collectors will gush over the high quality look and feel of these cards. These Prism Night cards have a thicker card stock and feature rainbow shine UV Gloss on the black card faces. They are casino-grade printed and humidity resistant. Mesmerize your guests every time you take them out.
These Prism Night cards look amazing and feel just as good. Tricks will be handled flawlessly by magicians and sleight of hand experts. The kids will just love them and you'll be the coolest mom or dad on the block. They'll want to show them to all their friends.
These make a great gift for the holidays and/or just because you want to send a unique gift to someone.
Additional Notes
Includes lifetime "Royal Flush" guarantee.
The heavier weight also allows you to throw these cards.
Standard playing card size.
Cards are not waterproof.