Outdoor Elliptical Bike – A Hybrid Fitness and Exercise Trainer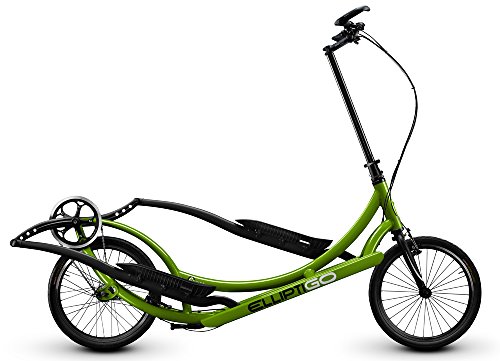 I love the workout I get on my elliptical, but I really missed the great outdoors. When I saw the ElliptiGO outdoor elliptical bike, I knew I had the perfect solution!
While you wouldn't want to put a normal elliptical outside, this outdoor elliptical bike is designed for just that. Get out into nature while still getting your workout in, and you may even burn more calories than riding a regular bicycle. It's a great way to start a low impact exercise routine.
Take your exercise routine outside with this ElliptiGO outdoor elliptical bike!
One of the most boring things about working out indoors is the lack of scenery. Sure, those tiny screens can emulate nature, but it doesn't compare to the real thing. With the outdoor elliptical bike, no longer do I have to choose!
This unique piece of exercise equipment is where a traditional elliptical meets a bicycle. You stand up and stride in lieu of pedaling, but still steer with handlebars.
Much like a bike, ElliptiGO features 8 gears, which allow you to climb hills up to 20-30% grade and adjust your difficulty. The total resistance range is 306%, with about 17% difference between each level.
The stride length is adjustable from 16 to 25 inches, allowing you to customize based on your size and comfort range. Additionally, the steering column adjusts to fit most heights and arm lengths, so you always feel naturally comfortable. The user weight limit for this bike is 250 pounds.
An aluminum frame is lightweight yet durable and designed to prevent rust when exposed to the outdoor elements. If it's too cold or gross outside to ride, this bike may be converted to an indoor bike with the help of a stationary trainer.
Whether you're a professional or casual, this elliptical bike will help you get outdoors. Ride casually or make exercise part of your morning commute. Get the blood pumping, cross-train, or even set yourself some weight loss goals!
Additional Notes
Available in green (pictured) or red
Ships almost fully assembled, no tools required
Has ergonomic grips with 2-finger brake levers
Bike weighs about 60 pounds
Comfortably fits heights from 4'11" to 6'8″
Best on paved, flat surfaces, such as roads or groomed trails (no off roading!)
Exercise while you work as well, with the help of an exercise bike desk!

FLEXISPOT Home Workstation Desk Bike Stand up Folding Exercise Desk Cycle Height Adjustable Office Desk Stationary Exercise Bike - Deskcise Pro (With Desktop, White)

Add a stationary bike to your home gym with the Echelon EX5 smart exercise bike. Listen to music or watch the scenery on your phone!

Echelon EX5 Smart Connect Fitness Bike, Black

You may also enjoy this Fitness Reality magnetic rowing machine, which offers up a full body workout!

FITNESS REALITY 1000 PLUS Bluetooth Magnetic Rowing Rower with Extended Optional Full Body Exercises and MyCloudFitness App

Keep yourself entertained during your workout by playing games on your Stealth core trainer 

STEALTH Core Trainer - Dynamic Core & Full Body Workout While Playing Games; Free iOS/Android Mobile Games App; Patented 360 Degree Planking Motion; Build Muscle & Lose Body Fat in 3 Min/Day (Orange)

Don't let winter stop you from riding with a snow e bike!

iDea Electronics P30-26 Snow e-Bike in Black/orange

IDEAPLAY Electric Bike 26"- 350W Electric Bicycle With Removable 36V- 8A Lithium Battery 20 mph Adult Electric Bicycles With 21 Speed Orange-Black Color | iDea Electronics P30-26 Snow e-Bike in Black/orange