Exercise Bike Desk – Hit Way to Stay Fit in the Office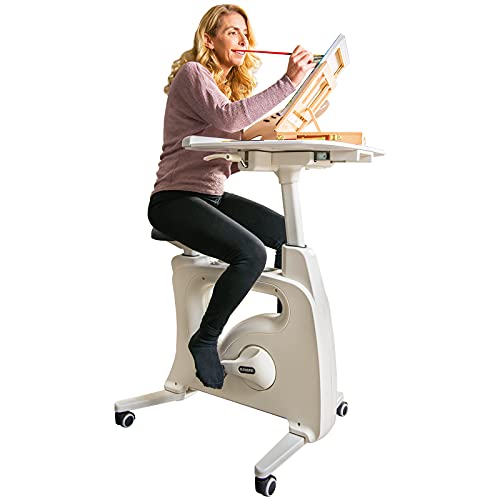 I'm telling you, I got this new adjustable exercise bike desk, and it's been a life changer. I wanted to exercise at my desk since I spend so much time at it. This helps me stay active and healthy even at work!
An exercise desk bike provides a great source of exercise during an otherwise sedentary time. It's an easy way to exercise at your desk, even while you continue to work. You'll burn some calories, keep your circulation moving, and feel better.
An adjustable exercise bike desk is a great way to keep active, even at your desk job!
If you have a desk job, then you know how hard it is on your body to be sedentary all day. The Flexispot adjustable exercise desk bike was designed to combat that exact problem!
Simply sit on the bike seat in place of a chair, and comfortably pedal while you work. For long days, add a padded seat cover for additional comfort. The super quiet pedaling system won't even disturb your ability to join that Zoom call!
The top of the bike features a sturdy, flat desk space. It's designed to hold your laptop and other office essentials so you have everything you need in one place. Since you can exercise right in place, you won't even need to get up to stretch after a long office meeting.
Choose from 8 different resistance levels on the 5.5 pound flywheel to get the perfect workout for you. The seat height is also adjustable, so whether you're 5' or 6' tall, you'll be able to be comfortable.
Not feeling like pedaling today? That's OK! You could sit on the desk and remain still. Alternatively, the table space works as a standing desk as well. Simply walk to the front of the exercise bike desk, turn the computer around, and you have an instant standing desk!
Bike desks are good for anyone who spends many hours of their day sitting. They aid in aerobic exercise which burns calories and helps to prevent diseases such as diabetes or heart disease.
You can even lose some weight with a desk cycle. An average user pedaling for about an hour a day burns 500 calories a week. Depending on your diet, this may result in some weight loss. It's not as significant as a full gym workout, but it's better than just sitting at your desk not moving!
 Additional Notes
 

Available in white (pictured) or black

Also available without desktop (bike only) for use with an existing desk

Table height adjusts in addition to seat, for standing comfort

Measures 37.6 x 23.2 x 47.2 inches and weighs about 51 pounds

Maximum recommended user weight 300 pounds

 

Desk surface is 22.8" W x 19.7" L

 

Holds one laptop, one tablet, and one smartphone comfortably

 

Feet have rollers for easy movement

 

Rated 4.6 stars with nearly 1,000 reviews!

Get a workout when standing too, with this

Whirly Board balance board
Use this Gaiam balance ball chair to help strengthen your core while in the office
If you're curious about trying out a standing desk, but aren't sure you'll love it, this VIVO standing desk converter lets you go from sitting to standing in seconds!

Make sure your writing utensils are in reach with a

Julius Caesar pencil holder

A

monitor riser stand

can gain you some extra space for all your devices

Use this mini desk vacuum to keep those small work spaces clean!

Still bored even after all that peddling? Check out the

best games you can play at your desk to keep yourself entertained!