Cryptic Calendar – Optical Illusion Transforms Months and Dates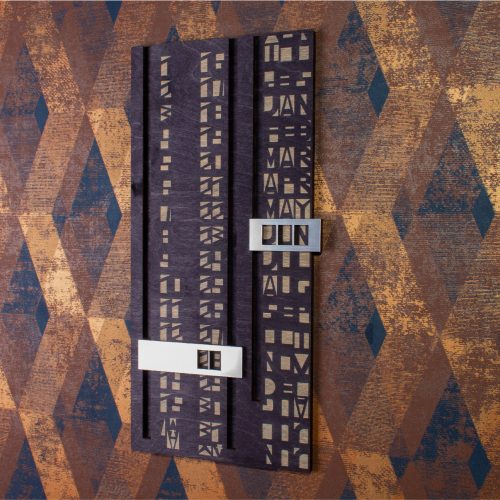 That's a pretty cool piece of art you put up on the wall. I swear I can almost make out some letters or numbers, but that must be the pattern. It's a cryptic calendar that creates a real calendar from an optical illusion? I knew I wasn't crazy!
A cryptic calendar uses an optical illusion to conceal the date until revealed with the slider. This woodworking puzzle looks like a regular piece of wall art until you slide the reader into position. Then, the month and date are revealed.
Add a unique and functional work of art to your home or office with the cryptic calendar!
A cryptic calendar is a boggling optical illusion that elevates your boring old wall calendar. This wooden calendar uses a hidden design that's revealed when the slider passes over it. Simply move it into place, and the date is revealed!
When the slider is not over a portion of the design, the board looks like a unique work of art. Dyed 3mm plywood appears in alternating light and dark tones, with a geometric design.
You'd never even realize you're looking at a calendar until you move the slider into place. How fun!
The cryptic calendar is the perfect addition to your home or office. It adds wall intrigue, while helping to provide a practical reminder of the date. It mounts on the wall easily with the help of 3 pre-drilled holes. Alternatively, use strong double-sided tape to mount without hardware.
Additional Notes
Made to order – expect 3-4 weeks for delivery, on average
Calendar and slider available in silver (slider only), black, brown, grey, red, or sand (yellow) colors
You may also enjoy this bubble wrap calendar. Pop away your frustration one day at a time!
Keep your wall mounted Scrabble board near your new calendar. Leave messages for your family, and play a game together too. It's a great way to stay organized!
It's dangerous to go alone! Make sure to keep your keys on this Zelda key holder. When you see the date and realize you're late, you'll be ready to go!