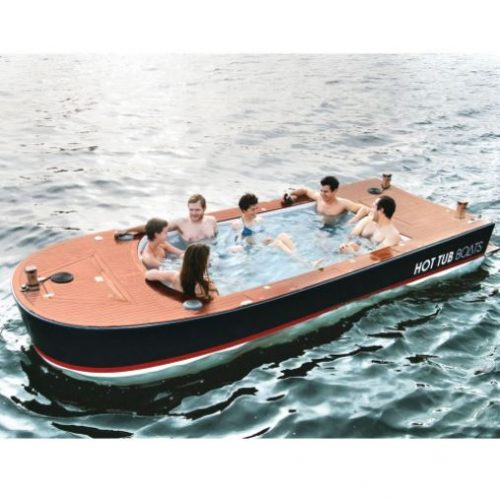 I really wanted to go out on the lake this weekend, but the wife wants to relax in the hot tub. You know the old saying, so I guess I'm staying in. That's why you got a hot tub boat? You can do both activities in one unique vessel!
A hot tub boat is an innovative design that allows you to enjoy the water, on the water. Enjoy a hot, soothing soak while taking in the great scenery out on the lake. Bring along your friends too, as it supports up to 6 adults.
Enjoy a relaxing day on the water in your hot tub boat!
No longer will you need to choose between a day of boating or a day in the hot tub. Not when you have the hot tub boat, that is! This unique vessel boasts a real hot tub in the middle of an actual, floating boat.
That's right, a 8′ L x 4′ W x 24″ D hot tub is set into the deck of this boat. It's finished with a gorgeous teakwood deck for classic style.
Don't be afraid to load it up. The boat supports a fully loaded hot tub, including water and up to six adults, for a maximum weight of 2,100 pounds!
The hot tub utilizes a diesel powered boiler with an adjustable thermostat. You can turn this spa up to 104 degrees Fahrenheit! It's perfect for cruising around enjoying the cool waters of the local lakes, without ever having to touch them.
If you did want to dive in, though, a swim step on the back makes for easy entry and exit.
Keep the party going with a waterproof stereo system, which plays music from any MP3 device. Two 50-Watt speakers pop up on deck to deliver optimum sound. Four ice chests built into the deck provide room for chilling all your drinks, too!
A 24V electric motor steers your boat around, via a joystick on the starboard side. It's designed for calm water use only, reaching a maximum speed of 5 mph.
You can recharge the boat between outings via a power plug. A full charge will get you about 10 hours of cruising, so it's plenty to head out for the whole day!
Additional Notes
Engineered and built in the USA

Includes a hot tub cover

Boat measures

16′ in length overall x 6'3″ beam

Weighs 1,200 pounds (dry weight)

Need a hot tub at home instead? Learn about

if an inflatable hot tub is worth it

for your home!

Planning to dive in for some exploring? Use the

snorkel stabilization system

to make it easy to float around observing the marine life

Don't forget to pack your

floating beach glasses

, which will hold your drinks right at hand in the hot tub!

Looking for other unique ways to explore the waterways? Check out this

clear kayak

, which allows you to paddle around and watch the world below!

Cross moats or lakes and terrify passerby with your ferocious

dragon pedal boat

If you need some exercise, how about a

bike boat

? You can peddle your way around the water on this pontoon style crossover

No room for one of these hard shell boats? Learn

how much inflatable boats cost

and decide if that's the right choice for you!