Orbeez Foot Spa – Pamper Your Feet with 2,000 Water Beads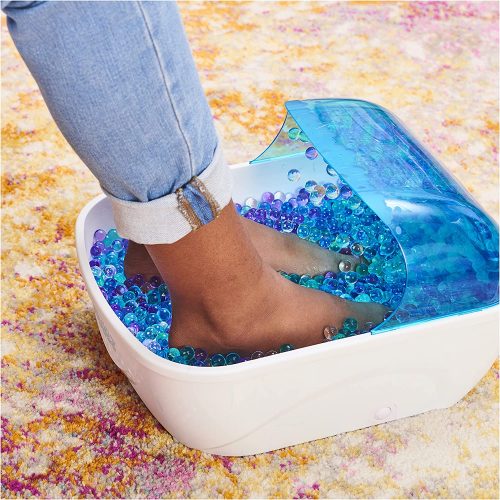 Oh my goodness, there are water beads everywhere. What are we going to do with them all? I know, let's break out the Orbeez foot spa and have a relaxing day of pampering!
Now you can soak your feet in Orbeez with this foot spa. Unlike a normal foot spa, this version contains no water. Instead, it's filled with Orbeez water beads that provide a soothing sensory experience for your feet. It's a great way for kids and adults to relax.
Enjoy a day of pampering with the Orbeez foot spa!
The Orbeez foot spa is a fun way to relax and enjoy a day of foot pampering and soothing. While you can't use Orbeez in a normal foot spa, this unit is designed specifically for it.
This unit uses no liquid water and is instead filled with Orbeez water beads. A waterfall system cascades them over your feet for a soothing effect. They're 100% non-toxic and safe, and also mess free!
Simply soak your Orbeez for about 4 hours to allow them to grow to full size. Then, add them to the foot spa and you're ready to relax. This Orbeez spa even comes with the Orbeez to get you started: 2,000 of them to be exact.
If you're missing the warmth of a traditional spa, try adding warm water to the beads right before use. Make sure to drain completely, then add the beads to the spa as normal. Now, everything will be cozy and warm feeling too!
Soak your feet in Orbeez for a soothing, sensory experience. They're fun to squish your feet and toes around in, and they provide a gentle massaging feeling. It's an enjoyable day of pampering for kids, teens, and adults alike!
Additional Notes
Recommend for ages 5+ and is not for use by children under 3, as small parts are a choking hazard
Requires 4 AA batteries for use (not included)
Beads may be rinsed, dried, and reused. Alternatively, refill water beads are available separately if preferred
Measures 5.5 x 14 x 12 inches and weighs just under 3 pounds
Rated 4.4 stars with nearly 5,000 reviews!
Use those leftover water beads to wage war in your RC water bomb tank (but make sure to check bead size first)

RC Tank Car, Koeni Remote Control Tank 12Km/h for All Terrains Can Launch Water Bomb, 2.4 Ghz RC Tank Car with 180° Rotating Shooting & 360° Rotating, High Speed Tank Off-Road 4WD, Boys Toys Age 6-8

Looking for more home spa upgrades? How about a countertop towel warmer to have a nice, warm towel waiting after your shower?

The Countertop Towel Warmer

This is the compact towel warmer that heats a single oversized bath towel for a soothing spa-like experience. Ideal for tight spaces, the bucket-style interior evenly heats up to two regular bath towels or one bath sheet (40" x 70") and can also be used for robes, clothing, or blankets for an...

Turn your bathtub into a jacuzzi with a portable bubble massage mat!

Electric Bathtub Bubble Massage Mat - Waterproof Tub Massaging Spa, Full Body Bubbling Bath Thermal Massager Machine w/ Heat, Motorized Air Pump, Aroma Clip for Oil - SereneLife PHSPAMT24HT

Need stronger massaging action? Try out this foot and calf massager for the ultimate in relaxation

Human Touch Reflex5s Foot and Calf Massager - Perfect for Relaxation and Stress Relief- Patented Technology - Extended Height, Adjustable Tilt Base, Calf Massage- 5 inch Width x 14 inch Height

Learn about what an aromatherapy shower is and how to create one at home