Trash Pandas – The Card Game for Causing a Ruckus!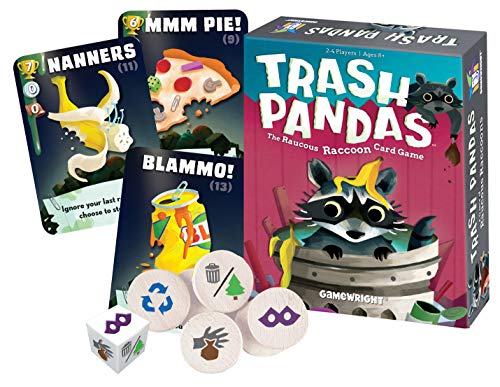 Trash Pandas is a card game by Gamewright that's designed for 2-4 players and recommended for ages 8 and up. Of course, there's no limit to fun, so we personally recommend it as a game for everyone!
If you're looking for a new fun game for family board game night, to keep the kiddos occupied on the go, or just general play, you're in the right place. This is my review of the trash-loving game that's sure to cause a ruckus!
What is the Trash Pandas Game?
Trash Pandas is a card game that deals with matching, probability, and luck. You and your friends or family will be trying to hoard all the trash just like a raccoon! I mean, who wouldn't get a laugh from that?
In the box, you'll get:
53 playing cards
1 directions card
1 dice
6 tokens
This game is not to be confused with that of the Trash Pandas minor league baseball team, that hails from Alabama. While they bear no actual similarity, I imagine you could get in a quick round of this game while waiting for that game to start!
FAQs About the Trash Pandas Game
How long does a round of Trash Pandas take?
If everyone has played before, expect a game of Trash Pandas to take approximately 20 minutes. For new players, 30-45 minutes is an average time.
How big is the Trash Pandas card game box?
The Trash Pandas box is 4.5″ x 5.5″ x 1″ so it's easily portable and makes a great stocking stuffer.
Can kids younger than 8 years old play the Trash Pandas game?
Yes, younger children may play Trash Pandas. There are no inappropriate cards or content. However, reading and comprehension is required, so use your best judgment on your child's reading level to know if they'll struggle.
Is Trash Pandas similar to Sushi Go?
No, Trash Pandas and Sushi Go are not very similar. The only commonality between them is their scoring system. The gameplay and concept is entirely different.
How Do You Play the Trash Pandas Card Game?
Trash Pandas Card Game Rules:
The objective of the game is to score the most points
Cards stashed throughout the match determine points scored – when the last card is drawn from the draw pile, the game is over
Each card is named, with the number of those cards appearing in the deck listed below
Points are noted in the top left corner, with a first, second, and third place amount depending who stashes the most of each card type
The action listed at the bottom of the card may be used in lieu of stashing, but the card must be discarded
Non-point cards are action cards, which block other player actions (or sometimes your own)
Setup Directions
Whoever took out the trash last goes first
That person shuffles the deck and deals themselves 3 cards face down 
Rotating clockwise, deal each remaining player one more card than the previous player. So, the person to the left should have 4, the next 5, and the last 6
Place the remaining card deck into the center of the play area. This "trash can" becomes the draw deck
Add the 6 game tokens and die to the table near the trash can pile
Everyone then picks up their cards, keeping them secret from one another
Trash Pandas Gameplay
Now, the first player will roll the dice, and collect the corresponding symbol token
The player may continue to roll again to collect additional token(s), if desired. However, if they roll a token already in their possession, they "bust"
If "busted" draw one card from the deck, return all tokens, and your turn is over
A Blammo or Nanners (banana) card may be played to block the bust if one is in your hand
Assuming you did not bust, once the player has their tokens, they may perform the actions associated with each one they possess
This will generally be drawing (to your hand) or stashing cards (face down on the table in front of you). Return each token to the middle as you execute the tasks.
If a player manages to collect all 6 tokens without busting, they may perform the actions of all the tokens (except recycle, which will not apply). Then, receive bonus roll(s) to collect a maximum of 3 more tokens. Bust rules still apply, so you may stop before 3 if desired.
Play then rotates counter-clockwise to the next player
When the final card is drawn, that player completes their turn and the game is over
All non-stashed cards in players hands should be discarded
Flip all stashed cards over to compare
If two or more players tie on a specific type of stashed card, each loses 1 point from what would be awarded. For example, if they tie for the first place award of 3 points, each receives 2 points instead
Tally the remaining stashed card points to determine the winner
What Does Each Token Do in the Trash Pandas Card Game?
Double Trash Can. Draw up to two cards 
Double Tree. Stash up to two cards 
Tree & Trash. Draw or stash one card 
Steal. Swipe a card from another player 
Recycle. Exchange for an available token 
Mask. Draw one card face up; other players may stash that item. Draw an additional card for each one stashed
Trash Pandas Game Review
Trash Pandas – A Rowdy Raccoon Card Game
Overall, we give Trash Pandas a 7/10. I think it's a great game for family game night, as the kids, teens, and adults all enjoy it. You can add an additional deck (cards only) and play with more people as well.

My only qualm is that it does take a bit to learn the "process" and I felt like we just kept passing the token legend around. I think after a few games it will get easier, but for younger kids I could see it being frustrating.
If you're still on the fence, it does have a 4.7/5 star rating on Amazon with over 4,000 reviews. So, I think it's a pretty safe addition for game night!
Where to Buy
If you're picking up your own copy of the Trash Pandas raccoon card game, here are some sites for comparison:
Related Products
Looking for more great family-friendly card games for game night? Check out some of our other favorites:
Sabobatage is a card game in which you'll stash cards to create your favorite boba drinks. It takes about the same amount of time to play as Trash Pandas, and it's for ages 7+ so a similar age group.

Sabobatage: The Boba Card Game 2nd Edition | Easy Family-Friendly Party Game | Card Games for Adults, Teens & Kids | 2-5 Players
Don't get caught in the Upside Down like Barb (too soon?)! Enjoy breakfast like Eleven with the Stranger Things Eggo card game!

Stranger Things Eggo Card Game
Let these magical cats clear out the curses in the Wizard Kittens card game!

Magpie Games Wizard Kittens , Purple
Pull some burritos out of the trash pile and play Throw Throw Burrito! Thankfully, rubber burritos are included so it's not that messy. This game is also for ages 7+ and requires card matching, but there's burrito battles involved. Trust me, it's a blast!

Throw Throw Burrito by Exploding Kittens - A Dodgeball Card Game - Family-Friendly Party Games - Card Games for Adults, Teens & Kids
If your kids are into Minecraft, try a spin on a classic card game with UNO Minecraft. It's like your standard UNO game with the exception of Creepers waiting to make you draw more cards!

Big into toilet humor? Butts in Space is the card game for ages 9+ that offers hilarious potty jokes – literally.  Collect toilet paper cards, sabotage other players, and try to get the most points to win.

Butts in Space: The Card Game
Gamewright Trash Pandas - The Raucous Raccoon Card Game - 252
15 new from $9.13
Free shipping
as of May 10, 2023 4:39 am
Features
Players are raucous raccoons, tipping over Trash cans for food
Players push their luck to acquire more cards, but must stash them in order for them to count as points at the end of the game
When the deck runs out, the game ends. The player with the most points wins!
Reinforces visual discrimination and probability
Comes with 54 cards, 6 wooden tokens, and 1 custom die