Super Mable Towable Tube for Water Sports with 1 to 3 Riders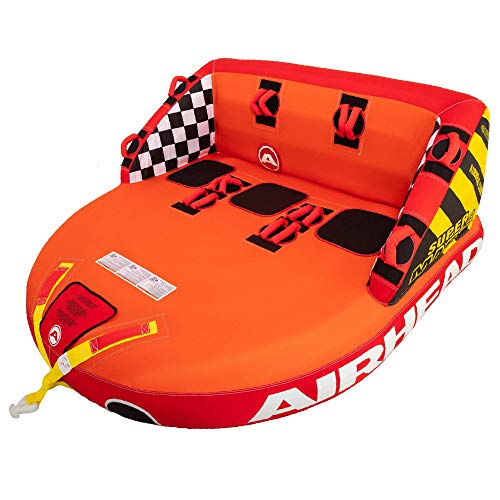 Grab your swimsuits, we're heading to the lake! I'm going to bring the inflatable Super Mable towable tube to hook to the back of the boat. There's nothing I love more than a day of sun and fun on the water. Don't forget to pack the Iron City!
The inflatable tubes that you pull behind a boat are referred to as towable tubes. These inflatables are designed with a back, allowing riders to comfortably sit. They're also durable, made to secure with a rope and be pulled along in the water without bursting.
Bring your boat, an inflatable Super Mable towable tube, and the desire for fun this summer!
The Super Mable inflatable towable water tube is designed to be fun for the whole family out on the water. This great tube supports up to 3 riders comfortably. It features handholds on the base, back, and sides of the towable, so everyone has security. This versatile tube can be pulled both forwards or backwards. Whether you'd like to sit down with your back against the wall, or on your knees riding chariot-style, it has you covered!
Airhead's Super Mable towable tube is designed from heavy duty PVC, made to be durable for years to come. The reinforced air chamber helps to reduce the chances of leaks. A stitched nylon cover helps mitigate the chances for punctures, keeping everyone happy afloat.
An inflatable towable water tube is perfect for a family day of fun. It's great for kids and adults alike! Whether it's a friends trip, family day, or even coworker bonding time, this Airhead's towable tube can cover it all.
What do I need for a towable tube?
Here are the items you need for a towable tube:
Air pump
Rope for towing
Patch kit
Boat to pull it
Storage Bag (Optional)
The Super Mable inflatable tube does not include a boat. Whether you own or rent one, target a boat with a horsepower range between 100 and 150 for best tube towing results.
If you need a tow rope, this Airhead rope features a tensile strength of 4,150 lbs for a 1-4 rider towable tube. Ensuring that you have an air pump for water towables is also recommended.
How do you clean towable tubes?
To clean a towable tube, just use water. Using a garden hose to rinse it off is most common, with a mild soap being useful for spot cleaning. Never use anything sharp near the inflatable, but a soft rag, cloth, or sponge works well for scrubbing.
It is especially important to clean your tube if you've been in saltwater, to prevent salt decay of the PVC. Once washed, make sure to dry your tube entirely before storing away. Otherwise, you risk mold or mildew building up inside. Drying in the summer sun is the perfect way to make sure it's free of moisture!
Additional Notes
Tube measures 75 x 73 inches fully inflated
Recommended maximum weight limit of 510 lbs, but people have reported the Super Mable handling up to 600 lbs
Safe for use in temperatures between -22 and 104 degrees Fahrenheit (the tube is anyway – I wouldn't be riding a boat around in -22 degree weather)
Inflatable weighs about 20 pounds
If you'd like a storage bag, grab one designed for use with inflatable boats
Top 10 best seller in Water Sport Towables on Amazon
Popular watersports product with 4.6 stars and 1,500 reviews so far!
If you prefer relaxing on the water, try lounging around on these Intex float tubes!
I like the idea of packing along some insulated tumblers to keep the drinks cold when you're away from the boat