Star Wars Kitchen Towels – Cook You Must with Yoda and Vader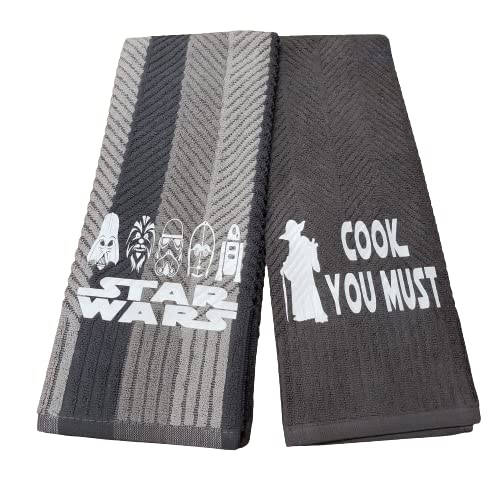 Pass me the whisk, you must. Don't look at me like that, I'm busy trying to make whipped cream! Oh, you're right, I have been rather inspired by my Star Wars kitchen towels lately.
Star Wars kitchen towels take a staple component of your kitchen and add a little flair from a galaxy far, far away. Cotton towels are designed for both drying hands and dishes, while the printed design brings whimsy. They work well in the bathroom, too, if your kitchen is full already.
Bring your kitchen on an intergalactic adventure with Star Wars kitchen towels!
Who needs to be a Jedi Master when you could be a cooking master instead, thanks to your Star Wars kitchen towels! This set of two hand towels are soft, absorbent, 100% cotton towels.
Each one features a classic chevron pattern, and you'll receive one solid and one striped gray towel. The two towels are printed using a commercial heat press with two different designs:
The solid gray towel features the silhouette of Master Yoda with the phrase "Cook You Must" next to him
For the striped towel, the Star Wars logo and 5 silhouette heads of Darth Vader, Chewbacca, a Stormtrooper, C3-PO, and R2-D2 appear
Thankfully, these towels are machine washable, for easy cleanup of all your kitchen mishaps!  These versatile kitchen towels are great for a variety of uses, such as:
Drying your hands
Covering rising dough
Catching drips from air drying dishes
Hand drying the dishes
Cleaning up spills
Catching overflow while filling a vase, watering a plant, etc
They're a perfect way to add a little Star Wars décor into your home. Let's face it, I'm going to need a little help from the Force if I want this souffle to turn out correctly!
Additional Notes
Each towel measures 16″ x 28″
Perfect 5-star rating so far!
Give the fridge a coordinating new look with the Han Solo Carbonite fridge cover 

FridgeWrap: Han Solo in Carbonite Vinyl Sticker for Refrigerator

Add some galactic flair to your baking with the help of a Star Wars embossed rolling pin 

STAR WARS ROLLING PIN WOODEN EMBOSSING ROLLING PIN with STAR WARS PATTERN for homemade cookies

Cut, chop, and create a dazzling spread on a Millennium Falcon cutting board 

Millennium Falcon Board - Wooden Cutting Board - Engraved Wooden Plate - Rustic Cutting Board - Futuristic Serving Platter - Valentines Gift

Start your morning off right with breakfast straight from the Death Star toaster 

Uncanny Brands Star Wars Death Star 2-Slice Toaster- Toasts Iconic Tie Fighter onto Your Toast

For an on-the-go kind of day, a Star Wars personal blender with a travel bottle will get you started

Star Wars LSW-700CN Personal Blender, Black

Safely store your leftovers and food prep with Star Wars Pyrex containers 

Pyrex 4-cup Decorated 8-pc Set, Star Wars Food Storage

Whip things up quickly with the help of a Stormtrooper Instant Pot 

Instant Pot Star Wars Duo 6-Qt Pressure Cooker, Stormtrooper

Season like a Jedi, thanks to a lightsaber salt and pepper grinder set

Star Wars Lightsaber Electric Salt and Pepper Shakers- The Official Jedi Salt and Pepper Grinders Of The Universe

Sit down to dinner with your lightsaber chopsticks, whether it's sushi or intergalactic battles, you're prepared!

Lightsaber Chopsticks | Star Wars Gifts and Toys for Kids | LED Light Up Reusable Dishwasher Safe Chopstick | Fun Kitchen and Sushi Accessories | Chop Sticks Light Saber | 4 PAIRS & FREE BOTTLE OPENER

Bring this Star Wars golf towel with you on the links to keep the Force on your side!

Giggle Golf May The Course Be with You Golf Waffle Towel, Poker Chip & Slim Can Cooler