Lightsaber Salt and Pepper Grinder – Jedi and Sith Shakers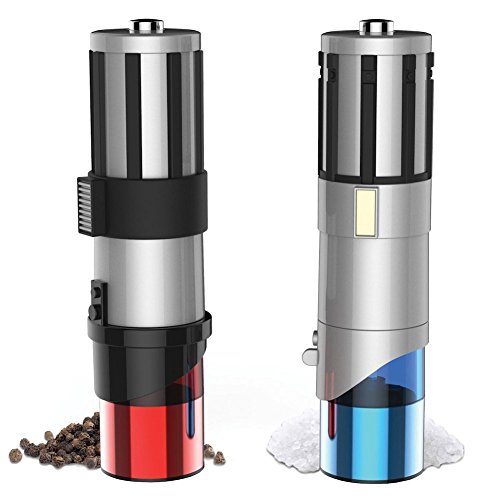 Hey Joe, come to the Dark Side! Actually, scratch that, I'm looking for salt. Could you pass me that blue lightsaber in front of you? It's my new salt shaker! It's part of my Star Wars lightsaber salt and pepper grinder set. Now, can I have that salt, or do I need to get all Darth Vader and Force choke you for it?
Salt and pepper grinders use an electrical cord or battery to power a motor that grinds your seasonings. If you have a pair, the two are interchangeable, as each is capable of grinding salt or pepper. These grinders can also be used for other spices outside of salt and pepper if you prefer.
This Star Wars lightsaber salt and pepper grinder set will take your dinner to a galaxy far, far away!
The Force will be strong at your dining table when you have this Star Wars lightsaber salt and pepper grinder set. This set of two grinders is made from a combination of stainless steel and BPA free plastic. A rustproof ceramic core also ensures that your grinders work flawlessly for years to come!
There is one red and one blue lightsaber mill per set, and each grinder is interchangeable for salt or pepper. This might be the only time you can get the Empire and the Rebels to work together – in the name of dinner!
Each electric shaker pulls apart for easy cleaning and filling. Once closed back up, the mill operates with just the push of a button, making it easy to use with one hand. You can even adjust the coarseness of the grind to your preferences.
When you're done, place the cap on for storage. It will prevent leaks, and seals out moisture as well so your condiments stay fresh!
Whether you're team Darth or team Anakin, you're sure to love these lightsaber salt and pepper grinders. They also make a great gift! The set arrives in an easy to wrap box and makes the perfect gift for the Star Wars fan in your life.
Electric salt and pepper shakers make a great housewarming gift, Mother's Day, Father's Day, or Christmas gift too. Bring a little piece of the Death Star's kitchen home to your corner of the universe today!
Do lightsaber salt and pepper grinders light up?
Lightsaber salt and pepper grinders light up only in the base when grinding. This allows you to see your seasoning levels, even in dimly lit dining spaces. They do not, however, fully illuminate to look like an actual lightsaber.
While it might look cool, I suspect that would only start lightsaber battles at dinnertime. Each grinder runs on 4 AA batteries, which are busy grinding up your spices anyway. There's just not enough juice for a whole intergalactic space fight!
What kind of salt and pepper do you put in Star Wars lightsaber grinders?
For your Star Wars lightsaber grinders, you'll want whole peppercorns and coarse grain sea salt. Both are available in several varieties, depending on your flavor preferences. It doesn't matter which type you choose, as long as the peppercorns are whole, and the sea salt is coarse-grained.
I personally like a rainbow peppercorn blend which is a mix of varieties for a unique flavor profile. While this Caribbean sea salt doesn't taste any different, it still makes me dream of the tropics.
Since the lightsaber salt and pepper shakers don't come with salt or pepper, you could always grab a salt and pepper grinder refill kit, which includes a bag of each of both salt and pepper.
Additional Notes
If you want to get your hand on the weapon of a Jedi, then read our guide on the cost of lightsabers where we review offerings at Disney World, Disneyland, and custom built saber websites.
Each grinder measures 5.1 x 2.5 x 9.4 inches and weighs about 12 ounces unfilled
Best seller in Salt & Pepper Mill Sets on Amazon with a 4.6 star rating!
In our detailed guide, we discuss where to buy lightsaber chopsticks online and showcase all the colors and character specific lightsaber hilts available!
With this set of lightsaber chopsticks, you receive a variety of colors to make everyone happy!

Lightsaber Chopsticks | Star Wars Gifts and Toys for Kids | LED Light Up Reusable Dishwasher Safe Chopstick | Fun Kitchen and Sushi Accessories | Chop Sticks Light Saber | 4 PAIRS & FREE BOTTLE OPENER

Serious galactic chefs will love using this lightsaber immersion blender! Nothing mixes things more civilized and elegant!

Uncanny Brands Star Wars Lightsaber Hand Blender- Mix It Up Like a Jedi

Bask in the cool glow of this 60 inch Star Wars lightsaber floor lamp!

Star Wars Luke Skywalker Lightsaber Floor Lamp | Mood Light | 5-Feet Tall

After dueling with lightsabers during dinner, store leftovers in the refrigerator and this Han Solo carbonite fridge cover!

FridgeWrap: Han Solo in Carbonite Vinyl Sticker for Refrigerator

Add some serious spice to your food thanks to this 36″ giant pepper grinder. That's right, this pepper mill measures 3 feet in length!

The Pepperphile's Peppermill

This is the 3'-tall pepper mill that satisfies even the most voracious appetite for pungent piperine. The mill holds over 2-lbs. of peppercorns and towers over table centerpieces or double magnums of wine, conveying the peppercorn's dominance over all other spices in your pantry. Made by the...

This set of seasonal salt and pepper shakers is themed for the winter and summer

QUALY Winter Summer Salt & Pepper Shaker Set