Ring Frisbee – Ultimate Lightweight Glow in the Dark Flying Disc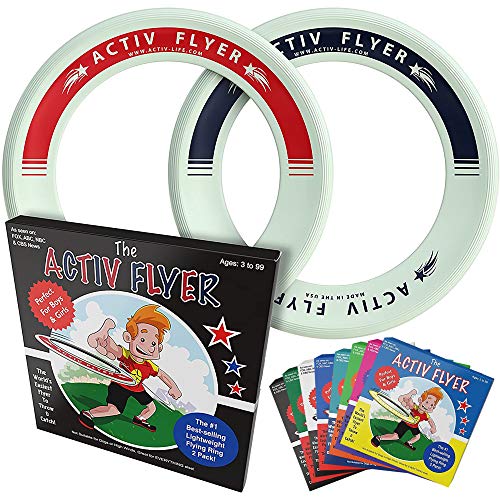 Oh no, you kids aren't going out to play frisbee again. I don't need another kid with a black eye like last time. If you want to throw stuff around, you're going to use the Activ Flyer ring frisbee instead.
A ring frisbee is a flying disc that's lightweight and has a hole in the center. While it floats well in the air, it's also much easier to catch. Grab it by hand like a normal frisbee, over your wrist, or even your foot for a challenge. If you miss, it's designed to not hurt at all.
Start training for disc golf stardom with the help of an Activ Flyer ring frisbee!
If you want to be the Tiger Woods of the skies, start with an Activ Flyer ring frisbee. These flying discs weigh just over one ounce each, making them a lightweight alternative to a regular frisbee. Next time you hit your brother in the face, lob one right at the neighbor, or veer off towards the cat – no worries!
Since they're so lightweight, that means you can start them young too. If you've ever seen a 3 year old trying to catch or throw a full-size frisbee, you know what I mean. These ring frisbees are super easy to use and won't hurt any fingers in the process. They even float so if you land one in the pool, retrieval is a breeze.
Most times, these flyers will travel between 15-30 feet. On a nice calm day, you may get up to 80 feet! That's also possible indoors, but if you're not brave enough to use them near grandma's vase, I don't blame you. These flying discs are great for the park, beach, backyard, camping and more – they're super portable!
While they're safe and fun for kids, adults will have a blast as well. Make it into a game to catch the Activ Flyer frisbees in unique and challenging ways. Hook it over a finger, your wrist, your ankle – even your head! If it's an adult party, turn your trick shots into a drinking game. I'm having flashbacks to playing HORSE in high school.
These ring frisbees come in a pack of two, and this particular set glows in the dark. Just because the sun goes down doesn't mean the fun ends! If that's not your jam, there are 8 other vibrant color sets to choose from.
Additional Notes
#1 best seller in Ultimate Disc Equipment on Amazon
Not for use around pets – teeth will damage flyer
If flyer starts to wobble, heat with hair dryer on flat surface and allow to cool
Recommended for ages 3 – 99!
Rated 4.5 stars with over 13,000 reviews – buy with confidence!
You may also enjoy Star Wars Spring Slam – it's the classic frisbee Kan Jam game with an R2-D2 twist!
Have more family fun at night with this glow in the dark bocce set
Teach the little ones croquet with Wicket Kick, the game where kickball meets the classic lawn game
An LED soccer ball will light up the night for those who prefer to play with their feet
Try your hand at glow in the dark mini golf, which is great for play indoors and outdoors alike
If you enjoy flying toys, this giant 3D dragon kite is sure to impress anywhere you go