DreamBone Dog Treat Advent Calendar – Rawhide-Free Treats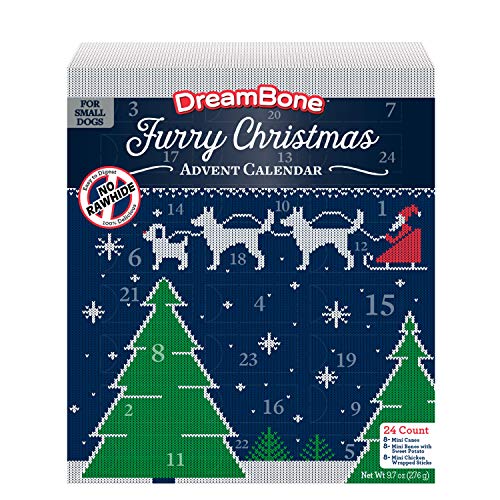 I'm so excited to see what's in my Advent calendar today! What's the matter, Sparky? Are you jealous that you don't have an Advent calendar too? Well, I've got good news for you! This year, I got you a DreamBone dog treat Advent calendar, and it's filled with chews and treats so you can enjoy the festivities too.
An Advent calendar for dogs functions much the same as the human variety. Each day, a small compartment is opened to reveal a treat or toy, allowing furry family members to enjoy the festivities. The final day is opened right before Christmas, serving as a countdown calendar.
Get your pup in on the holiday countdown with this 2022 DreamBone Furry Christmas dog treat Advent calendar!
The DreamBone Furry Christmas dog treat Advent calendar is the perfect holiday countdown calendar for your furry best friend! In the box, you'll find 24 days of treats hidden behind the Advent calendar doors.
All of these dog treats are 100% rawhide free, good for your dog's teeth, and easy to digest! Each treat is made with real ingredients, like chicken or sweet potato, and then enhanced with vitamins and minerals to keep your dog happy and healthy.
You'll find a total of 24 treats in three different varieties (8 of each flavor). Your dog treat advent calendar contains:
8 mini striped candy canes
8 mini bones with sweet potato
8 mini chicken wrapped sticks
While this particular assortment is geared for small to medium dogs, there are other great holiday options available for large dogs as well.
So, if you're looking to make sure the furriest member of your family gets in on the festivities, check out this DreamBone Furry Christmas dog treat Advent calendar. It's a fun and festive way to celebrate with the whole family! 
Additional Notes
Box measures 12.72 x 11.14 x 1.73 inches and weighs 1.28 Pounds
Supervise your dog during chewing and provide access to fresh, clean water
If not consumed same day, place in airtight container to preserve freshness
Do not feed more than two mini chews in one day
Best seller in Dog Treat Cookies, Biscuits & Snacks with a 4.5 star rating
Enjoy some other countdown calendars in your home with some of our favorites:
If you want to create your own healthy, homemade pet snacks, then pick up this dog treat maker!

Dash DDTM008GBWP04 Dog Treat Maker, 8, White

Not much of a baker? These Bonne et Filou premium dog macarons will deliver a delicious snack for your pup!

Bonne et Filou Christmas Dog Treats Dog Macarons Luxury Handmade Dog Gifts Dog Birthday Healthy and Delicious Gourmet Dog Snack with All-Natural Ingredients (Strawberry/Mint/Lavender)