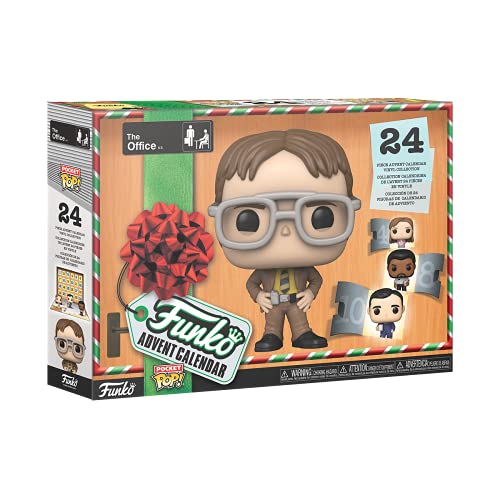 Fact: Christmas is coming. I can't think of a better way to count down to it than Funko Pop's The Office Advent calendar. All my favorite characters are here to celebrate the holidays. I wonder if Belsnickel will make an appearance?
The Office Advent calendar features 24 miniature characters from the acclaimed television sitcom. These adorable collectibles come in a box designed to count down the days until Christmas. Sounds like the perfect time for a coordinating Office marathon!
Find out if you're impish or admirable this year with The Office Advent calendar!
The Office Advent calendar 2022 is here, ready to provide you with holiday cheer! That's right, Funko Pop brings your favorite characters from acclaimed series The Office home for the holidays.
Each pocket pop is a small vinyl character that's molded and painted to look like one of your favorite characters from the series. There are 24 in total, designed to help you count down the days until Christmas.
You can expect to receive Office Pops such as:
Dwight
Jim
Pam
Michael
Darryl
Jan
Many more!
Each character is a mini size, meaning they'll range between 1.5" and 2.25" tall, depending on the specific one.
Countdown calendars feature the characters randomly placed throughout, so you may receive them in a different order than someone else. Open the perforated sticky note shaped door each day counting down to Christmas to reveal your surprise inside!
Once characters have been removed from their "cubicle", they may be displayed on a fold out scene in front of the box.
So, grab your Office collection, and count down the days in style! Who knows, if you're very good this year, perhaps classy Santa will make an appearance!
Additional Notes
Recommended for ages 6+ due to small size of pieces
Prefer full size figures? Check out this Funko The Office Christmas set, which features 3 full size characters instead. You'll receive Michael as Classy Santa, Dwight as the Elf, and Dwight as Belsnickel

Funko TV: Pop! The Office Holiday Collectors Set - Dwight As Elf, Michael As Classy Santa, Dwight As Belsnickel

If you're in charge of the party, then pick up this essential book The Office Party Planning Guide, and deliver a hit Halloween party, baby shower, garden party, and more!

The Office: The Official Party Planning Guide to Planning Parties: Authentic Parties, Recipes, and Pranks from The Dundies to Kevin's Famous Chili

For another awesome Advent calendar choice, we recommend this Super Mario Advent calendar. It features a variety of Nintendo fan favorite characters!

SUPER MARIO Nintendo Advent Calendar Christmas Holiday Calendar with 17 Articulated 2.5" Action Figures & 7 Accessories, 24 Day Surprise Countdown with Pop-Up Environment [Amazon Exclusive]

Great Scott! With the Playmobil Back to the Future Advent calendar, you can recreate your favorite movie scenes!

PLAYMOBIL Back to The Future Advent Calendar

Wear a little magic as you count down the days with this Harry Potter jewelry Advent calendar!

The Carat Shop Official Harry Potter Jewellery Box Keepsake Advent Calendar

Don't forget the furry family member either! Grab a DreamBone dog treat advent calendar, featuring rawhide-free treats!

DreamBone Holiday Advent Calendar 24 Count, Real Chicken Rawhide-Free Chews for Small Dogs