CatGenie Self Washing Litter Box – Hands Free Cat Cleaning!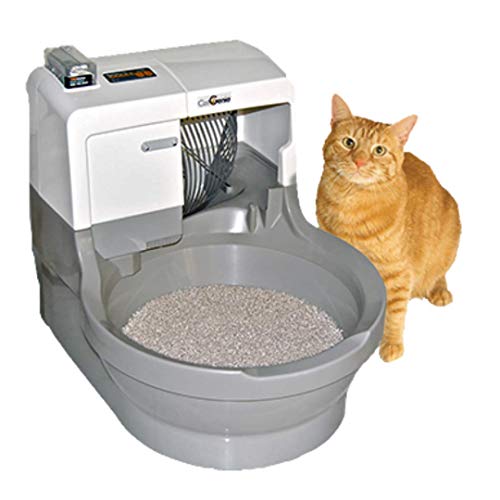 Isn't the worst part of cat ownership having to clean your cat's litter box? I just don't think I could do it every day, even toilet training sounds easier! You switched to a CatGenie self washing litter box, and it's solved that problem? How does it work?
The CatGenie self washing litter box does all the cleaning and disposal for you. It collects solids and liquifies them, and then washes the litter with pet-safe cleaning solution. Everything is then released out through your plumbing, and the box dries itself for your cat.
The CatGenie self washing litter box is truly hands-free cat care!
Everyone's least favorite part of cat ownership is cleaning the stinky litter box. What if I told you that could all be changed with the CatGenie self-cleaning washing litter box?
This self-contained box does all the hard work for you. When your cat uses the box, it uses a rake to collect the solids. It then uses pet-safe sanitary solution to clean itself and sanitize the litter.
Everything is then liquified and sent out the waste pipes in your home, just as if it were coming through your toilet. This makes disposal mess-free and keeps the smells safely contained.
As if that wasn't great enough, then the CatGenie will dry the freshly-washed litter. Your cat will have clean, fresh litter every time they go to the bathroom!
Since it uses washable granules, you'll also never need to replace the litter again. That's right, since the litter gets washed, it's indefinitely reusable. Replacement granules are available if you ever lose some, or just feel like starting fresh with a new cat.
How does CatGenie flush?
CatGenie flushes on either an automatic timer or after use, based on your choice. If the after use option is selected, it waits 10 minutes after your cat has left the box to initiate cleaning. Additionally, an on demand button is included for spot cleaning outside the program.
The CatGenie litter box connects to your home's existing plumbing and generally takes around 15 minutes to install. It requires a cold water line and refuse line to be connected. Here are the most common locations to set up a self-flushing litter box:
Bathroom
Laundry Room
Utility room
You'll need to make sure you have a nearby power outlet as well, as an AC power supply is needed. Does not require any special plumbing as the CatGenie shares a line with existing plumbing for a toilet or washing machine.
How do I teach my cat to use a CatGenie self washing litter box?
There are a few common methods to help teach a cat to use a CatGenie self washing litter box for the first time:
Place some washable granules in their normal litter box. Scoop them out and run them through the CatGenie daily to clean. This should help get cats used to the feel and smell of the new litter
Stop cleaning the regular litter box and as it fills up, the cats should begin to seek the clean alternative box
Remove excrement from the normal box and place it in the CatGenie. This helps to show your cat "where it goes" to encourage them to move their business.
You should refrain from using automatic cleaning cycles until your cat is comfortable with the box, to avoid scaring them. Do an on-demand spot clean when your cat is out of the room to sanitize. Once they are more comfortable with the box, you can begin to transition to the automatic cycles.
Additional Notes
An optional dome is available if you (or your cat) prefer enclosed litter boxes
An AI-enabled CatGenie box is also available, if you'd like smartphone tracking of your cat's habits
Box measures 24.5 x 19.25 x 21 inches and weighs about 26 pounds
Rated 4.1 stars with over 1,700 reviews – pet parent approved!
Each container of sani-solution should last around 120 flushes
Included water supply hose is 8′ long and drain hose is 10′ long
Suitable for both single and multiple cat households
We answer the question "Are self cleaning litter boxes worth it?" to help you decide if you and your cat will benefit from one in your home!
If you're curious about other automatic options, we discuss several categories and give our choices for the best self cleaning litter box! (*Spoiler, CatGenie makes the list!)
Automate more of your pet's life with this automatic cat laser toy. Now you can play even when you're away!

Yvelife Cat Laser Toy Automatic,Interactive Toy for Kitten/Dogs - USB Charging,Placing Hign,5 Random Pattern,Automatic On/Off and Silent (P01), White, Medium

The PetSafe automatic feeder keeps your cat fed on the schedule that works best for you

PetSafe Smart Feed 2nd Generation Automatic Dog and Cat Feeder, Smartphone, 24-Cups, Wi-Fi Enabled App for iPhone and Android, Works with Alexa

A cat water fountain makes sure their water is always fresh and perfectly crisp!

Shinea Cat Water Fountain Dog Water Dispenser with 2 Replacement Filters,Pet Fountain Drinking Bowl for Cats,Dogs,Multiple Pet

This heated pet bed will heat up on cold nights to keep your pet cozy warm!

K&H PET PRODUCTS Thermo-Mod Dream Pod Heated Pet Bed 22 Inches Green/Black