TriggerPoint Foam Roller Stretch, Relax, and Massage Muscles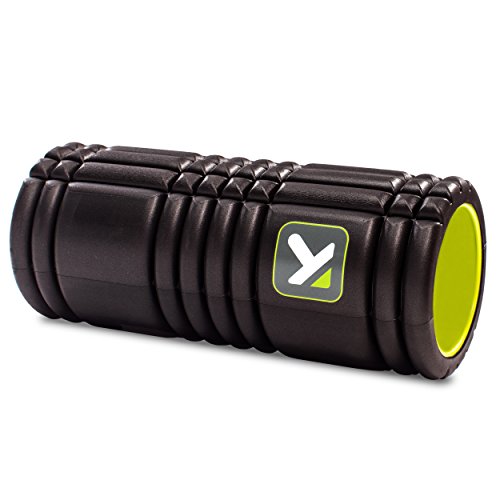 Can yinz come over here and give me a back massage? What do you mean you're too busy? My muscles are just so sore from exercising. There has to be something I can do to feel better. You ordered me a TriggerPoint foam roller that I can use to help my back feel better?  I take back all those things I just said, you're the best!
A foam roller makes a great addition to your workout or self-care routine. Rollers allow you to work out tightness and tension in your muscles. While commonly used for the upper back, rollers can also be used for arm and leg muscles effectively. The rollers are offered in various patterns and densities, so you can pick the one that works best for you.
This TriggerPoint foam roller can really help you work the kinks out!
The TriggerPoint GRID foam roller is ready to help you work out those pesky knots in your muscles. This 13" long muscle roller is made from 100% man-made durable materials. It features a rigid, hollowed tube for a core. The outside of the TriggerPoint roller has foam varying in density across a gridded pattern. This pattern emulates hands from an actual massage! Wide, flat spaces are like the palm. Then, rotate to the long thin area, which feels like fingers. Finally, the small but firm boxes are like fingertips working your muscles. With a 500-pound weight limit, this foam roller is made for use by most adults.
Foam rollers are an excellent tool to add to your home repertoire. They are frequently used and recommended by physical therapists, athletes, and their coaches and trainers. Rollers are also great for a massage! As with any piece of exercise equipment, follow proper usage directions to avoid potential injury. Fortunately, this TriggerPoint foam roller comes complete with access to a free online instructional video library. You'll learn best practices from industry experts, and ensure you're getting the most out of your roller.
While a foam muscle roller is great for relieving tight muscles, kinks, and knots, it has a lot of other great uses too! Muscle rollers can help reduce muscle and joint pain over time. They also help increase both circulation and flexibility, which can help prevent future strains. You may also notice an increased range of motion, better balance, and find it easier and more comfortable to walk. Rollers work all over your body, from the top of your back to the bottom of your feet!
Additional Notes
Featured here in black with a green core, but it's also available in camo, lime, orange, or pink colors
Manufacturer offers a 1-year warranty
Roller is 13" and 5.5" in diameter, weighs 7 ounces
A medium density option or an extra firm density option are available if you prefer
#4 best seller on Amazon in the Foam Rollers category
4.7 star rating with over 9,600 reviews – buy with confidence!