Thanksgiving Beer Koozies – 12 Pack Holiday Beer Can Covers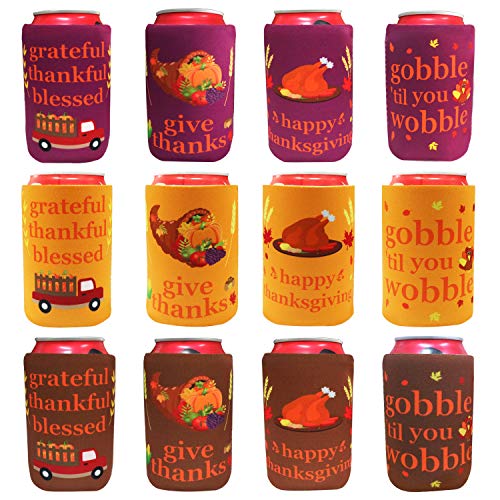 The holidays are fast approaching, yinz are dreading seeing your in-laws, and now you're looking for some help. Well, we've got you covered! These Thanksgiving Beer Koozies are exactly the cool gift you need this year to spruce up your family get togethers and help you keep your sanity!
Thanksgiving Beer Koozies keep your drinks festive and fun
These adorable Thanksgiving beer koozies are the must have for your family get together this year!  They come in four different Thanksgiving patterns on three different color sleeves, making a total of twelve unique sleeves for you and your guests to enjoy! No more accidentally swapping beers with your Great Aunt Matilda (note: this will not help you avoid getting pinched or kissed on the cheek)! They are printed on both sides so no matter how you hold it, you'll always be adding to the festive atmosphere.
The soft neoprene shell is easy to grasp and helps keep your drinks at a normal temperature.  You and your buddies can just stand outside drinking your beers while deep frying the turkey this year! Their versatile size allows for use with a variety of beverages. Since you can put both bottles and cans in, your under 21 crowd can still join the festivities with their pop cans! Best of all, these Thanksgiving beer koozies are machine washable, making whoever draws the short straw for cleanup grateful!
If you're big into planning ahead, these Thanksgiving beer koozies are also available in Christmas and Valentine's Day designs. You can order multiple holiday sets to plan for your upcoming get togethers.  They double as great party favors too – fun and festive!
Additional Notes
Soft durable neoprene beer koozie printed with fun Thanksgiving designs
Measures 2.9" x 4" making them fit a variety of beverage containers
If you're not interested in using your hands to hold your drink, then strap this leather beer holster to your belt and carry your drink sidearm-style!
Thanksgiving or not, sometimes you just need a Sudski shower beer holder so you can multi-task! It's a college essential!
Want to disguise your drink as something else? This silicone beer can cover will make it look like you're holding a popular soda pop instead!
Use these beer chiller sticks to keep your bottles cold even in the heat!