Iron Man Start Button Cover – Push to Start Your Engine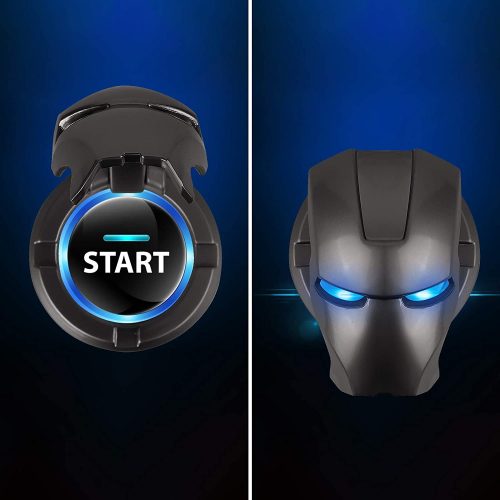 I just got my first ever car with a push button starter. Goodbye keys! Of course, the first thing I had to do was customize it with an Iron Man start button cover. Now it seems even more cool and high tech, just like my favorite Marvel Avenger.
A start button cover is a protective covering on a hinge that blocks accidental pushing on a button start vehicle. While they come in a variety of shapes and designs, this one features Marvel icon Iron Man and is available in 3 different finishes depending on your style.
Hitting the road has never been more fun than with an Iron Man start button cover!
Getting in and turning the key to start another day just feels like a grind. Flipping up my Iron Man start button cover to push on my car feels like I'm living in the future!
Made of electroplated and polished metal, this Marvel start button cover is durable and made to last. It fits nearly all standard push button starters on the market. The ring that fits around the button is 1.57"  in diameter, so be sure to measure your individual car to check the fit.
The button cover is styled to look like Iron Man's helmet. Choose between black (pictured), red, or silver finishes. Two eyes in the helmet are actually cut outs, which allow the lights from your car's starter system to shine through. I've seen green, blue, and even red, so you'll have a unique look from your car!
When you need to actually press the button, just flip the helmet upwards. It swings on a hinge up to 150 degrees to reveal your push button. Once the car is started, just lower it back down.
Aside from looking awesome, a start button cover is great to help prevent accidental button presses. This is especially helpful with young children or pets that may ride in the car. It also deflects items that may otherwise scratch or damage the button, keeping things looking great!
How do you install the Iron Man start button cover?
Clean the area around your car's push starter thoroughly and allow to dry
Orient the hinge of the button cover so that it is at the top
Attach one of the stickers to the ring using one side of the tape (it's double-sided)
Then, remove the adhesive backing on the outside, facing out from the ring
Line the ring up over your push start button, so that the button is centered
Press the ring firmly against the dash around the button, sealing it
Flip the Iron Man helmet down to cover the button
There's no special tools and no difficult installation required. It's as simple as that!
Note that two mounting stickers are included, though you only need one. It's great if you make a mistake, or if you get a new car in the future and want to take your Iron Man helmet cover with you!
Additional Notes
Measures 1.18" D in the down position
Ring is 1.57" tall and 1.61" W
Total height is about 1.77" with mark included in measurement
Will not block RFID or similar signals
Rated 4.4 stars with over 1,200 reviews!
Get some clean air in the car with this car air humidifier and purifier 

GENHIGH Autowit Fresh 2 Car Humidifier/Purifier in Silver

autowit Fresh 2 Car Air Humidifier Purifier with High-Efficiency Composite Filter Portable Air Freshener Purifier and Ultrasonic Humidifier About this item 【3-Stage Air Filtration】 Composited Nano Silver, HEPA Fold Filter and Activated Carbon Filter, it effectively removes PM2.5, pollen, smoke,...

Never forget where you parked again with this smart car charger 

nonda ZUS Smart Car Charger, Car Charger with App to Save Car's Location and Monitor Car Battery, 2 Ports Car Charger with Led for iPhone XS/Max/XR/X/8/7/6/Plus (ZU33BKRN)

Marvel fans may also enjoy some help around the house from a Thor hammer tool set 

Marvel Thor Hammer Tool Set"Officially Licensed"

Relax and get your game on in the Spiderman gaming chair 

Marvel Avengers Massage Gaming Chair Desk Office Computer Racing Chairs- Adults Gamer Ergonomic Game Footrest Reclining High Back Support Racer Leather Foot Rest (Spider-Man)

Crack open a cold one at the end of a long day with the Infinity Gauntlet bottle opener 

Creative Multipurpose Infinity Thanos Gauntlet Glove Beer Bottle Opener Fashionable Useful Soda Glass Cap Remover Tool Household-in Openers from Home

Stay hydrated on the go with a Thor hammer water bottle. Though, it probably won't fit in your cup holders!

Moofin - Thor Hammer Water Bottle - 1.7 Liter Black - BPA Free Mjolnir Sports Hydro Novelty Funny Gift Leakproof Durable, Non Toxic, for Fitness Outdoor Adults, Kids, Trendy Workout, 58Oz

Put that green thumb to good use with Baby Groot planter pots!

IKAYAS 4 Pack Treeman Baby Groot Flower Pot Groot Succulent Planter Pot Cute Green Plants Flower Pot Pen Pencil Holder, Great Birthday Gift Graduation Gift for Her Him 4 Styles (Plants Not Included)