Dr Meter Fish Scale | Digital Hanging Hook Fishing Scale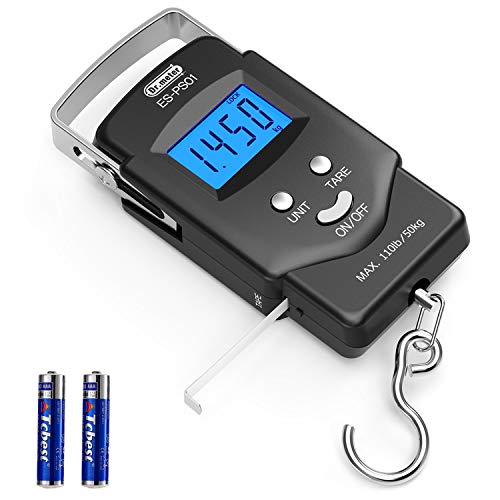 George, I'm telling you man, that fish was huge! No, this isn't just one of my fishing stories, it was legitimately an enormous fish. Look, I even took a picture with my phone. See that? That's my Dr Meter fish scale. You can see how much that fish weighed! Now do you believe me?
A fish scale is a small, handheld scale that is used to weigh a fish. They are easily portable, which is ideal when fishing. Simply hang a fish from the hook at the bottom of the scale, which emulates a fishing hook. Then, hold the scale up and let the fish dangle freely. The scale will then read the weight of the attached fish. Some scales operate off batteries to show a lighted digital output for easier reading. Other convenient tools such as a measuring tape may also be built into a fish scale.
This Dr Meter fish scale helps you prove just how big your catch really was!
This Dr Meter fish scale is a must-have tool for everyone who likes to fish. It can measure fish of all shapes and sizes! Whether it's your first tiny catch, or the once in a lifetime whopper, you can easily check it out with your fish scale. A convenient LCD screen with a digital output ensures that you can easily see and read your results, day or night. Your Dr Meter scale can weigh fish up to 110 pounds! Holy Mackerel! Not only that, but it can convert from ounces to pounds to kilograms. It's never been easier to weigh your catch, no matter where in the world you are.
A data lock function allows you to lock in the weight of your fish. It will remain on display while you set your catch down somewhere safe, so you can review it and take pictures if desired. An auto-off function also ensures that your scale doesn't use all the battery up in case you forget to turn it off! As an added bonus, this Dr Meter fish scale has a built-in measuring tape! You can measure your fish, a length of rope, or anything else on your boat. How convenient! The measuring tape expands up to 3 feet, and also has markings in centimeters for convenience.
A built-in carrying strap makes this scale a breeze to take with you anywhere. It's lightweight and highly portable, so it fits easily in your bag or tackle box. You can even use this scale for other everyday uses! Dr Meter makes a great luggage scale if you're planning on plane travel soon. It can be used to weigh just about anything that can hang from a hook, such as vegetables, spices, or grains! Throw it in your purse or bag for a trip to the farmer's market. Two AAA batteries ensure that you have power anywhere you roam. They are included to start, but also convenient to replace as needed.
Fish scales make a wonderful gift too! From the amateur to the avid fisherman, everyone can benefit from this portable scale. A Dr Meter fish scale makes a perfect choice for a birthday, Mother's Day, Father's Day, or Christmas! It's even an ideal size as a stocking stuffer. So, if you have someone in your life that could use a scale on the go, consider getting them this great Dr Meter scale!
Additional Notes
Only available in black
Made of high-density ABS plastic
#1 best seller on Amazon in the Fish Weighing Scales category!
4.5-stars with over 4,500 ratings – buy with confidence!