August WiFi Smart Lock – Protect Your Home From Your Phone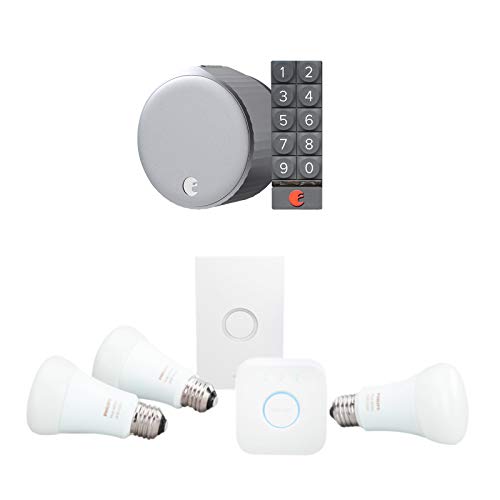 You've been thinking about turning your spare home into an Airbnb rental? I think it's a great idea, and it's never bad to have some extra income. I'd recommend getting an August WiFi smart lock and keypad though, so you don't have to worry about key theft and changing the locks all the time.
A digital smart lock is just as safe as a traditional keyed lock for your door. Entry can still be forced, but this is true of nearly any home locking system. Additionally, smart locks often offer remote monitoring with video or alerts to a smartphone. This means that if something is amiss, you'll know right away.
Leave your worries at the door when it's secured with an August WiFi smart lock!
The August WiFi smart lock set has everything you need to keep your home safe and secure. The smart lock attaches easily to the existing deadbolt on your door. You mount it on the inside, so you can still use a traditional key access from the exterior if you wish. Otherwise, just use the app on your phone to open the door key free! You can even set it to auto open when you get close to the door, and auto lock when you leave – completely hands free! An additional keypad is also included as a backup if you don't have a phone, lose your phone, or want to give a guest access.
Your WiFi smart lock kit also comes with a Hue light integration. They'll automatically light up when you unlock the door with your phone. Make sure you're not walking up a dark path to the front door and fumbling with your keys – light it up and walk in quickly and easily. The Hue lights can also be set to custom schedules so they turn on and off on your setting. They can make it feel like someone is there – even if you're not!
August's free app allows you to always have great control. Need to let a trusted friend or family member into your home? You can give access from the app. Want to give a delivery person, dog walker, or Airbnb guest a temporary code? You can do that too! An activity feed will track when people enter and exit, so you always have a record. This August WiFi smart lock is also compatible with Siri, Alexa, and Google Assistant. Lock, unlock, and check in on your door while you're away just by asking one of your home assistants.
Additional Notes
After securing your door, check out our guide to smart bulbs for your smart home
Lock requires a 2.4GHz Wi-Fi network connection
Bluetooth connection works in short range, cannot use for remote monitoring
Compatible with most North American standard deadbolts
Optional biometric verification available for remote lock opening
Available in black or silver colors
Requires two CR123 batteries (included)
Light kit includes 3 60W equivalent LED bulbs and a hub for Wi-Fi control from the app
Can be expanded to up to 50 lights, additional bulbs sold separately
#10 best seller on Amazon in the Deadbolts category
4.2 star rating with over 1,500 reviews!
Use this package delivery box to protect your parcels from porch pirates!

Keter Delivery Box for Porch with Lockable Secure Storage Compartment to Keep Packages Safe, One size, Brown

With the Schlage smart lock, you can enter your home with a touchscreen and keyless entry!

Schlage Z-Wave Connect Camelot Touchscreen Deadbolt with Built-In Alarm, Satin Nickel, BE469 CAM 619, Works with Alexa via SmartThings, Wink or Iris

Use smart exterior lighting to keep your home lit at night with the Philips Hue Inara outdoor wall light 

Philips Hue Inara White Outdoor Lantern, Wall Fixture & 1 Hue White A19 LED Smart Bulb, Use with Alexa, Homekit & Google Assistant (Hue Hub required)

Set up the popular Amazon Ring doorbell and keep track of everything happening on your porch!

Ring Video Doorbell Pro, with HD Video, Motion Activated Alerts, Easy Installation (existing doorbell wiring required)

You can also monitor the inside of your home with the indoor Google Nest cam 

Google, NC1104US, Nest Cam Indoor, Security Camera, Black, 1

Enjoy the perfect temperature in each room of your home with a Flair smart vent 

Flair Smart Vent, Smart Vent for Home Heating and Cooling. Compatible with Alexa, Works with ecobee, Honeywell Smart thermostats, and Google Assistant. Requires Flair Puck. (4" x 10")