Stomp Rocket Stunt Planes – Perfect for the Active Child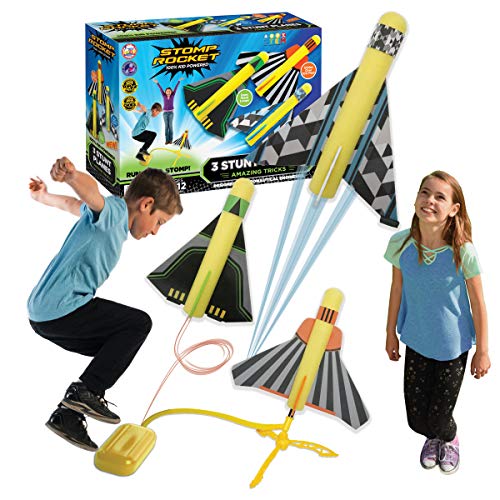 Are you kids throwing paper airplanes around inside the house again? If you hit that antique vase, you know your mother is not going to be happy with you.  Why don't you take these Stomp Rocket stunt planes and go play in the backyard instead? You can launch them sky high, while my blood pressure stays much more grounded.
A Stomp Rocket works using the power of your foot and air, no batteries required. When someone steps on the inflated pad, the air rapidly displaces into the Stomp Rocket. This compressed air causes the rocket to fly up into the sky, reaching heights of 100 feet or more, based on the particular model.
The sky's the limit for your active child when playing with Stomp Rocket stunt planes!
This set of three Stomp Rocket stunt planes is sure to bring smiles to your backyard.  The Looper plane is designed to do loops in the air, the Glider plane can launch up to 100 feet sky high, and the Wildcat plane is a stunt model that performs crazy airborne tricks! All of these planes are from the creators of the original Stomp Rocket, which has received many innovative toy awards.
To use a Stomp Rocket, the only power required is you! Simply attach the stomp pad to the included plastic stand. Then, place the desired plane on the stand using the designated opening at the base. Stomp on the pad, and the displaced air will launch your stunt plane up into the sky! The launch stand is also adjustable to different angles, in case you need to adjust for the wind, or just want to experiment with different launching techniques.
Stomp Rockets are considered a STEM learning toy, meaning that they work based on the principles of Science, Technology, Engineering, or Math. You can even pair them with the Stomp Rocket science book so your kids can learn about the science while they're playing! They're a great gift for Christmas or a birthday, and parents and grandparents can rest assured their little ones are learning while having fun!
Additional Notes
Recommended for ages 5+
Top 50 best seller in both Science Kits & Toys and Toy Foam Blasters & Guns on Amazon
Rated 4.5 stars with nearing 3,000 reviews – buy with confidence!
If you want to get in on the aerial action, try out this sky and water stunt drone. It flies through the air and dives underwater!

The Sky And Water Stunt Drone

This is the remote-controlled stunt craft that soars through air and water with equal speed and agility. Its stingray-shaped aerodynamic body and four propellers enable it to hover above ground, fly in the air, and dive underwater. The 2.4 GHz remote control provides precise forward/backward and...

Add a bit of technology to paper craft with this PowerUp 4.0 smartphone controlled paper airplane kit!

POWERUP 4.0 The Next-Generation Smartphone Controlled Paper Airplane Kit, RC Controlled. Easy to Fly with Autopilot & Gyro Stabilizer. For Hobbyists, Pilots, Tinkerers. STEM Ready with DIY Modular Kit

Let your child imagine taking flight in this spaceship simulator toy!

The Children's Spaceship Simulator

This is the children's spaceship simulator that provides an immersive interstellar experience with reactive motion, buttons, levers, knobs, lights, and sound. Its adjustable seat accommodates young astronauts and places them in front of the controls where a smartphone mount holds a device and...