Snow Joe Electric Snow Power Shovel – No More Backaches!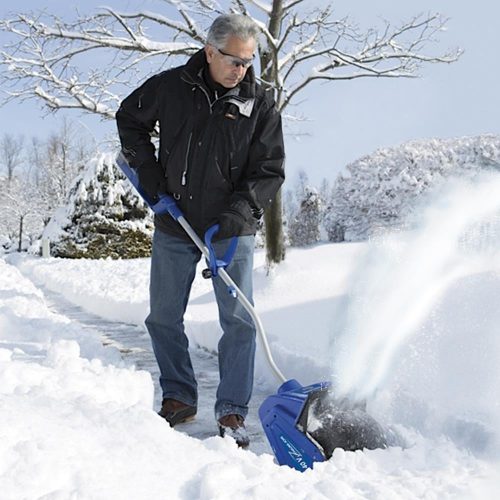 I've never seen you excited to go shovel the driveway. What's gotten into you? Oh, I know, it must be the Snow Joe snow power shovel you just got. Yeah, I guess it might be fun when it's not back-breaking work!
A power shovel for snow is an electric or gas-assisted snow removal tool. It looks like a shovel, but functions to throw snow like a small snowblower. You'll still need to push it, as it's not self-driving, but no longer do you have to lift and throw heavy snow off walkways.
A snow power shovel is worth it for anyone who battles the white stuff year after year!
Move over Florida snowbirds, we're here to talk about the snow power shovel. That's right, if you live in one of the snowiest places, you're probably tired of shoveling, sore backs, and being out in the cold. If so, then this shovel is worth it for you!
See, a snow power shovel is like your regular shovel, with the addition of a mini snowblower integrated into it. This particular Snow Joe model has a 10" wide shovel that's great for decks, sidewalks, walkways, and even stair clearing.
This electric power shovel is entirely cordless, operating off a 24V rechargeable battery. On a full charge, that gets you about 24 minutes of use. I know, I thought that sounded like not very much too. However, this powerful device can clear 100 sq ft in about 4 minutes!
That's right. You'll be back inside sipping on your hot cocoa before your toes even get cold. The auger only handles about 6" depth of snow at a time. In really bad storms this may mean several trips out to keep up with things (though that's true of most snow blowers). Oh well, more warm drinks for me!
Like a snowblower, the two-blade paddle system is capable of launching your snow up to 20 feet! No more creating giant, impenetrable walls of snow. That's great, as the last time I tried to throw snow over my head, I put my back out.
How much does a power shovel cost?
On average, a power shovel will cost between $80 and $200. The range depends on the width and depth the auger covers, the type of fuel used, and how far it throws snow.
Sure, it's more than a regular plastic snow shovel will run you. However, it saves you both time and strain in clearing snow. If you're walking in a winter wonderland regularly, you're going to think it's worth it.
Note that this Snow Joe doesn't come with the battery and charging station. Why? Well, it uses a 24V cordless battery that you might already have for your other lawn and power tools.
If not, no big deal, as you can get a battery and charger combo pack to get you started on your way to power shoveling glory!
Additional Notes
If you want the Snow Joe and battery combo together, you can check the additional Amazon SKU's or compare prices on Hammacher Schlemmer
Weighs under 10 pounds
Adjustable handle for comfortable use
Rated 4.2 stars with nearly 1,300 reviews on Amazon
Why shovel at all when you can just set out these snow melting mats on your walkway!

HeatTrak Heated Snow Melting Walkway Mat | Outdoor 'No Slip' Heated Walkway Mat 30 x 60 Inch | No More Shoveling, Salting and Slipping

Don't worry about slipping on the ice while wearing these retractable spike boots!

4x4 Outsole Women's Commuter All Weather Boots, Color Black, Size 9

Put on your heated jacket for extra comfort while snow clearing

HOMICREATIONS Sustain Heated Jacket in Black, Size Medium

This is the ultimate jacket that is full of features and functions but yet designed minimally. Simple and minimal lines on the outside, details all over the jacket inside out. Light weight but yet warm to keep you agile and move around without weighing on your body. 12 pockets, largest fits 9.7"...

A Viking beard hat will keep your face and head warm, plus add a few smiles to the neighborhood!

Beard Head Viking Pillager Helmet - Funny Knit Horn Hat and Fake Beard Costume

You'll have so much extra time after snow clearing, you'll be able to enjoy a snowball fight with your snowball launcher!

Cabilock Snowball Launcher Snowball Blaster Snowball Maker Mold with Safety Goggle Snowball Fighting Toy for Children Adult Outdoor Winter Games Toys

Treat yourself to a tasty hot chocolate bomb when you come back inside

Bombombs Hot Chocolate Bombs, Includes Fudge Brownie Emoji Kids Cocoa Bombs Filled with Marshmallows, Pack of 5
Snow Joe 24V-SS10-CT 24-Volt iON+ Cordless Snow Shovel | 10-Inch | Tool Only
3 used from $90.71
Free shipping
as of November 30, 2022 4:28 pm
Features
Questions, Text 563563 to chat directly with a Snow Joe expert
IDEAL: For quick, easy and CORD-FREE snow pickups on decks, steps, patios and sidewalks
HIGH IMPACT: 2-blade, low-temperature paddle auger throws snow up to 20 feet and cuts a 10 in. x 6 in. path
ERGONOMIC: Lightweight design (only 10 lbs) with adjustable back-saving handle
Greenworks 8 Amp 12 inch Electric Snow Shovel
5 new from $99.00
Free shipping
as of November 30, 2022 4:28 pm
Features
8 Amp electric motor offers ease of use
Hassle free push button electric start
Light weight and compact for quick clearing in tight spaces
Clearing width of 12-inch makes it easy to manuever. Adjustable auxiliary handle adds comfort and control during use
Clears up to 300 lbs. of snow per minute. Discharge Distance: Up to 20-ft.
Earthwise SN74016 40-Volt Cordless Electric Snow Shovel, Brushless Motor, 16-Inch width, 300lbs/Minute (Battery and Charger Included)
 out of stock
as of November 30, 2022 4:28 pm
Features
Battery-operated Earthwise snow thrower with 16" clearing width, 8" clearing depth, 32' snow throwing distance
Powerful shovel machine with a quiet and reliable 40v brushless motor; 4Ah Earthwise battery and charger Included
Efficient snow blower motor that moves 300lbs of snow per minute
Comfortable and ergonomic snow blower handle; Features 6" rear wheels, and dual blade auger
Earthwise Power Tools by ALM snow thrower with a convenient 180-degree rotating chute
AlphaWorks Snow Thrower Shovel Electric Cordless DC 20V 10" inch Width 5" inch Depth 25' feet Throwing Distance 300Lbs/Minute
3 new from $169.99
Free shipping
as of November 30, 2022 4:28 pm
Features
ELECTRIC POWERED SNOW THROWER - This Residential/Light Commercial capable Snow Thrower Shovel is designed for all DIY or Professional applications; Capable of delivering 10" x 5" (inch) deep clear path, efficiently and quick; Built to meet residential/commercial grade quality standards and provide dependable performance
GEARHEAD SPECS - This Snow Thrower has a powerful 20V all electric motor capable of removing snow and providing a 10" inch Wide x 5" inch Deep path, powerful enough to move 300lbs of snow per minute, while capable of a Max Throwing distance of 25' feet, making the job quick, efficient and easy
SUPERIOR UNIQUE FEATURES - At the push of a button this lightweight and compact electric shovel allows for easy operation and the Adjustable Ergonomic Handle allow for comfort of use and the Curved Dual Auger Blades make quick work of snow clearing, while saving you the time and labor, without breaking your back
SAFETY and BEST APPLICATION - Always wear the appropriate eye and hand protection, DO NOT submerse the Snow Thrower in water/liquid; Works great for quick snow jobs around the house on hard surfaces like: Patios/Decks, Sidewalks, Driveways, Walkways, Steps, Entryways and other residential areas