Log Flume Joust Set – Summer Inflatable Pool Jousting Game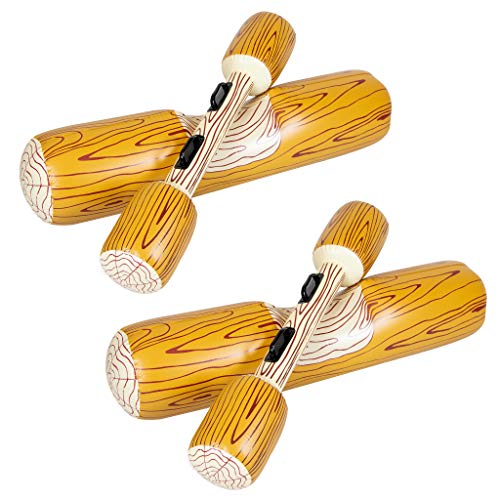 Our pool is starting to resemble an episode of Wipeout. What did you add to it this time? An inflatable log flume joust set, huh? Well, the kids will have fun pool jousting, and at least they won't hurt.
Inflatable joust sets are a toy designed for head to head competition. Different variations are available for play in land or water. Players use an inflatable jousting baton to try and knock their opponent down. The last player standing wins.
Bop and balance your way to victory with the log flume joust set!
A log flume joust set is the perfect pool toy for a little summer fun. You'll receive a set of two inflatable logs and also two coordinating boppers. Everything is made from a durable vinyl material that's pool friendly and ready to keep the kids entertained. Simply inflate the logs, and then toss them in the pool to get started. Players sit in the curved indent in the center of each log, with their legs hanging down into the water. Each person grabs a baton by the two built-in hand holds.
The object of the pool joust is to dislodge your opponent. Whack them high, bop them low, and try to overturn them from their inflatable log. The first person dunked in the pool loses the game! Pool jousting is a game of balance and skill, and fun for everyone. Play as many rounds as you like, or start a bracketed competition at your next pool party. It's a great game for the kids at backyard barbecues, birthday parties, and general summer fun.
Additional Notes
Manufacturer recommends for ages 5-9, but it's also fun for teens and adults!
Always use parental supervision for children in the pool
Users should be comfortable with falling in the water and swimming
Logs are about 5 feet long and 1 foot wide; boppers are about 4 feet long
Inflate with a pump (not included) or just by blowing
Pool not included
Check out our full guide on above ground pool costs featuring initial purchase options, installation, and other expected expenses!
For more rowdy inflatable pool fun, check out INFLATABULL!

Intex Inflat-A-Bull, Inflatable Ride-On Pool Toy with Realistic Printing, 94" X 77" X 32", for Ages 9+

If you prefer competition with less contact, then the Coconut Island floating cornhole game is perfect!

Coconut Float Island Toss Floating Cornhole Game Inflatable 9 Piece Outdoor Toy – Durable Long-Lasting Family Entertainment - 3 Foot – Perfect for Parties, Tropical Events – Ages 8+ Years

Enjoy this inflatable air hockey table as it floats right on top of your pool!

Coop Hydro Hockey Inflatable Water Floating Table Hockey Set, Pool Toy for Kids Ages 5+

When the jousting contest ends, let your pooch rule the pool with a Paddle Paws dog raft!

Paddle Paws Spring Float Dog Raft, Small (0-65 lbs.)