Deluxe Jigsaw Puzzle Organizer with Drawers for Puzzle Lovers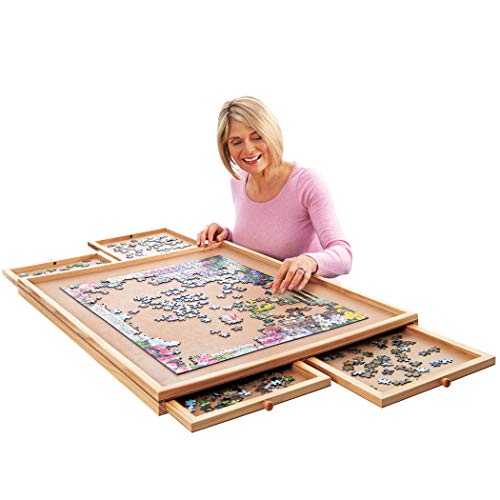 Oh no, the dog was chasing the cat again and they made a mess of my puzzle! I should have used that deluxe jigsaw puzzle organizer with drawers, and then this wouldn't have happened. This just proves that I need a way to keep my puzzle organized.
You can keep a puzzle organized easily with an organizer tray. The system is designed with a workspace for completing the puzzle. In addition, drawers or containers allow for storage and sorting of pieces. Separate shapes, colors, and sizes to make completing large puzzles even easier.
Organize a puzzle up to 1,500 pieces with the help of a deluxe jigsaw puzzle organizer with drawers!
This Collections deluxe jigsaw puzzle organizer is the perfect choice for any lover of puzzles. This beautiful wooden workspace can accommodate up to a 1,500 piece puzzle. It also makes your puzzle easy to move to various workspaces around your home as needed.
The 33 1/4″ x 24 1/4″ workspace on top provides the perfect area for assembling your puzzle. Four built-in sliding drawers underneath the board optimize your organizational capabilities. Sort your puzzle pieces  by size, shape, color – anything you like! This makes your pieces easier to find, which is great with those complicated puzzles.
It's also the perfect solution to ensure you don't lose any puzzle pieces as you go. Pieces easily fall and get lost around kids, pets, and even the environment. By placing them into the jigsaw puzzle organizer drawers, they're less likely to be dislodged and misplaced.
The border on the work surface also keeps your jigsaw puzzle centered and safe. Even if you need to clear the dining table for dinner, carrying your puzzle into another room is no burden. Just grab the whole workspace, and take it anywhere that's convenient!
Additional Notes
Unit is 35 L x 26 W x 1.88 H inches, expands up to 69 inches long with all drawers open
Drawers can be removed completely to move around the table
Weighs just over 11 pounds
Perfect gift for Christmas, birthdays, and Mother's Day
4.7 star rating with nearly 200 reviews – puzzle lover approved!
Jigsaw puzzle not included – check out our favorite wooden Unidragon owl puzzle if you're looking for a unique shape and design

Unidragon Wooden Jigsaw Puzzles - Unique Shape Jigsaw Pieces Best Gift for Adults and Kids Charming Owl 8.3 × 13.8 in (21 × 35 cm) – M

If you're hitting the road with your puzzle and need a more compact option, check out this roll up puzzle mat instead

Puzzle Sorting Trays & Mat Roll Up for 1500 Pieces Jigsaw Puzzles, Inflatable Tube, 3 Elastic Fasteners, Mini Pump, Storage Bag for Better Pattern Shape Colors, for Puzzle Lover, Sturdy & Easy to Use

Build this 3D Rube Goldberg puzzle, and enjoy watching your puzzle come to life and move after!

ROKR 3D Puzzle Wooden Marble Run Model Kits Birthday Gift for Teens and Adults