Hot Ash Stove – A Pizza Oven, Stove, and Smokeless Fire Pit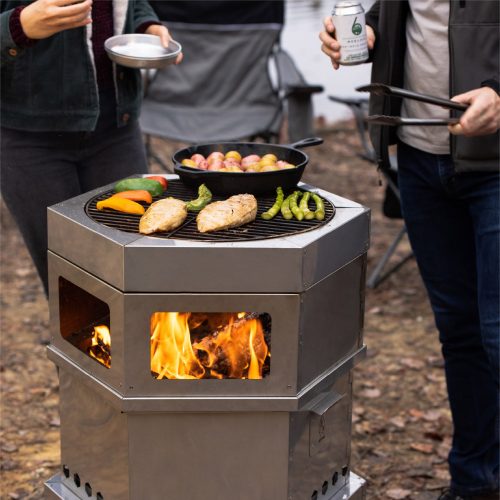 I don't know how I'm going to fit everything in the car for this camping trip. Timmy wants pizza, Ted wants hot dogs, and I just want a campfire. Packing for all of that is such a pain! You think the Hot Ash Rover stove could solve all my woes?
The Hot Ash Rover is a pizza oven, stove, and smokeless fire pit in one portable unit. It's a slimmed down version of the Rambler, making it easier to pack on the go. The Rover is great for camping, picnics, backyards, and general cool weather fun.
Bring your 3-in-1 Hot Ash Rover stove along for food, fires, friends, and fun!
The Hot Ash Rover is your ultimate portable 3-in-1 stove. It's easy to bring along and equally convenient to store at home. This Hot Ash is a smokeless campfire, pizza oven, and stove all in one!
It works thanks to the proprietary smokeless fire pit. The fire pit folds in on itself to save space packing and serves as the base of operations. Enjoy it as you would a normal fire, or add one of the special components.
The pizza oven and the stove are simply attachments fueled by the fire pit. They slide on and attach with a collar (using heat proof gloves for safety!) and detach and fold for storage.
This unit can really put out some heat! In fact, you'll be able to cook pizzas at 750 degrees Fahrenheit! Not to mention, it can get up to that temp in as little as 20 minutes. There's nothing I love more than some 'make your own' pizzas in the backyard with friends.
Cleanup is a breeze too, thanks to a built-in tray that catches everything. Once the unit is cooled, slide the grate out, and dispose of the ashes. It's that simple!
Hot Ash is made from 304 food grade stainless steel, so you can rest assured your food is safe. It's also sleek, modern, and eye-catching. So, grab your skillet, and let's enjoy the outdoors!
Additional Notes
Made in the USA
Comes with a free pair of heat proof (up to 900 degrees) gloves
Fully assembled, measures 24.5″W x 24.8″D x 40″H
Collapsed for storage, measures 24.5″W x 24.8″D x 23″H
Check out the larger Rambler if you don't plan to take it on the go
If you're looking for a fire pit only, check out the Solo Stove smokeless outdoor fire pit
To take things on the go more easily, try the pop up portable fire pit instead
Sit around the campfire with a heated camping chair and keep your backside warm, too!
Only want to make pizza? Then consider this outdoor pizza oven to make awesome wood fired delicacies!
Grab your Diablo toasted snack maker to make delightful snacks on your new stove