Grave Before Shave Beard Oil and Grooming Kit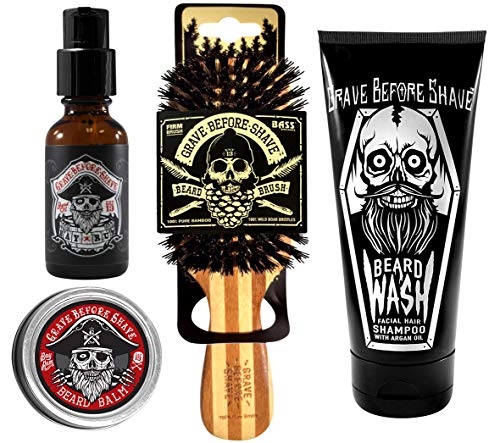 Your beard is so scratchy. We really need to do something about that, it's like kissing a porcupine! Good thing I ordered this Grave Before Shave beard oil and grooming kit. It will help make your beard soft, beautiful, and it will smell great too! You didn't know they made hair care products just for beards?
When it comes to caring for your beard, there are many products on the market to help you look and feel your best. Shampoo and conditioners designed for beard hair keep it clean and smelling nice. Beard butters and balms act like a leave in conditioner to help soften and hold style. Beard oil keeps the fibers healthy. A comb, brush, or set of trimmers can help to assist in styling your beard just right. These types of products, whether used together or separately, can help you maintain a clean and healthy beard.
The Grave Before Shave beard oil and grooming care pack is man's best friend when it comes to beard care!
This Grave Before Shave beard care pack has everything you need to maintain that sexy beard! Inside the box, you'll find several products expertly coordinated to give you the ultimate experience. First, you'll get a 6-ounce tube of their signature beard wash. It contains Argan Oil, which naturally helps to moisturize your hair. With a clean, fresh scent like an old school barbershop, it's appropriate for everyone. While it's totally safe to use on all hair, with this size bottle we'd recommend sticking with just the facial hair!
Now that your beard is nice and clean, what else do you need? A 1-ounce bottle of the Grave Before Shave beard oil of course! Simply apply and rub it in, from your skin all the way down your beard. It helps moisturize your skin to prevent dandruff and keeps your beard hairs strong and conditioned. It comes in their signature Bay Rum design, which has a manly scent with coconut afternotes. Perfect for hunting booty!
A 2-ounce tin of beard balm is also included, in the same Bay Rum scent. Beard balm functions like a leave in conditioner. It also helps tame unruly hairs and keep them in line, for that perfectly styled beard. Whether you're going out to plunder treasure or just spending a night on the town, you'll look great!
Finally, in your Grave Before Shave grooming kit, you'll find a Boar hair beard brush, with a bamboo handle. This brush has a coarser fiber than a traditional hairbrush. This is important to help in getting through wiry beard hairs more effectively.
Beard oil and grooming care kits make a fantastic gift! Anyone who has a beard will appreciate these finely crafted beard care products to help them look their best. Consider giving this set as a gift for Father's Day, Valentine's Day, or even Christmas. It's a perfect gift to show you care, but you'll also get the benefit of a soft, pleasant smelling beard!
Additional Notes