Spiceology Beer Rub – 6 Pack of Grilling Spices by Derek Wolf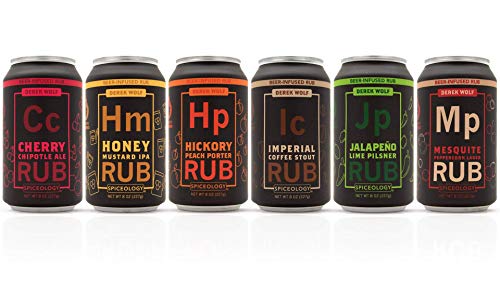 Hey Bob, can you hand me my beer? I left it over there by you, but I don't want to leave the grill unattended. Wait, this isn't my beer, this is my Spiceology beer rub sampler pack. That's nowhere near as refreshing as an Iron City!
Beer rubs are a spice mixture infused with real beer flavoring, that contain no alcohol. Notes of hops, barley, and yeast combine with other spices typical to barbecue rubs. This creates a flavor profile that pairs well with drinking beers, perfect for summer grilling.
Grab your tongs and crack a cold one, this Spiceology beer rub sampler pack is taking your barbecue grilling to the next level!
This sampler package of six beer grill rubs is an all-star collaboration. Grilling chef Derek Wolf teamed up with spice purveyor Spiceology to create these unique beer grill rubs. Each rub comes in an 8 ounce can that looks like a beer can!
The contents, however, are delicious beer-infused grill rubs. Each label is black with colored letting straight from a periodic table, with each flavor being different. A resealable lid keeps your spices fresh after you've popped the top.
In this Derek Wolf Spiceology beer rub pack, you'll find six different flavors to explore:
Cherry chipotle ale rub is a fruity, smoky blend that's great on meats (ribs are highly recommended), nuts, and even in desserts.
Honey mustard IPA rub is a mix of citrusy, sweet, and savory, perfect for meats and seafood.
Hickory peach porter rub has the smoky hickory, sweet peach, and caramel notes of a porter. It's ideal for meats (particularly ribs), as well as potatoes and squash.
Imperial coffee stout rub has notes of coffee, chocolate, cinnamon, and a little bit of smokiness. Use on beef, pork, in brownies, or on roasted nuts.
Jalapeno lime pilsner rub is a light, fruity, crisp blend perfect for meats, seafood, corn, eggs, and veggies.
Mesquite peppercorn lager rub rounds out the mix, with an earthy and slightly spicy flavor. It's best on brisket, but great for other meats and veggies too!
You can use this delightful Spiceology beer rub directly on the meat, or you can mix any of them with beer for the ultimate in marinades. Whether you're smoking or grilling, you're sure to bring the flavor.
These beer infused rubs also make your food pair well with beer during dinner – have a fancy backyard tasting party! The rubs themselves don't contain any alcohol, so I guess we can invite the kids too.
Additional Notes
Packed in the USA
Perfect for Father's Day and Christmas gifts!
Six cans come attached with a plastic "beer carrier" top
Other non-beer based bbq rubs are also available
Rated 4.6 stars with nearly 100 reviews
Make sure you see what you're doing at night with BBQ grill lights 

IMAGE Grill Lights Magnetic BBQ Grill Light with Ultra-Bright LED Lights and 3W Side Light, 360 Degrees Flexible Gooseneck Adjustable BBQ Grill Lights for Any Gas Charcoal Electric Grill 2 Packs

Delicious smoked meats can be yours with a countertop smoker and these tasty seasonings

The Countertop Digital Smoker

Only available from Hammacher Schlemmer, this is the countertop appliance that enables you to cold smoke, hot smoke, and combine both cold/hot smoke methods for your favorite food items. It has a 9-liter capacity and three stainless steel smoke racks that accommodate brisket, steaks, fish, or...

Everyone knows the best chicken is well seasoned and cooked on a beer can chicken motorcycle stand!

Portable Chicken Stand Peer - American Motorcycle Bbq Stand, Biker Chick Beer Can Chicken Stand, Beer Chicken for Grill,Stainless Steel Grill, Chicken Beer Can Chicken Rack | Chicken Roaster Stand

The Cuisinart grill wok makes sure those tasty veggies don't fall into the grill during cooking

Cuisinart CNW-328 11-Inch, Non-Stick Grill Wok, 11 x 11

A chicken wing rack keeps those drummies and wings in the perfect spot for grilled perfection!

G.a HOMEFAVOR Chicken Leg Wing Rack 14 Slots Stainless Steel Metal Roaster Stand with Drip Tray for Smoker Grill or Oven, Dishwasher Safe, Non-Stick, Great for BBQ, Picnic

If the weather is bad outside, try a smokeless indoor grill instead

Tenergy Redigrill Smoke-Less Infrared Grill, Indoor Grill, Heating Electric Tabletop Grill, Non-Stick Easy to Clean BBQ Grill, for Party/Home, ETL Certified