Rozmoz Bread Machine – from French Bread to Pizza Dough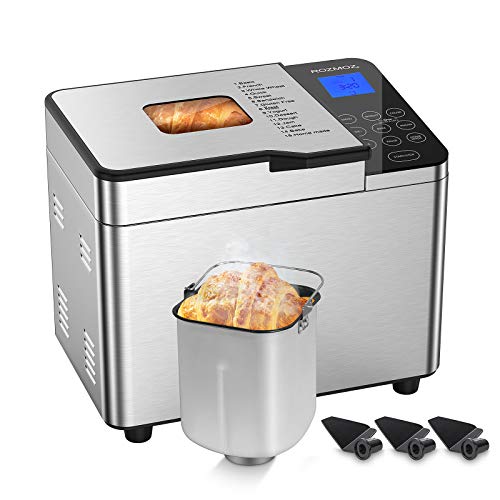 Is Dad making homemade bread again? I can't wait to have a nice warm slice with butter. There is no smell that's more inviting than homemade bread baking. With the Rozmoz bread machine, I can be creative and bake various types of bread. It's so easy because I always have a wealth of ingredients in my pantry to experiment with.
A bread making machine offers a convenient way to create fresh baked bread in the home especially for people with busy schedules. Aside from bread options like French, Italian, sourdough, and wheat, bread machines offer versatility. They can also be used for cake, jam, yogurt, pizza dough, and more.
Turn your kitchen into a bread bakery with the Rozmoz bread machine
Owning a bread machine is one of the best purchases you can make. Remember, you're in charge of what ingredients to add to your bread recipe. It can be sweet or savory. Whip up a tasty pepperoni bread for the kids, or have some raisin bread on standby for breakfast. The Rozmoz bread machine offers you these options and more.
Rozmoz delivers their Pro bread machine to make baking bread easy even for a novice. The exterior is stainless steel with an intuitive digital touch screen. The interior baking pan is made of non-stick ceramic to help bread bake evenly. You then choose from three settings for a light, medium or dark crust and three different loaf sizes. A built-in time delay allows you to add your ingredients and then set a baking time for up to 15 hours in the future. There's also a warming function for up to 60 minutes post baking! Select the specific recipe you want to bake, layer all the ingredients according to the recipe and then choose the time you want the machine to turn on.
Bake bread, cake, jam, yogurt, or pizza dough inside this Rozmoz bread machine. This bread maker ensures the process is as painless as possible. Select the recipe you wish to bake, layer in your ingredients, and then set a time for the machine to begin. Wake up to the smell of fresh baked bread without having to get up early yourself. Just follow the recipes and let your bread maker do the rest.
With the included recipe book, even beginning bakers can create delicious masterpieces. Once you become familiar with how your bread maker operates, the blossoming chef can become more adventurous or scour the Internet for additional bread making recipe ideas.
Additional Notes
Rated 4.6 stars with over 250 ratings
Ranked #22 in Bread Machines on Amazon
Included with bread maker machine: 1 ceramic bread pan, 3 stirring rods, 1 measuring cup, 1 measuring spoon, 1 hook, and 1 oven mitt
Product Dimensions 15.35 x 12.01 x 13.78 inches
Item Weight: 12.68 pounds
Ceramic coating on the interior pot and rotating blades help to make clean-up easy
The included ceramic bread pan is dishwasher safe
A 2 pound loaf is the largest capacity for the baking pan
If you need a pizza dough recipe, this is one of the most popular ones on the Internet!
After making your homemade pizza dough, fire up your outdoor pizza oven for a delicious dinner!
Learn about other essential kitchen utensils every home cook needs from novice to advanced chefs!
It's not edible, but show off your deep love of carbohydrates with this giant bread pillow shaped like a baguette!
Let your pets heal in style with a soft cat bread collar