Pooch Selfie – Make Your Pet a Star as seen on Shark Tank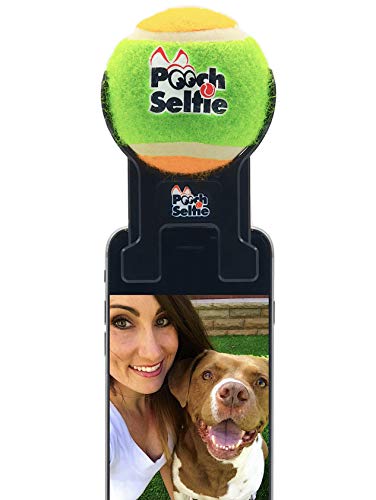 Come here Sparky, I want to take a selfie for Grandma. Can you just look at the camera for one second? Great, there goes a squirrel and your attention span with it. I should have brought the Pooch Selfie along, and then we wouldn't have this problem.
If you've ever struggled to take a selfie with your dog, Pooch Selfie is the answer. This attachment for your cell phone provides a tantalizing distraction in the form of a tennis ball. While your dog locks eyes with the toy, you'll snap the perfect "pelfie" – otherwise known as a pooch selfie.
Turn your dog into an Instagram sensation with the Pooch Selfie cell phone accessory!
The Pooch Selfie is the attachment for your cell phone that will help you take perfect dog selfies every time. If you're as unphotogenic as I am, it's important to make sure your dog is front and center in photos at all times. This handy device features a spring-loaded clip that attaches to smartphones and tablets. It's compatible with both front and rear-facing cameras!
When it's time to snap a cute photo, simply place the Pooch Selfie on top of your device. It holds a green and orange tennis ball designed to grab your dog's attention. While they're all eyes on the prize, it also means they're staring towards your camera. This allows you to snap the perfect selfies! If your dog was a super good boy and didn't slobber all over, reward him. Pull the ball out of the holder, and play some fetch for a job well done.
If you've tried the snapping fingers and bribing with treats methods, you know the struggle is real. That's why the creator of Pooch Selfie took to Shark Tank with his creation. It's met with wild success as it makes things so much easier for pet photographers. You'll want to snap social media worthy photos at the park, at home, and anywhere you go. I foresee some Christmas cards featuring Sparky this year!
Additional Notes
Measures 5 x 3 x 3 inches and weighs just 2.4 ounces
Tennis ball has a squeaker – squeeze with opposing hand if you need to get your dog's attention
Ball can be replaced with a standard size tennis ball if damaged
Not a dog person? Check out this cat equivalent instead
Top 50 best seller in Selfie Sticks on Amazon
4.4 stars with nearly 200 reviews!
Share some of your great photos with relatives on their Familink digital photo frame no matter where they are in the world!