Pegasi 2 Light Therapy Glasses – Sleep Better in a Week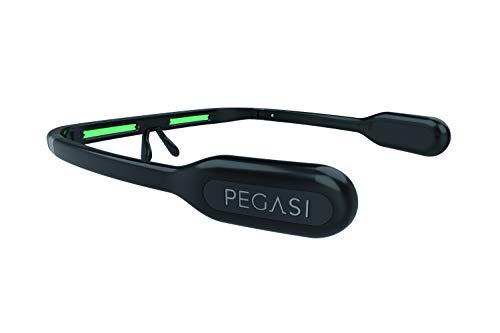 Oh gosh, you look terrible today. Did you sleep last night? Here, take these Pegasi 2 light therapy glasses, you really need them. They'll help you get better sleep, have more energy, and stay ahead of the jet lag!
Light therapy glasses work to improve seasonal mood swings, regulate your circadian rhythm, and help cope with jet lag. They use specific colors and wavelengths of light to alter your body's natural clock.
See results in as little as one week with the help of Pegasi 2 light therapy glasses!
By wearing your Pegasi 2 light therapy glasses for about 30 minutes a day, you'll start to see results in a week or less. When the glasses are worn in the morning (generally between 7AM and 9AM), they will begin to regulate your biological clock and natural rhythms. They're so lightweight and convenient, you can wear them through your morning routine, while you exercise or brush your teeth! These glasses use wavelengths of light between green and blue that are scientifically proven to improve sleep and energy.
Is light therapy bad for your eyes, and is there such a thing as too much?
Pegasi 2 light therapy glasses are perfectly safe for your eyes! They've UV free, and certified by the FCC, RoHS, & CE. That being said, those with extreme photosensitivity or other chronic eye issues may find that they exacerbate the condition. Light therapy glasses are intended for use by adults with no pre-existing ocular sensitivities and issues. You can use light therapy as much as you want as well, there's no limitations or a maximum amount to exceed. Whatever works best for your habits and your body is completely fine!
What are the benefits to the Pegasi 2 light therapy glasses?
In addition to the light therapy, there are many other great reasons to choose the Pegasi glasses. They have collapsible frames, making them easy to pack on the go. This is especially handy for traveling, so you can use them to better manage your jet lag. They even come with a handy carrying case! Pegasi is also a member of the National Sleep Foundation, and they hold 10 patents related to their light therapy products. These light therapy glasses also feature Bluetooth for the ultimate control! Use the app to switch through different modes to suit your needs.
Light therapy is an entirely drug-free solution, making it a healthy alternative to medical sleep aids. Please note though that light therapy cannot replace natural sunlight for other essential nutrients for your body, such as Vitamin D. If you are lacking Vitamin D, increased outdoor activity or a daily vitamin supplement is recommended.
So if you're looking to sleep better, feel energized, and take the world head on, then grab some Pegasi 2 light therapy glasses!
Additional Notes
Available in black or white
Features an adjustable nose rest
Hypoallergenic material
Also works for those wearing prescription glasses
Weighs only 1.7 ounces
Smartphone not required for use, glasses have pre-set treatment options and manual control
Rated 4 stars with over 200 reviews!
The Somnox sleep robot helps to soothe you to sleep by mimicking your breathing patterns

Somnox Sleep Robot - Robotic Stress Reliever and Sleep Aid with Washable Sleeve (Grey) - Compatible with iOS and Android, Equipped with Bluetooth Connectivity

Whether you or your baby need to get a sleep, a white noise sound machine can certainly help!

Letsfit White Noise Machine with Adjustable Baby Night Light for Sleeping, 14 High Fidelity Sleep Machine Soundtracks, Timer & Memory Feature, Sound Machine for Baby & Adults, Home, Office

For a more personal relaxation sound, try out the Brookstone sleep sound mixer and blend up to 8 different calming noises!

FKA Distributing Brookstone Sleep Sound Mixer in Grey

Drift away to 8 soothing sounds for a better night's rest thanks to the Brookstone Sleep Sound Mixer. Use the sliders to layer up your favorite tones and create a custom blend that will help you fall — and stay — asleep. The mixer's high-quality speaker fills your room with relaxing sounds while...

Sleep better with a lavender infused memory foam pillow, and enjoy the benefits of aromatherapy at night!

London Luxury, LLC Brookstone Lavender Pillow, Size Standard/Queen

Get a restful night's sleep with the Brookstone Lavender Bed Pillow. Designed with memory foam, this pillow conforms to your body shape while soothing you with its lavender infused scent to help your relax. This pillow has a moderate level of support, the right amount to align the spine. Machine...

If aromatherapy isn't your preference, then this adjustable sandwich memory foam pillow allows you to remove inner layers to create the perfect sleep height!

UTTU Sandwich Pillow, Adjustable Memory Foam Pillow, Bamboo Pillow for Sleeping, Cervical Pillow for Neck Pain, Neck Support for Back, Stomach, Side Sleepers, Orthopedic Contour Pillow, CertiPUR-US

Change your mood during the day with this 10 pack of different color therapy glasses!

GloFX Color Therapy Glasses 10-Pack Chakra Glasses Chromotherapy Glasses Light Therapy