Melting Clock – Unique Dali Surrealistic Fashion Clock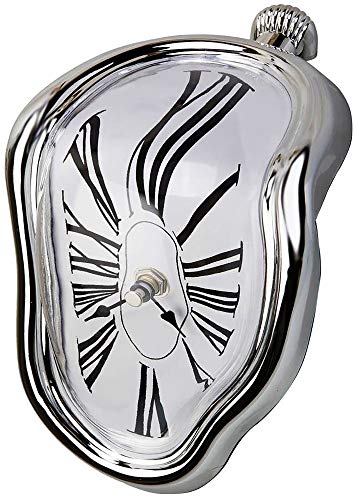 Did yinz leave the clock on the pancake griddle again?  Oh man yinz are going to get in so much trouble when your mom finds out!  Let's try hanging this on the wall and see if she notices. Be assured mom won't be the only one that notices this funky little melting clock. It will spark many a conversation in your home when friends and family come to visit. It may even provoke some deep thought and challenging discussion into the ever-changing world in which we live.
Dali Melting Clock may have family roots in OZ
Most of us can't afford a real work of art. However, you can bring a little surrealism into you home in the 21st century! This little piece of art that's both trendy and practical is very affordable. All you need is a flat surface and you have created the illusion that your clock is "melting" over the edge. This little beauty can be placed anywhere in your home or office. Wherever it lands, it will be the focus of attention. The analog melting clock is powered by a single AA battery. The clock is easy to read with the classic hour and minute hands. There's a wheel in the back of the clock to adjust the time manually if necessary. The melting clock is nearly break proof due to it's plastic and chrome design.
If you're a fan of Dali and surrealist art, you love this. Even if you've never heard of Dali, this clock is so cool and unique, you may even look him up. Guaranteed all your visitors and family will be intrigued and inspired by the melting clock hanging around your home.
Additional Notes
Has Roman Numerals
2 manually adjustable hands
Runs on 1 AA battery (not included)
Dimension 7 inches x 4.5 inches
Disney fans will love this Haunted Mansion clock featuring a 13th hour!
It may not be art, but as seen on Shark Tank, the Clocky alarm clock is designed to get you out of bed by rolling around for you to catch!
If you're like me, then waking up to a blaring alarm is no fun. With a sunrise alarm clock, let light gradually wake in the morning!
The Mella alarm clock help sleep train your young child. Anything that can help parents receive a good night sleep is a great idea!
This popular Viola Entertainer Rhythm Clock is a treat for the eyes and plays 30 different song melodies!
Who needs numbers when this Word Clock by Sharper Image can just let you read the time!
Can't get out of bed without a cup of Joe? With a Barisiuer coffee maker alarm clock, let fresh roasted smells awaken you!
If you're a fan of Salvador Dali, then you may appreciate other famous artists. Thanks to the Billion Dollar Art Gallery, you can bring home 500 works of art to play and display on your television!